Google+ will gobble up both Facebook and Twitter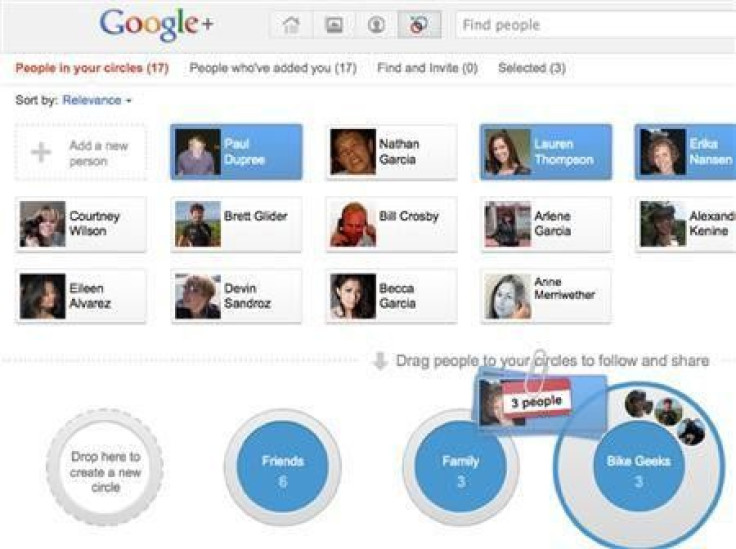 Facebook founder Mark Zuckerberg's account in Google's new Social Networking site, Google+ is not a secret any more. Mark Zuckerberg was along with the crowd to take a pie from Google's success, whose "insane demand" of Google's social networking site urged Google to hold the Google+ invites in suspension.
His fear of losing Facebook users to the baby rival was clear from his quick promise to "launch something awesome" in the coming week.
MySpace founder Tom Anderson believes Google+ can easily beat Facebook and Twitter.
"Google+ really seems to be primed to make good on that original premise — that everything gets better when it's social. And unlike [Facebook], Twitter, or anyone else, Google already has the most advanced set of products. And if I can clearly see where this is headed, then I think what we are getting is a much better Google," according to Anderson.
Google has established an advanced network type compared to Facebook and Twitter with the concept of 'Circles' which allows the users to make their posts accessible to their chosen circle. Circles are a slew of thumbnail images of friends and contacts which Google suggests you might want in your social network. So if you want to share a photo with your friends and to hide it from your parents or business partners you can easily do it with Google +.
Google+ ensures the users of complete control over who sees their posts. Currently the company is also working on how to disable a post or comment or re-sharing of a post if you want, to increase privacy.
Facebook has a private platform making the contents available only to the friends.
Twitter can just provide you with a public platform where anyone can follow anyone else. Its usage is limited to a broadcasting platform where the goal is to get as many responses to the posted tweet as possible. To follow a conversation and respond to a tweet, it needs to be linked to its parent tweet, and every tweet requires being able to find its offspring tweets.
Getting publicity for a post becomes easier with Google+ as publishers of contents pay a lot of attention to Google, from search engine optimization to increase the ranking on Google searches, search engine marketing keyword ads to drive traffic, and on-site advertising solutions ranging from AdSense to DoubleClick. Search rankings will increase by posting contents on Google +.
Twitter search doesn't dereference URLs, so you can't search for references to a particular article. Unlike Google search, it doesn't carry certain search features like spelling corrections and 'did you mean' queries.
Another advantage that Google+ has is the integration of the whole gamut of Google services.
Can you start to see/imagine what Google+ does for Gmail? Picassa? Youtube? Not to mention search? The +1 system that Google now has control of (unlike Facebook Likes) can really influence and change the nature of their search, says Tom Anderson, MySpace founder.
This could just keep you engrossed in various services of Google. If you are browsing through any Google-powered sites and a little red notification pops up on the top-right of your browser window, a friend has added you in his/her circles, or an acquaintance has shared some interesting links, your attention will automatically shift to it and the next moment you are on a video chat with your friend in Google+. Why would you want to visit another social networking site.
Google+ also has Android integration into it which if takes off in a big way could shift mobile OS choices and spending.
Google+ has an improved privacy settings compared to Facebook—Though, Facebook allows users to download their account information, Facebook makes it hard to exit. Users must wait for two weeks in a 'deactivation' period, after these weeks the account is 'permanently deleted from Facebook,' says a report in Linearfix. Google already has a much easier system for users exiting services which have carried over to Google+,"the report points out.
The PCWorld article also points out that Facebook is notorious for its poor stewardship of personal data. When a Facebook user finds certain parts of the personal data, it should be pulled, this cannot be done immediately whereas Google's 'Data Liberation' tool makes it possible hassle-free.
A current survey by ComScore in May showed 180 million people visited Google sites, including YouTube, compared with 157.2 million on Facebook.
Must Read: Here is how Google+ wants to drag your attention, the Facebook way
Google+ launched – What are the top 10 Social Networking Sites?
FOR FREE to continue reading
✔️ Unlock the full content of International Business Times UK for free
offer available for a limited time only
✔️ Easily manage your Newsletters subscriptions and save your favourite articles
✔️ No payment method required
Already have an account?
Log in
© Copyright IBTimes 2023. All rights reserved.