Hillary Clinton Wants To Ban The Wall Street Payouts To Government Officials She Allowed At State Department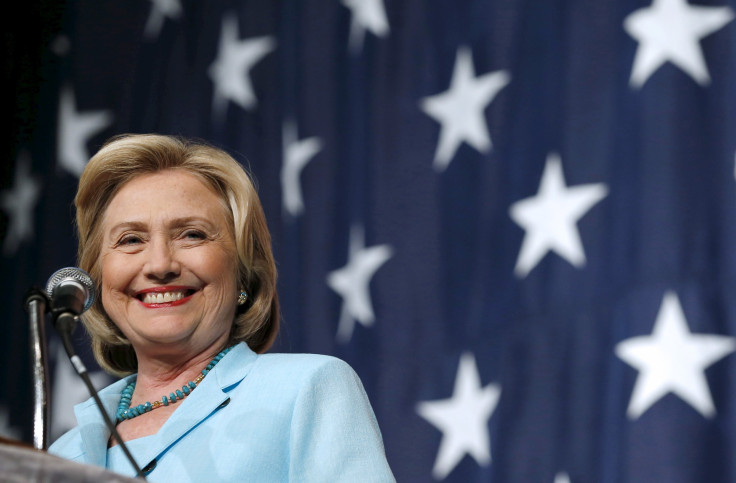 Hillary Clinton on Monday expressed support for a bill that would bar companies from handing substantial payouts to employees who leave to take jobs with the government. The front-runner for the Democratic nomination for president, Clinton has confronted criticism from liberal groups for her hiring practices while secretary of state in the Obama administration.
Two of Clinton's top deputies at the State Department -- Thomas Nides and Robert Hormats -- received at least $5 million and $250,000 from Morgan Stanley and Goldman Sachs, respectively, for joining Clinton's State Department. The bonuses, which were first reported by the Intercept last month, were written into their contracts as conditional, only to be paid out if they left to join the government rather than financial firms run by competitors.
So-called golden parachute bonuses have become common in recent years, and have come under intensifying scrutiny. Liberals including Massachusetts Sen. Elizabeth Warren, a Democrat, argue that such bonuses encourage corporate insiders to seek out jobs in government that give them authority to short-change the public while tilting policy toward the interests of their former employers.
Last month, Warren called on all 2016 presidential candidates to support legislation that would prevent banks from offering bonuses contingent on joining the government. Last week, Clinton's campaign received a letter from eight progressive political groups demanding she back the bill, called the Financial Services Conflict of Interest Act. On Monday, Clinton announced her support for the bill in a joint op-ed published by the Huffington Post with its sponsor, Sen. Tammy Baldwin, D-Wis.
"The private sector shouldn't be allowed to 'pay to play' with their former employees," Clinton and Baldwin wrote. "If you're working for the government, you're working for the people -- not for an oil company, drug company, or Wall Street bank or money manager."
Earlier this year, Warren and labor unions torpedoed President Barack Obama's selection for a Treasury Department position based on the revelation that the nominee, Antonio Weiss, would receive $21 million in stock and compensation from the financial firm Lazard Ltd. if confirmed for the job. Clinton's campaign chairman, John Podesta, sought to persuade lawmakers to approve that nomination in his previous role as a senior adviser for Obama, according to Politico.
Weiss was to serve as a top aide to Treasury Secretary Jack Lew, who came to the Obama administration from Citigroup, where his employment contract permitted him to collect a "retention and incentive award" payment from the bank if he accepted "a full-time high-level position with the United States government or regulatory body." Weiss' nomination was ultimately withdrawn, though he was appointed by Lew to a separate position.
Since throwing her hat in the ring for president, Clinton has sought to assuage liberals' concerns that she is too close to Wall Street. Big banks have donated millions of dollars to Clinton's past political campaigns, and her husband, Bill Clinton, signed legislation deregulating the financial industry as president.
In April, Hillary Clinton wrote in Time magazine that Warren "never lets us forget that the work of taming Wall Street's irresponsible risk taking and reforming our financial system is far from finished."
She also has called for reforms to the tax code that benefit hedge fund executives. In her first official campaign speech, Clinton told voters in Iowa: "There is something wrong when hedge fund managers pay lower tax rates than nurses or the truckers that I saw on I-80 as I was driving here over the last two days."
Following those remarks, her former top deputy, Nides, told the Associated Press that Clinton is not just shifting her policy positions to win over primary voters.
"She's been an advocate for these issues of economic equality, fairness and playing by the rules for her whole career," said Nides, who returned to a top position at Morgan Stanley after leaving Clinton's State Department.
In her op-ed with Baldwin, Clinton said the government must hold companies accountable by "prosecuting individuals, as well as firms, when they commit fraud or other crimes" -- even though her family has accepted millions of dollars from companies whose executives avoided prosecution through agreements with the Justice Department.
Baldwin's bill, endorsed by Clinton, would additionally extend the time period between when a government official can go through the "revolving door," or take a job in an industry he or she regulated. Ethics advocates believe this scenario, a common one in Washington, D.C., contributes to lax oversight. The revolving door goes both ways: financial industry executives are often hired to regulatory positions in government overseeing their former employers.
The Clinton campaign's chief financial officer, Gary Gensler, previously worked at the financial giant Goldman Sachs before assuming the chairmanship of the U.S. Commodity Futures Trading Commission, which oversees the derivatives industry.
© Copyright IBTimes 2023. All rights reserved.