How Safe Is Flying? Media Coverage Of Asiana Airlines SFO Plane Crash Stirs Fear Through Hype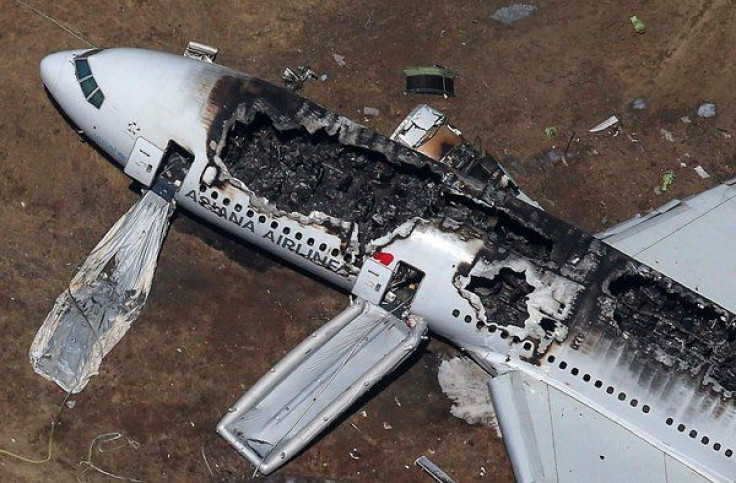 If you watched any of the major broadcast or cable news outlets this weekend, you couldn't avoid the wall-to-wall coverage Asiana Airlines Flight 214, which crash landed at San Francisco International Airport on Saturday. The Boeing 777 from Seoul, South Korea, was carrying 307 people, two of whom died as a result of the crash. At least 182 others were injured.
Since news of the tragedy broke at around 3 p.m., all the major outlets finished out the long holiday weekend on overtime. ABC, NBC and CBS all kept pace with intermittent special reports. On MSNBC, Craig Melvin covered the crash for hours, as did Gregg Jarrett on Fox News. And CNN's Don Lemon spent much of Sunday afternoon playing the same one-minute stretch of amateur video obtained by the network.
As is the case with any disaster, the media has been scrutinizing the story from every possible angle, from reactions to the crash on social media to Facebook's Sheryl Sandberg injecting herself into the narrative via status update. Some outlets, such ABC News, are even offering their own plane crash survival guides.
But is it all just too much information? Clearly, details of the still-unfolding story need to be pieced together, and the media will play a vital role in uncovering facts and sharing them with the public. But the question of whether or not incessant news coverage of the disaster serves any useful purpose other than driving ratings for news organizations is still very much open-ended.
It should go without saying that a crash of this magnitude will exasperate everyday flying jitters, as a simple Twitter search reveals:
Anecdotal observation aside, however, surprisingly little is known about the effects of media coverage on the public's perception of disasters. That's because few studies have ever been done to measure them. One notable exception is a study by Peter Vasterman, C. Joris Yzermans and Anja J. E. Dirkzwager at the University of Amsterdam's Institute for Health Services Research. Published in 2005 in the journal Epidemiologic Reviews, the study looked at the social effects of media hype around various high-profile disasters, including 9/11, the 1995 Oklahoma City bombing and a Boeing 747 cargo plane crash that killed 47 people in Amsterdam in 1992.
The researchers found that media disaster coverage is a complex bag of mixed blessings. On the one hand, the media plays a pivotal role in informing, educating and communicating with the public in the wake of a disaster. However, once that role is filled, the researchers found, the extraneous hype can have enduring negative consequences for society, most notably in the form of risk amplification, which can foster overblown controversies around hazards associated with relatively low statistical risks. Much of this has to do with journalists' tendencies to frame stories around conflict and culpability (i.e. what went wrong and who is to blame?), while deemphasizing core issues such as prevention, recovery and reassurance. As the researchers noted:
"The media can operate in different modes: media can follow, but they can also lead. They can report ongoing events, disseminating (official) information to the public. But they can also play a leading role in the social construction of the problem after a disaster, for instance, by creating a news wave based on magnification of one specific perspective."
Indeed, that single-perspective narrative is already apparent in the coverage of Flight 214, which is largely being framed as a story of pilot error and a botched landing approach, despite the National Transportation Safety Board's refusal to point fingers at the pilots this early in the investigation.
Nevertheless, as media images of Flight 214's ravaged hull stay etched in Americans' brains for the duration of the summer travel season, there are a few important counterpoints to note. Commercial air is not only safe; it's getting safer, as IBTimes' Mark Johanson pointed out on Sunday. In fact, last year was the safest since 1945 for air travelers. According to the Aviation Safety Network, there were 23 deadly accidents globally and 475 airline fatalities in 2012, compared to 57 deadly accidents and 1540 fatalities 20 years ago.
In 2011, the noted MIT statistician Arnold Barnett told ABC News that the chance of dying in airplane disaster in the U.S. is 1 in 14 million. That's hype worth believing.
Got a news tip? Send me an email. Follow me on Twitter: @christopherzara
FOR FREE to continue reading
✔️ Unlock the full content of International Business Times UK for free
offer available for a limited time only
✔️ Easily manage your Newsletters subscriptions and save your favourite articles
✔️ No payment method required
Already have an account?
Log in
© Copyright IBTimes 2023. All rights reserved.