HTC One X, One S And Huawei Ascend P1 Ready For US Release; Which Dual-Core Smartphone Should You Choose? [Specs Comparison]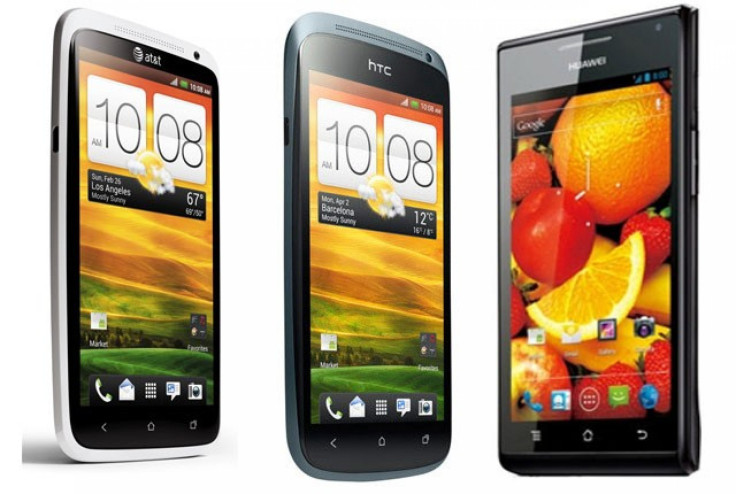 Amid the Samsung and Apple flagship model's launch buzz drifting to new levels in the mobile space every single day, tech enthusiasts might not be able to ignore this combined piece of news about the three powerful launches which are heading for the US release very soon. Yes, the spill is about the latest announcement by two major smartphone manufacturers, including HTC and Huawei.
While the country is still waiting for its first quad-core smartphone experience, in the consumers can enjoy their hands on the three spectacular dual-core phone, including HTC One X, HTC One S and Huawei Ascend P1, lined up for release in a few months.
HTC One X, the Taiwanese company's biggest offering so far, has witnessed a lot of rumors regarding its US launch date. However, only recently the country's carrier operator AT&T has confirmed the smartphone would be exclusively available through its official retail stores starting May 6 at $200 on a two-year contract. Further, the company press release also informed that the customer can pre-order the HTC One X beginning April 22 for only $199.99 USD (150 EUR) with a new two-year agreement.
But the US version of HTC One X would not be the same unlike the UK launch. The US version will feature 1.5GHz dual-core Qualcomm Snapdragon CPU instead of the 1.5GHz quad-core Nvidia Tegra 3 processor. Hence HTC fans in the US would still have to wait a little more for the quad-core version of the smartphone.
Next, HTC One S has also been announced recently by the company for US release with T-Mobile USA as their carrier operator. The operator confirmed that the smartphone would be available nationwide at their retail stores starting from April 25 for $199.99 with a new two-year agreement. HTC unveiled the One series a few months back at the annual Mobile World Congress trade show. And now the HTC One S will be the carrier's first device powered by Android 4.0 Ice Cream Sandwich and the first to run Sense 4 as well.
Chinese manufacturer Huawei also has big plans to punch on major Droid players with the release of its Ascend P1 Android handset in the US sometime in June. Claiming the handset as world's thinnest smartphone, the company has already launched the phone in China market. Further, the customers in Hong Kong, Taiwan, and Australia will get first crack at the device (outside of mainland China) in May, followed by Latin America in June, and Europe sometime later in the summer. According to the latest reports by the Verge, they have mentioned that the phone is flying off the shelves in China, where Huawei's chairman Yu Chengdong informed that it is sold out everywhere.
Hence, would you wait for a Huawei Ascend P1 to enter the market in June or later, or would just go to the AT&T or T-Mobile retail stores for your next mobile upgrade in the coming times? If you are still confused, here is a head to head comparison of all the specs and features of the three latest dual-core smartphone offerings, for you to decide which suits you the most.
Size and Weight: The lightest and the thinnest?
When comparing the size and dimensions of the three smartphones, Huawei Ascent P1 is totally fair on its claim to be the thinnest, as the handset would come in the dimensions of 127.4 x 64.8 x 7.7 mm and would be weighing around 110 gram. After that, HTC One S comes which is 130.9 x 65 x 7.8 mm in dimensions and has a weight of 119.5 gram.
HTC One X would be boasting the highest body volume with a weight of 130 gram, approximately 20 grams higher than Huawei Ascent P1 and would measure about 134.4 x 69.9 x 8.9 mm, heavier and bigger than the other two.
ICS Flavored Operating System
Whether it be the smooth polycarbonate stone finished HTC One X or anodized aluminum bodied HTC One S or the slim and Stylish Huawei Ascent P1, all the three will sport the latest Android 4.0 Ice Cream Sandwich operating system.
Additionally, the HTC One series is topped by HTC Sense UI version 4.0 and HTC offers 25GB of Dropbox storage free for 2 years, Beats Audio integration and enhanced video and photo capabilities. Besides, Huawei Ascent P1 will come with a Dolby Mobile 3.0 + 5.1 surround sound technology.
While HTC One X is expected to be available in the white and black colors, the ultra-sleek and modern HTC One S will be available in gradient blue. Right now, the details on the Ascend P1 color are not confirmed by Huwei. However, the company's website shows the handset in metallic black, ceramic white and soft pink colors.
Dual Core Processor: Which is the Fastest?
Well, HTC One X has gained all the fame in the world for being the first smartphone with quad-core processor when it witnessed the UK release. However, for US as for now, HTC One X along with HTC One S would be powered by 1.5 GHz dual-core Qualcomm Snapdragon S4 chipset, that is made with the 28nm process, ensuring a huge performance boost, yet a gentle run on the battery.
On the other end, the Huawei Ascend P1 will run on a powerful TI OMAP 4460 Cortex-A9 dual-core processor clocked at 1.5GHz accompanied by a SGX 540 GPU, which would be again a prominent choice.
Display: Which Has More Fineness?
The HTC One X has one big advantage over the One S and Huawei Ascend P1 in terms of screen size and resolutions. One X features 4.7-inch Super IPS LCD2 touchscreen with 720 x 1280 pixels of resolutions and a 312 ppi pixel density. Whereas both HTC One S and Huawei Ascend P1 sport a Super AMOLED capacitive touchscreen with 16M colors, accompanied by just 540 x 960 pixels of resolution and 256 ppi pixel density. However, the trio smartphones come backed by Corning Gorilla Glass protection.
Camera: The Megapixel Factor
HTC One X and One S have the same 8MP camera module with LED flash and proprietary HTC ImageChip DSP that powers it on their backs. Further, they both would record 1080p videos at 30fps with stereo sound recording and would also feature VGA 1.3-megapixel camera in the device that is capable of recording 720p videos.
Similarly, Huawei Ascend P1 will also boast an 8-megapixel with autofocus, dual-LED flash and backlight illuminated sensors. Furthermore, this handset will also come with a front-facing 1.3-megapixel shooter to make 720p HD video calls.
Memory Storage
HTC One X will boast noticeably more internal storage of 32GB RAM with a 1 GB RAM as compared to 6GB of internal storage and 1GB RAM of One S. However, the One S handset will get a 25GB of free cloud-based Dropbox storage for two years. But both handset won't have any microSD card slot of external memory option.
Huawei Ascend will come with an option of microSD card slot for memory expansion up to 32GB and will also have an internal storage of 4GB accompanied by 1GB RAM.
Wi-Fi, Bluetooth, WLan
In the following segment, HTC One X and Ones S features Wi-Fi with DLNA sharing and hotspot functionality, Bluetooth version 4.0, NFC, assisted GPS and microUSB version 2.0 with MHL support. There is no FM Radio support in One X.
Huawei Ascend P1 sports a Bluetooth 3.0 HS, Wi-Fi 802.11 b/g/n, MHL-HDMI and DLNA functionality.
Battery Power
HTC One X has a bigger battery as compared to the other two; i.e., Li-Po 1800 mAh. Further, One S would come with a Li-Po 1650 mAh battery and Huawei Ascend P1 would come loaded with a standard battery, Li-Ion 1670 mAh.
So, have you decided yet, which one of the trio is worth your wallet? Do share your verdict.
© Copyright IBTimes 2022. All rights reserved.
FOLLOW MORE IBT NEWS ON THE BELOW CHANNELS