Human Barbie Sarah Burge To Host Children's Makeover Parties at Botox Clinic For 7-year-old Daughter Poppy [PHOTOS]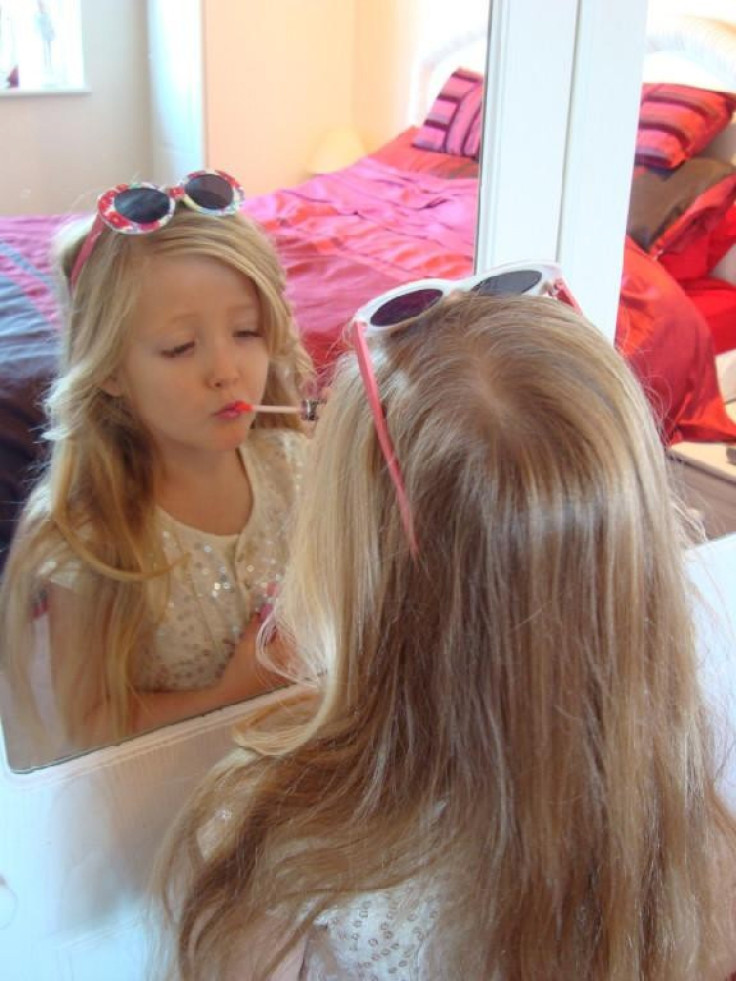 Sarah Burge, known as the Human Barbie for the immense amount of plastic surgery procedures she has underwent, first made headlines for giving her seven-year-old daughter Poppy gift certificates for breast implants and liposuction. Now, the 51-year-old mother has plans to hold children's parties in a Botox clinic to give young girls the wow factor through makeovers.
The makeovers would be held at the clinic where typically cosmetic injections and plastic surgery are performed. The parties would consist of spray tans and extensions for her daughter and friends ages ranging from eight to 13, The Daily Mail reported, with kids rolling up in their limos for beauty pageants and parties.
Girls don't want Snow White and Cinderella anymore, Burge said of the parties she plans to organize. They want to be WAGs and famous like Cheryl Cole and Lady Gaga...Looks are a big part of how our futures pan out.
According to Burge, there shouldn't be a stigma around wanting to look good, even for tweens like her daughter, Poppy, and her parties would fill a void.
I think the demand in this country is huge for young people's makeover, Burge said. I'm not talking about just a little bit of nails, I'm talking about spray tanning to the nail art to the big hair, like the real beauty pageants.
Burge said the parties would be held exclusively for girls from eight-to-13-years-old, but she wouldn't rule out seven-year-olds. The kids makeovers, according to Burge, would be quirky and unique and possibly be the center of an entertainment reality show.
Exotic Pamper Parties
The idea of the parties stems from January, when Burge first emerged in the spotlight having thrown her daughter an exotic pamper party for her sixth birthday. During the birthday party, her daughter Poppy and seven friends received makeovers, drank fake champagne and had a designer cake.
Poppy isn't interested in bouncy castles or pass the parcel, so I splashed out on something a little more grown-up, Poppy's mother said. The girls got lots of attention from our neighbors... They love having all eyes on them and were posing and pouting for photos.
But that's not all. For Poppy's sixth birthday gift, Burge gave her a voucher for breast implants worth nearly $8,000 in addition to a liposuction voucher worth $11,000 she received for Christmas.
I put the voucher in her stocking - there's nothing wrong with that, Sarah Burge told The Closer in January. She asks for surgery all the time. She wants to look good and lipo is one of those procedures that will always come in handy.
However, the surgery is a long-term investment for Poppy, who will only be able to use it when she turns 16-years-old.
Poppy begged me for a boob job, so I gave her the voucher so she can have it after she's 16, when it's legal, she told Closer. If she develops naturally big boobs, she can have something else done with it.
I see these vouchers as investing in her future - like saving money for her education, Burge said, noting that she is proud of the gifts, despite outrage.
Some people think it's controversial and I get angry when strangers say I'm a bad mother because I don't think there's any harm in giving her this gift, Burge said.
The Human Barbie
Sarah Burge, mother-of-three, has had her own share of plastic surgery, for which she also made headlines, and was given the nickname Human Barbie, and the record-holder for most procedures performed on one woman. According to The Daily Mail, Burge has spent nearly $650,000 on cosmetic surgery on her own body. In a video segment for The Doctors, Burge said she likes to stay away when undergoing surgery, just in case the doctors do not do what she requested.
If he's not pulling tight enough, I'll say 'pull a little bit tighter,' she said.
According to The Daily Mail, Burge spent her 51st birthday with over $67,000 of plastic surgery, including a facelift, liposuction and rear implants.
No stranger to criticism, namely for teaching then six-year-old Poppy to Poly dance, Sarah Burge is immune to outrage.
I couldn't care less about critics. At the end of the day are we promoting being ugly and not caring about ourselves in this country? Burge, who lives in Cambridgeshire, said. Or are we encouraging children to take control of the way they look and be creative? 'I laugh in the face of the protests of these people, have they not got anything better to do?
© Copyright IBTimes 2023. All rights reserved.