Hundreds Of Trump Supporters Take Out Huge Boat Rally In Florida
The battle for the hearts and minds of the American voters ahead of the November presidential elections is raging online, with the coronavirus lockdowns largely confining politicians and voters alike to their homes. Some polls show that presumtive Democratic nominee Joe Biden has gained an edge over President Donald Trump, while others show Trump still retains the momentum that he gained from a strong economy before the pademic struck.
The latest weekly poll by CNN suggests that Biden leads against Trump by a 45% to 39% margin. If that should bring cheer to the Democratic camp, another poll by Bloomberg for the period between April 14 and April 28 should act as a dampener.
The Bloomberg poll puts Trump on top, with a 49% approval rating to Biden's 47%. The President shared the results on Twitter, saying his campaign has been going well despite the "Fake News!"
Trump also claims to have retained the overwhelming support of the Republican voters. He revealed in a tweet that he enjoys 96% approval rating within the Republican Party.
While polls at this time may not still be a clear indicator to which way the race would go, especially consdering all the uncertainities the coronavirus pandemic has injected into the economy, Trump's supporters are not holding back in showing their appreciation for the President's policies.
A large group of them took out a boat rally Sunday outside Trump's Mar-a-Lago resort in Florida, after the marinas opened again on April 29. Reports said hundreds of boaters took part, with boats flying both Trump and U.S. flags. Trump shared a video of the parade and thanked them. "Thank you very much to our beautiful "boaters." I will never let you down!" he wrote.
Trump also brushed aside polls showing Biden in the lead, branding them all "Fake News" and adding that the media doesn't show the "real polls." "Lamestream Media is totally corrupt, the Enemy of the People!" the President wrote.
Ever one to get the pulse of the crowd, Trump said America will rise from devastating effects of the pandemic, which he referred to as a "great and powerful Plague," and the country will become "greater than ever before."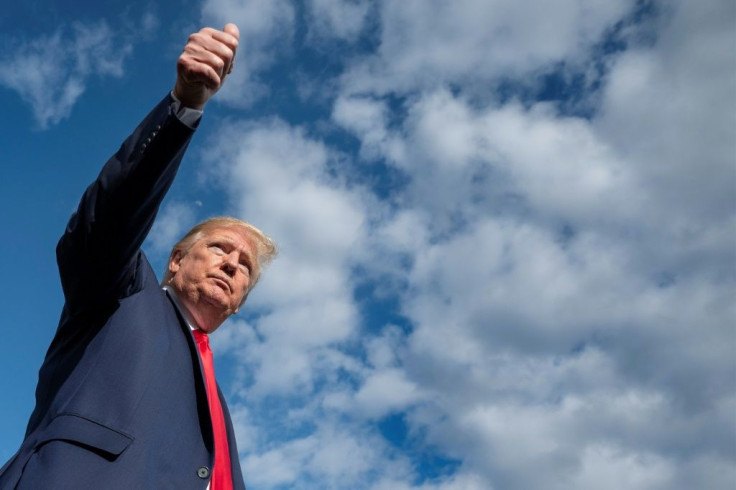 © Copyright IBTimes 2023. All rights reserved.