IDC Shaves PC Forecast To Below 1% After HP, Dell Report Poor Results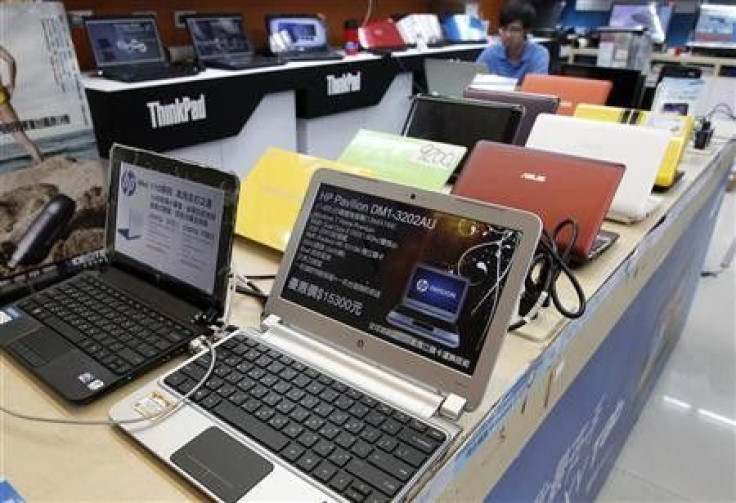 Now they tell us: market researcher IDC revised its forecast for this year's PC sales gains to only 0.9 percent, after the top U.S. giants, Hewlett-Packard Co. (NYSE: HPQ) and Dell (Nasdaq: DELL), reported lower PC sales for their latest financial quarters.
IDC also warned that "slowing growth in Asia/Pacific" would also contribute to the 2012 low-growth forecast. Last year's growth was only around 2 percent.
Enterprises and consumers may have put off buying new products because they await the shipment of Windows 8 by Microsoft (Nasdaq: MSFT), the world's biggest software company, in the fourth quarter, said IDC, of Framingham, Mass., a forecaster much relied upon by Wall Street firms.
"Consumer could be cautious about spending and when deciding to replace older products," IDC said.
For the year, global PC sales are expected to be about 367.2 million, with portable units accounting for 214.2 million and desktop units for 154.8 million, the researchers said.
But next year, on the backs of Windows 8, new Ultrabook PCs based on the latest chips from Intel (Nasdaq: INTC), the No. 1 chipmaker, the total could surge 6.5 percent, to 391.1 million, IDC forecast. Portables should account for 60 percent of all units, compared with 58 percent in 2012.
Looking way ahead, IDC forecast shipments to rise 6.5 percent to 418.6 million units in 2014 and 7.5 percent to 450.1 units by 2015.
This year's slow progress has already created fallout: last week, HP, of Palo Alto, Calif., announced a record net loss of $8.9 billion in its thid quarter, largely to account for overpayments for prior purchases of companies including Electronic Data Systems as new CEO Margaret (Meg) Whitman tries to restore profitability as the company's third boss in three years.
Dell reported its second-quarter net income fell 26 percent to $732 million, or 42 cents a share.
Printer maker Lexmark International Inc. (NYSE: LXK) has announced it would exit the inkjet market and fire 1,700 employees, after reporting second-quarter net income slid 61 percent to $39.2 million, or 55 cents a share as revenue fell 13 percent to $918.6 million.
HP also reported slower printer sales. Fewer PCs likely means fewer printouts, and less need for printers.
Meanwhile, sales of tablets, headed by the iPad from Apple (Nasdaq: AAPL), the world's most company, and Samsung Electronics (Seoul: 005930), are surging.
Earlier this month, IDC reported second-quarter tablet sales soared 66 percent, to 24.9 million from last year's 15 million; the researchers in mid-June estimated full-year tablet sales would reach 107.4 million, a 54 percent jump from 2011.
Shares of HP fell 31 cents to $16.90 in late Tuesday trading, while Dell shares lost 22 cents to $10.90. Apple shares fell 98 cents to $674.70.
© Copyright IBTimes 2022. All rights reserved.
FOLLOW MORE IBT NEWS ON THE BELOW CHANNELS