iPad 3 Rumors: From Release Date to Specs, What We Know About Apple Tablet So Far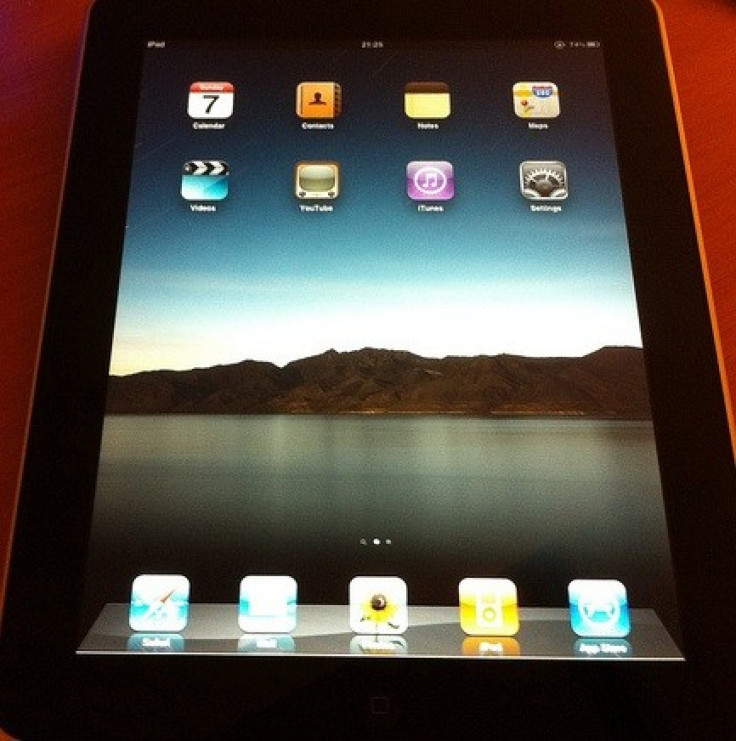 Now that the iPad 3 has a tentative release date set for early March, rumors abound about the best specs, the coolest features and the biggest upgrades slated for Apple's new tablet.
From simple improvements like a better camera and higher resolution to the possibility of 4G LTE Connectivity and a quad-core processor, here's a rundown of what we know so far about the Apple iPad 3, and some of the crazier rumors still out there about the newest tablet computer.
Release Date
After speculating the iPad 3 would be released Christmas 2011, or Feb. 24, Steve Jobs' birthday, there's a new report confirming that the iPad 3 will be released in early March. The product will likely be unveiled in early or mid-February.
There do not appear to be significant technical hurdles remaining, reports Citi analyst Richard Gardner.
Higher Display Resolution
Apple's iPad 2 has been criticized in the past for its 1024x768 pixel screen, boasting the same somewhat fuzzy resolution as the original iPad.
The difference between what was available and what could have been was especially glaring in contrast to the iPhone 4, which boasted a super-high resolution retina display and amazing on-screen clarity.
Now that Android smartphones and tablets have begun amping up their own resolution, expect Apple to do the same.
Analyst Richard Shim over at DisplaySearch claims Apple is producing 2048x1536 display panels for the iPad 3. What does this mean? Better quality movies, TV shows and pictures, and what could be the highest pixels per inch (ppi) count of any 10-inch tablet on the market.
Better Camera
The Apple iPhone 4S is now the most popular camera phone on Flickr, with the iPhone 4 following close behind. Yet the original iPad featured no camera to speak of, and the iPad 2 model is mediocre, at best.
Just based on good salesmanship, then, Apple is expected to add a better camera to its newest tablet, at least far better than the 0.8MP camera on the iPad 2. Tech Labs believes the iPad 3 is to have video recording quality of about 60 frames per second. Expect to see the tablet come with LED flash to support the new camera, as well.
Price Range
Apple rarely increases its prices when it updates the specs of an original product, beyond a short bump in numbers to take advantage of the initial buying frenzy.
Since past iPads and other Apple products have premiered around $600, expect the iPad 3 to launch in March at about the same price.
4G LTE Connectivity?
There's a good chance that Apple wants to make the iPad 3 available for Verizon and AT&T LTE networks when it launches.
Rumors are swirling that the iPad 3 may sport 4G LTE technology to accomplish it, making up for the fact that no Apple smartphone has yet to add LTE (Long Term Evolution) to its specs.
A 4G LTE tablet would improve the iPad's ability to multitask, and amp up everything from data downloads to broadband speeds.
Though iPad users have their fingers crossed for the update, however, it seems unlikely that Apple would add 4G LTE to its iPad before it does so with its iPhone.
It's not unthinkable that the iPad 3 will be faster and better able to conserve power than the iPad 2. As far as a 4G LTE version, better wait until 2013.
Siri and Color Upgrades
Siri, despite some minor flubs along the way, remains the darling of Apple features. It's almost certain, therefore, that the tech giant will be adding Siri to its iPad 3.
But Apple isn't the type of company to just add the obvious. When it premiered the iPad 2, it created a lot of buzz with its magnet-laden Smartcover, and that's the type of reaction the company is counting on with its newest model.
Possible upgrades or new features include improved speakers and a less reflective, not just a sharper, display screen. But Apple may also be offering something even more exciting: carbon fiber technology.
When Apple hired a carbon fiber expert last year, it fueled rumors that the iPad 3 would feature a lightweight carbon fiber casing. Beyond its outsides, however, carbon fiber in the screen itself is also capable of taking in and improving color.
It's possible that the iPad 3 could offer a tablet with a whole new range of nuanced hues, making for a more vibrant and enjoyable viewing experience.
Quad-Core Processor
The iPad 2 already has a dual-core A5 chipset, so it's not crazy to believe the rumor that the iPad 3 will feature an upgrade to something like a quad-core A6 processor to make it faster and more efficient. If Apple wants to cram all those pixels into its new and improved display screen, then the iPad 3 will certainly need more speed.
In fact, a quad-core processor is necessary simply to be able to handle all the new apps that the iPad 3 is expected to boast, and features like Siri that require something more powerful than what the iPad 2 is sporting.
What About Battery Power?
DigiTimes is reporting that the iPad 3's battery capacity will be more than double that of the iPad 2.
Part of that extra battery power will need to go towards supporting features like Siri and upgrades like possible 4G LTE connectivity. Still, if the battery is even a third improved, it'll go a long way in boosting the lasting popularity of the iPad 3.
It's also likely that, because of the expected high-resolution display panel and a better battery, Apple may have to add about 1mm of thickness to its newest tablet. Since the iPad 2 is still one of the thinnest tablets out there at 8.8mm, this isn't much of a sacrifice.
Super-Fast Docking Ports?
Rumors indicate that the iPad 3 could have a thunderbolt port, a smaller and super-fast docking port used in Macbooks to transfer data as much as 20 times faster than USB 2.0.
This upgrade may be somewhat extravagant for an iPad 3, however, as well as the idea that the iPad 3 will run Flash or have an SD slot. As with the OS hybrid, this is something Apple users should wait on, at least for now.
It May Not Be Called the iPad 3 At All
Just as it did with the iPhone, Apple may follow tradition and call the iPad 3 the iPad 2S instead, or even (as rumor-mongers claim) something like the iPad HD.
TabletPC Preview believes that the tech giant may be saving the name iPad 3 for a product that they believe to be a true next-generation device, one that truly redefines the tablet market.
If the newest tablet is released as the iPad 2S, expect to see a slight price drop on the original iPad 2, the same strategy the tech company employed with its discount iPhone 4 and iPhone 3GS. Apple is looking to promote a low-cost alternative to competitors like Amazon's Kindle Fire and the NOOK tablet at Barnes & Noble, and keeping a discount iPad in the wings is the best way to do so.
Must Read: MacWorld/iWorld Will be Apple Fan Fest But Don't Expect iPad 3
© Copyright IBTimes 2023. All rights reserved.