The Jackson-Vanik Amendment: How Soviet-Era Trade Regulations Could Affect Human Rights in Russia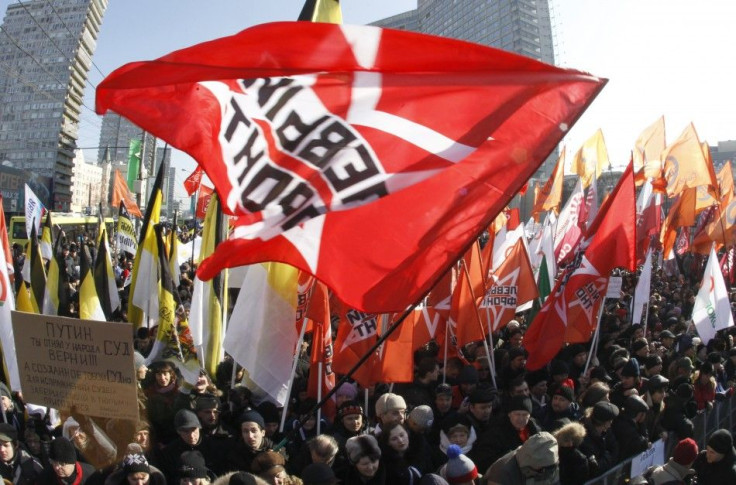 As Russia prepares to join the World Trade Organization this summer, the U.S. Congress is under increasing pressure to repeal a Soviet-era trade restriction called the Jackson-Vanik Amendment.
Jackson-Vanik was enacted by the U.S. Congress in 1974, back when Leonid Brezhnev still ruled as the General Secretary of the Soviet Union's Communist Party. The measure enforced U.S. trade restrictions against the communist bloc as long as they refused to permit free emigration rights to Jewish citizens.
Despite the fact that free emigration is now permitted in Russia, Jackson-Vanik is still on the books. But it's no longer a truly active piece of legislation; the trade restrictions have been waived repeatedly since 1993, according to the Moscow Times.
On Monday, the leaders of Russia's political opposition movement, which has organized widespread protests against incoming Prime Minister Vladimir Putin, released a public letter calling for the United States to repeal Jackson-Vanik.
The antiquated bill, they said, gives Putin ammunition for anti-American propaganda. It also limits Russia's competitiveness in international markets for higher value-added products, leaving Russia trapped in its current petro-state model of development and preventing it from transforming into a modern, diversified and more hi-tech economy ... This helps Mr. Putin and his cronies, who continue to benefit from control over raw materials exports and who have no real interest in diversifying Russia's economy.
The statement adds that keeping these restraints on Russia's economy will hurt the growing middle class, thereby stifling an increasingly independent voice that could bring political transformation and economic diversification to the country.
Opening Up New Doors
Meanwhile,Russia is scheduled to formally join the WTO by June, which will have its own implications for the country's economic future. Russia was invited in December of 2011, and official membership is pending the ratification of some final key documents by Russian officials.
The former Soviet Union will then be obligated to abide by the trade rules of the WTO, which will reduce domestic subsidies, lower tariffs and generally limit the government's ability to regulate trade with other countries. The move signals a growing aversion to the principal of isolationism and an increasing willingness to open up the Russian economy to the international community.
The U.S. administration approved of the decision and vowed to seize the opportunity to repeal Jackson-Vanik, which will be in violation of WTO regulations. Russia's membership in the WTO will generate more export opportunities for American manufacturers and farmers, which in turn will support well-paying jobs in the U.S., said a White House statement released in December. President Obama told President Medvedev that the administration is committed to working with Congress to end the application of the Jackson-Vanik amendment to Russia in order to ensure that American firms and American exporters will enjoy the same benefits of Russian WTO membership as their international competitors.
Not So Fast, Russia
Some members of Congress don't want to repeal Jackson-Vanik -- at least, not without applying certain conditions.
In 2011, U.S. Senator Benjamin Cardin (D-Md.) introduced the Sergei Magnitsky Rule of Law Accountability Act, which would target Russia by freez[ing] assets and block[ing] visas of individuals who commit gross human-rights violations according to the senator's website. Now, several members of Congress insist that this measure be attached to any repeal of Jackson-Vanik.
Though it was introduced last year, the Magnitsky Act is especially pertinent now that Russia has come under increased pressure from international human rights groups, first for its veto of the UN Security Council resolution to end the ongoing violence in Syria, and then for the allegedly rigged reelection of Vladimir Putin to a third term as president.
David Kramer, president of Freedom House, a non-governmental organization that advocates for democracy around the world, argued against repealing trade sanctions without addressing human rights violations at a Capitol Hill event on Monday. [T]o simply lift Jackson-Vanik without some replacement would be viewed in Moscow and Russian leadership as a sign of weakness on the part of the United States ... we would, in their minds, be rewarding them despite their bad behavior by not going after them. To me, this has to be a package deal, he said, according to Foreign Policy.
No Better Time Than Now
In Russia, the political opposition movement also condemns the state's human rights abuses. But they don't support using the repeal of Jackson-Vanik as leverage in this case. Although there are obvious problems with democracy and human rights in modern Russia, the persistence on the books of the Jackson-Vanik Amendment does not help to solve them at all, said their Monday statement.
President Obama, Secretary of State Hillary Clinton, and U.S. Ambassador to Russia Michael McFaul have all called for Congress to repeal the 38-year-old sanctions against Russia as soon as possible; they don't see this as the proper place to attach a provision for human rights. Foreign Policy reports that McFaul made his intentions clear during a meeting on Monday. There's no upside to holding onto Jackson-Vanik right now, he said. Zero. And viewed in human rights terms, there's no upside. Jackson-Vanik should be terminated because there's no advantage in terms of the debate about democracy.
The issue will be taken up by the U.S. Senate Finance Committee on Thursday.
© Copyright IBTimes 2023. All rights reserved.
FOLLOW MORE IBT NEWS ON THE BELOW CHANNELS