Janay Rice Says Ray Rice Only Hit Her Once, But Domestic Violence Experts Remain Skeptical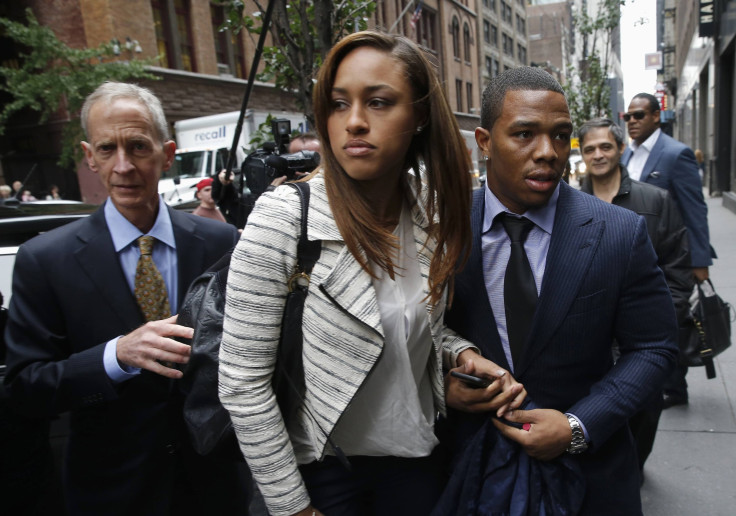 Janay Rice's ongoing campaign to defend her husband, former Baltimore Ravens star Ray Rice, after he knocked her out in a hotel elevator exemplifies the apologetic tone many victims adopt in the face of abuse, domestic violence experts said. Janay Rice described her husband's forceful punch to her face as little more than a drunken "mistake" Monday morning during an exclusive interview on "NBC's "Today" show less than a year after her then-fiancé attacked her at an Atlantic City, New Jersey, casino.
In the interview, Janay Rice, whose maiden name is Palmer, seemed to make excuses for her husband's behavior, saying he was "extremely intoxicated" when he punched her Feb. 15. She said it was the only time he had assaulted her. She said she wished people would understand the incident was a "mistake" and should not judge them. "I think everybody makes mistakes," she said. "After this whole situation, you would think we're a country full of people who never make mistakes, who've never sinned ever in their lives."
But domestic abuse victim advocates said it is unlikely Janay Rice was the target of her husband's violence only once. In many cases, victims often become trapped in a cycle of abuse, they said.
"Janay Rice's comments are typical of many victims. Of course, whether he was intoxicated or not doesn't matter -- he's still guilty and just as responsible," said Sherry Hamby, a research professor of psychology at Tennessee's Sewanee: The University of the South. "Intoxication is no excuse for drunk driving, and it is no excuse for domestic violence."
Domestic abuse can range from emotional abuse, including name-calling, to pushing and shoving, to much more serious violent assaults. "Unfortunately, yes, this is a common response by women who have been abused," said Megan R. Holmes, an assistant professor of applied social sciences at Case Western Reserve University in Ohio with extensive clinical experience with domestic violence households. "They often blame themselves for the violent incident and believe that if they would have behaved differently, their partner would not have abused them."
After video emerged of Ray Rice punching his then-fiancée in the casino elevator in February, the Ravens suspended him for two games. The couple wed in March. He was later suspended indefinitely by the NFL after a longer video of the incident was released. The suspension was vacated Friday after Rice won an appeal against the league's decision to extend his suspension, a move a judge called "arbitrary."
"In general, it would be my experience that the severity of the punch would indicate that it was not the first time," said Lisa C. Smith, an assistant professor at Brooklyn Law School in New York and former chief of a domestic violence unit in the Brooklyn District Attorney's Office. "Conventional wisdom in this field is that most victims do not report until there have been numerous instances."
That Ray Rice can punch his fiancee in the face and initially be suspended for only two games points to larger systemic problems contributing to a culture that allows domestic violence to continue, according to Anthony Zenkus, director of education at The Safe Center LI, a domestic violence and child abuse nonprofit agency in Bethpage, New York.
"Male privilege and a culture of violence must be addressed in order for violence against women to be adequately addressed," Zenkus said. "Male privilege must be challenged and changed if domestic violence/violence against women is to be stopped. That means that women must share power with men socially as well as economically."
Janay Rice said Monday "there's no way" her husband would assault her again. But domestic violence experts said re-offending is a serious possibility in many abuse cases. There are ways to reduce that risk, such as therapy and other forms of treatment, but without such interventions, Ray Rice likely will abuse his wife again, said Steve Abrecht, a threat assessment expert in workplace violence, school violence and domestic violence prevention who served six years on the San Diego Police Department's domestic violence unit in California.
"If he gets treatment for anger, understanding gender differences, and low self-esteem, then there is hope that he will not re-offend," Abrecht said. "If not, she will be like all other previous [domestic violence] victims: living in constant fear and waiting for that moment when they say or do the 'wrong thing' and it happens again."
© Copyright IBTimes 2023. All rights reserved.