Job Creation: A Crash Course from Brownsville, Texas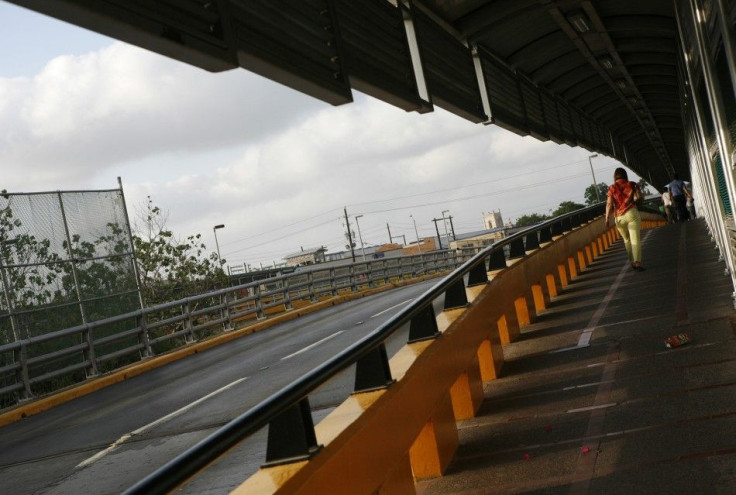 Brownsville, Texas, has some lessons to teach the country when it comes to creating jobs.
For the past decade, Brownsville -- population 175,023 and a stone's throw from Matamoros, Mexico -- has created 200 to 400 jobs each year. For the next decade, it has a $4.5 billion list of projects that are expected to create another 5,000 jobs. And, unlike many of the jobs that have been created in Texas since the recession began in 2008, these pay more than minimum wage.
How is Brownsville doing it? And can other cities follow its lead?
An International City
The recession did not hit Brownsville as hard as it did the rest of the country or even the rest of Texas. It did take a toll, though, and so, as the job market contracted, the Brownsville Economic Development Council brainstormed ways to revive it.
We basically posed this question: what do we want to be when we grow up? Gilberto Salinas, vice president of the Brownsville Economic Development Council, said. Houston is an international city, and we've got just about everything that Houston has, except for NASA, of course. That's when we said, 'We're truly an international city, so why don't we start acting like one?'
Its location along the U.S.-Mexico border and its extensive infrastructure -- including an international airport, a deep-sea port and a major research university -- gave Brownsville a unique advantage in convincing companies to invest in jobs. The economic crisis reduced the number of companies that could afford to expand, but many of the companies that could afford to do so saw Brownsville as the ideal spot.
But while the prime location was a matter of chance, capitalizing on that location meant a lot of hard work, smart strategizing, and a reconception of Brownsville's geography.
A lot of entities look at us as being that last city in the U.S., at the very bottom, which we are, Salinas said. But we look at it more as being in the middle of North America and Latin America.
A Passage to Mexico
Once we framed it that way, Salinas said, we started knocking on doors in Latin America.
Matamoros (population 489,193) was an obvious target, since it is directly across the border from Brownsville and boasts one of the country's fastest-growing economies. But even more important was Monterrey, one of the largest (population 4,080,329) and most developed cities in Mexico. It lies about 200 miles west of Brownsville and is home to numerous corporations, from BMW of Mexico to international giants like Boeing, Samsung and Sony.
We've taken advantage of our truly geographic location, said Jason Hilts, president and CEO of the Brownsville Economic Development Council. He gave an example: We were able to reach out to PIASA and provide them with something that they couldn't really do out of Monterrey -- to supply their U.S. customers overnight if need be.
PIASA is a Mexican company that sells spices and seasonings, and Brownsville gave it an opening into the U.S. market. It did the same for the airline AeroMexico, which wanted to provide more flights in and out of Brownsville because of its port access and its proximity to South Padre Island, a popular resort destination.
Conversely, many American companies, such as Lowe's Home Improvement, have invested or plan to invest in Brownsville as a way to reach lucrative Mexican markets.
It is a tremendous asset for a company out of Latin America that may have been used to going through Miami and experiencing the frustrations of congestion, Hilts said. And vice versa: companies from the U.S. are looking at our region to access markets in Mexico. The strategy is pretty much the same on both sides.
Unique Offerings
But the needs of foreign and domestic investors do differ in some significant ways, and one of Brownsville's challenges has been to tailor the perks it offers to what companies are looking for.
For one thing, the competition for domestic investments is exponentially fiercer than the competition for foreign investments.
There are 15,000 economic development groups in the U.S. going after 200 active projects. It's a rat race, Salinas said. A lot of these companies are getting thrown huge incentives packages their way, so with the U.S. companies it's a combination of incentives and also having what they need.
Those incentives could include, for example, help organizing and funding an employee training program, according to Irv Downing, vice president of economic development and community services at the University of Texas, Brownsville. The community responds in a fashion that the client dictates, he said.
International companies are different, Salinas said: many of them want to be held by the hand because they are unfamiliar with the technicalities of doing business in the U.S.
It's the same as if I'm trying to do business in Mexico -- I won't really have a clue as to where to start or where to get permits or who to talk to, he said. They're not after incentives; that's gravy for them. They know how to run their business, they know how to make money -- they just want you to be part of their team and kind of show them the way.
One time, Salinas recalled, an executive from a Mexican company that was building a base in Brownsville came to him with a rather trivial problem: 'I got pulled over by a cop and they gave me a ticket -- what do I do?' And we're like, 'Just go pay it,' and they're like, 'Really?' But where they're coming from, it's totally different.
Infrastructural Improvements
Foreign direct investment accounts for about 75 percent of the projects the Brownsville Economic Development Council is working on, but equally important are the infrastructural and educational improvements that Brownsville is pursuing to make itself more attractive to future investors -- and, of course, to create jobs in the interim.
For example, the city is working on a $34 million project, funded in part by the state of Texas, to make it easier for trucks to get from the Port of Brownsville to the interstate highway system. Once completed, a new corridor will lead from the port to a planned extension of Interstate 69. This will allow Brownsville to handle increased port traffic, especially with the passage of new free trade agreements and the planned expansion of the Panama Canal in 2014.
The Port of Brownsville is a vital link between Texas and Mexico, serving in many ways as the deep-water port for Monterrey, Downing said. It certainly competes with Tampico, which is a Mexican domestic port, but for bulk commodity products coming out of Latin America, it's much more competitive.
With that demand in mind, your challenge is the movement of the five miles between the international border and the port, and a [highway] corridor helps with that, he said. It directs heavy cargo traffic directly into the Port of Brownsville and then out onto the U.S. highway system, where it can get north very quickly.
The corridor is expected to open this year, along with new railroad crossings that have been in the works, off and on, for 40 years.
That project, which the Federal Highway Administration authorized in 1972, involves a railroad bridge that will carry major train lines like Union Pacific across the border, easing congestion at the limited number of existing crossing points.
Workforce Training
The projects Brownsville have in the pipeline are expected to create 5,000 jobs -- but new jobs don't mean much without workers qualified to fill them.
That's where the University of Texas, Brownsville comes in.
Whenever a new company makes an investment in the city, officials ask them what they need by way of training or other resources -- not in a charitable sense, but really as a value proposition, Downing said. It is a value proposition for at least two reasons: the easier Brownsville makes it for businesses to build roots there, the more likely they will be to come and stay there; and, businesses with well-trained workers can give a huge amount back to the city.
For instance, the University of Texas Board of Regents recently added $30 million to the Brownsville region's budget, and much of that sum will go toward the One Teach mathematics training program.
The idea is to give seventh- and eighth-grade students the grounding in basic mathematics and algebra that they need to succeed in calculus, which in turn enables them to do the types of engineering tasks the city needs done. If, as adults, those students go to work for engineering companies that have invested in Brownsville, the city will retain both the companies' investments and the students' productivity.
The city also has a broader initiative, funded by the Bill and Melinda Gates Foundation, to get more local students to attend college, graduate and get a job in or near Brownsville.
We're looking at implementing a much more intrusive and proactive approach to getting folks into post-secondary education, through post-secondary education, to retain them and then get them into employment in our region in a livable-wage job, Downing said.
The Lessons of Brownsville
Other cities would love to get a piece of the pie Brownsville has cut. But Brownsville's success is due to a lucky confluence of factors, only some of which are replicable elsewhere.
There's no other location along the border like Brownsville in terms of the assets that we can bring to the table, Hilts said. When you consider a community of [almost] 200,000 that has a deep-sea international port, an international airport, four-year institutions, access to Mexico and an international market -- no one really competes with us on those aspects.
The good news is, some lessons are applicable to any city, whether its focus is on domestic or international markets -- and the biggest lesson, Hilts said, is building relationships not only with potential investors, but with state officials.
Texas, for instance, has three funds -- the Texas Enterprise Fund, the Texas Enterprise Zone Designation and the Emerging Technology Fund -- that can support projects like the ones happening in Brownsville, and because Brownsville officials work closely with state officials, they have gotten a lot of that funding.
Beyond money, a strong relationship with the state also means that, when it comes to big projects, we're able to call in the governor's team when it makes sense to help us close the deal, Hilts said. In fact, right now, the offices of Gov. Rick Perry, the lieutenant governor and the speaker of the Texas House are all working on an application for a project that would bring 600 aerospace jobs, most paying more than $50,000, to Brownsville.
Brownsville Mayor Tony Martinez, who joked that he was not of the Republican ilk, said that regardless of party affiliation, the state government has done marvelous for the city of Brownsville.
I would be totally blinded by bias or prejudice if I didn't say that, Martinez said. It wouldn't take a rocket scientist to see how wonderfully they have meshed with our community.
That may be the central lesson Brownsville has to offer other cities: collaboration, bipartisan or otherwise, goes a long way toward achieving goals, like job creation, that everyone wants.
It's all about relationship-building, both at a local and regional level, with your friends on the other side of the river and also your state officials -- not only in your own state but the states of your adjoining Mexican counterparts, Hilts said. It's about developing those relationships and finding ways to work together and promote the region.
And, Salinas chimed in, They need to ask themselves, what do they want to be when they grow up?
© Copyright IBTimes 2023. All rights reserved.
FOLLOW MORE IBT NEWS ON THE BELOW CHANNELS