Joey Feek Cancer Update: Husband Rory Feek Reveals Why It Was 'Important' To The Country Star To Keep Singing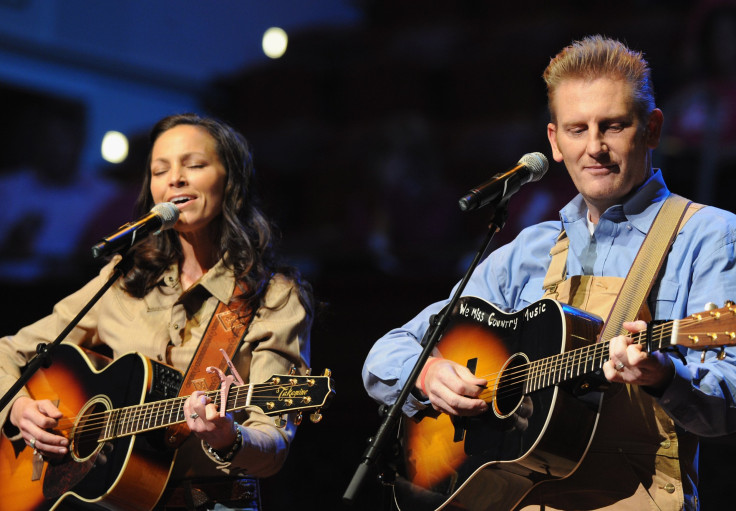 Country singer Joey Feek has been singing for a majority of her life, and she hasn't let her battle with terminal cancer take that away from her. The female songstress, who makes up half the musical duo Joey+Rory, was diagnosed with an extremely aggressive form of cervical cancer in 2014 and has undergone numerous treatments since her initial diagnosis. Husband Rory Feek claims that although his wife is now preparing for the end of her life, singing has remained a vital necessity to her.
In a recent interview with People magazine, Rory, 50, opened up about recording new music with Joey, 40, in 2015. He told the publication that although "it wasn't easy," his wife insisted on setting up a microphone in their bedroom for her to lay down her vocals. Rory claimed singing was of great importance to Joey, despite her worsening condition and increasing pain. He claims recording "Hymns That Are Important to Us," due for release in February 2016, is a memory he'll cherish long after Joey's battle with cancer comes to an end.
"She would sing into a microphone that we had set up in our room," Rory said. "It wasn't easy, but it was important to her. Those are moments I'll never forget."
Although Rory knows his time with his wife will be limited, he has big hopes for their final album together. He told People he is crossing his fingers that "Hymns That Are Important to Us" will help country music fans realize Joey's talent. Rory would like to see the album outlive both Joey and himself as well as their "children's children's children." He adds though, that at the very least, he would like the music to "touch people."
As was previously reported Joey opened up about her marriage to Rory in an interview released on Wednesday. She discussed the start of their relationship, which began in a Nashville, Tennessee, cafe in 2002. Joey claimed she knew almost immediately that she was going to spend the rest of her life with Rory, though she had no idea at the time that their life together would be cut short. Similarly, Rory said he's always envisioned Joey taking care of him in sickness or old age, not the other way around. He added, however, that her ailment has helped him to live his vows to the fullest, ensuring that her carries out each and every one of his marital promises every day.
In the two years that have passed since Joey's diagnosis her condition has taken a turn for the worst. On Jan. 9 it was reported that the Grammy nominee was experiencing constant and excruciating pain. Rory updated fans on his wife's condition in their family blog, writing that he was looking on as his wife perished. In the post Rory admitted for the first time that Joey was dying, telling readers he'd been forced to face the facts after hearing the words from his wife multiple times. Joey was said to be being administered regular doses of morphine, a strong pain medication, in an effort to keep her "comfortable."
On month prior, in December, Rory blogged about Joey getting out of bed for the first time in quite a while. He excitedly shared with fans that she had gotten out of bed and walked out of the bedroom — something that may seem simple to the average, healthy individual, but is a major feat for Joey. Rory also revealed that she'd been able to play with her youngest daughter, Indiana, for a bit. The pair played and practiced sign language together.
© Copyright IBTimes 2023. All rights reserved.