Kamala Harris Mocked For Featuring Child Actors In Her Space Video
KEY POINTS
Donald Trump Jr. mocked VP Harris on Twitter for using child actors in the video
NASA astronaut Shane Kimbrough joined the teens and VP Harris in the video
The child actor sent a monologue of himself talking about a topic as part of audition
Vice President Kamala Harris' space exploration video for NASA's YouTube channel meant to get children interested in science and space has drawn criticism for the presence of child actors.
In the video special, five teens from across the country were joined by Harris and NASA astronaut Shane Kimbrough via Zoom from the International Space Station. But, the video meant to expand wonder has drawn criticism from Donald Trump Jr. and U.S. Representative Lauren Boebert, R-Colo., after KSBW revealed the teens were child actors, who auditioned for the role.
"Just when you thought the most fake human being in the history of the world couldn't get any more phony there's this… Her commitment to cringe is truly impressive!" Trump Jr. wrote on Twitter. "Kamala Harris hired child actors to be part of her widely-mocked NASA space video."
Republican Communicator Matt Whitlock took to Twitter and wrote, "The Biden administration is using tax dollars to pay child actors to try and make Kamala Harris seem relatable."
Despite the criticism, Trevor Bernardino from Monterey, a 13-year-old freshman and child actor who was featured in the video, said he completely enjoyed the knowledge-sharing session. "The most exciting part was definitely meeting Vice President Harris. There's nothing that can top that. Like, honestly," Bernardino told KSBW. "She just sat us down. She is super charismatic. She's everything that I ever thought of her, plus more. She made me feel like one of her peers, and at the time I felt super important. I was talking to her face to face."
"She's not allowed to speak to adults anymore," wrote Rep. Boebert on Twitter about the space video.
In an interview with KSBW, Bernardino said he sent a monologue of himself talking about a topic he is passionate about and three questions that he would like to ask world leaders. Next, Bernardino had to interview the director of the production so that could review his interviewing skills.
"Then after that, like a week later my agent called me and was like 'Hey Trevor, you booked it,'" Bernardino told the outlet. Bernardino was told that he was going to Washington D.C. to interview someone.
In D.C., the teens went on a "cool trip" to the Naval Observatory, where they participated in a scavenger hunt to find supplies to build a telescope with the help of clues given by astronaut Kimbrough. The teens also learned about time and space, before meeting the head of the National Space Council, VP Harris.
"Are you kidding me...the head of the space council is the vice president," the kids said in the video.
An enthusiastic Harris met the teens in an effort to inspire the next generation of space explorers. "There's other things that we just haven't figured out or discovered yet," she said. "To think about so much that's out there that we still have to learn, like, I love that."
It is not the first time that a politician hired paid actors to play a role. In 2016, the Hollywood Reporter found that Trump's campaign paid actors $50 each to cheer for him during the presidential announcement.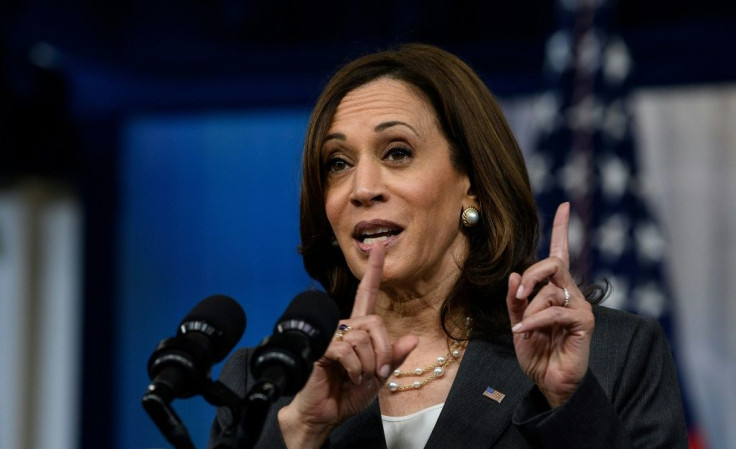 © Copyright IBTimes 2022. All rights reserved.
FOLLOW MORE IBT NEWS ON THE BELOW CHANNELS