Kevin Durant Explains Trade Request, Responds To Critics After Suns' Debut
Kevin Durant made his Phoenix Suns' debut Wednesday night, scoring 23 points in the team's 105-91 win over the Charlotte Hornets. The night was eight months in the making after multiple trade requests and rumors that Durant would end up with the Suns.
Kevin Durant trade rumors dominated the summer until the Brooklyn Nets told the superstar that he wouldn't be dealt. When the Nets traded Irving a few days before last month's deadline, Durant privately reiterated his desire to join the Suns.
"I was looking at the year we was in the last year and then this year, what are we doing [for the future]?" Durant said in regard to his trade request, via Yahoo Sports. "I'm here. I signed the contract [extension], but nobody else around me signed. It was too much confusion. I'm glad I can move forward."
The Nets had a top-four record in the East in the week before the trade deadline, but the future of the team was up in the air. Irving was in the final year of his contract. Brooklyn wasn't interested in giving him a long-term extension. Ben Simmons turned into a bench player, looking like a shell of the All-Star that he was with the Philadelphia 76ers.
"I was thinking about who's in the building, then when s*** started happening. We're not playing well. KI requested a trade. It felt like a lot of s*** wasn't happening for us. But I was locked in. I felt like my play showed people that I was really committed to the organization," Durant said.
"I looked up, like what am I gonna do? I don't know who's gonna be my teammates, so I was a little nervous with that happening. And we were able to work something out."
The Suns immediately became the betting favorites in the Western Conference by acquiring Durant. Phoenix is one year removed from having the league's best record and two seasons removed from reaching Game 6 of the NBA Finals.
Durant could be the piece that finally gets Phoenix over the hump. The new Suns' star was an MVP candidate before suffering an MCL injury in January that kept him out of action for nearly two months. Durant is arguably as effective as any player when he's healthy and on the floor.
Durant fit seamlessly into Phoenix's lineup. The 13-time All-Star showcased his trademark efficiency, making 10 of 15 field goal attempts. The Suns outscored the Hornets by 13 points in Durant's 27 minutes.
Just as they were in Brooklyn, expectations are high for Durant. Anything less than a championship will be considered a disappointment.
There's even more pressure on Durant than on stars like Stephen Curry and LeBron James. NBA Hall of Famers have criticized Durant because his only titles came with a ready-made championship team with the Golden State Warriors.
After winning two rings in Golden State, Durant believes that the standard that has been placed on him is unfair.
"Because at this point, they're saying, go play with Scoot Henderson and win a championship and then we'll give you credit," Durant told Yahoo Sports. "I don't need no credit from y'all, no credit from [Barkley], no credit from Shaq. Y'all don't ever have to watch me play ever again, don't talk about me if you don't [rock] with me. I'm not gonna stop doing what I do. Everybody has their opinions, man. It's not gonna stop me and how I approach the game."
The Suns are the No. 4 seed in the West with 19 games left in the regular season.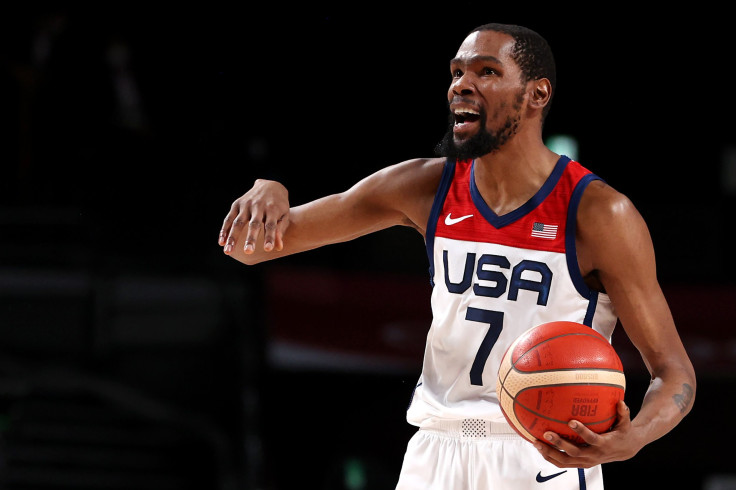 © Copyright IBTimes 2023. All rights reserved.