Kevin Love's Freak Injury Really Was From Knuckle Push-Ups, T-Wolves Star Maintains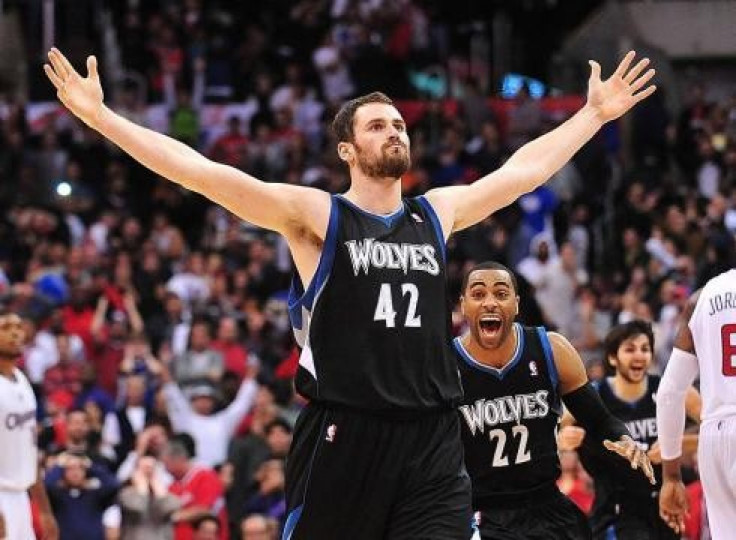 Minnesota Timberwolves power forward Kevin Love said he understands people are skeptical about his freak hand injury, but Love insists that he's telling the truth when he says the broken bones in his hand were really from knuckle push-ups.
Love, who said the injury was "pretty much a freak accident," maintained he was telling the truth about how he broke bones in his hand.
''I've heard everything,'' Love told the Associated Press. ''But this isn't TMZ. This isn't People Magazine. I think most people are just looking for a story. For me, I know what happened. I'm not trying to get around it. I'm not trying to lie. That's just what happened.''
Love, the marquee player for the Timberwolves, is expected to miss six to eight weeks of the NBA season because of his broken hand.
The Minnesota power forward is sticking by his story that the injury occurred while doing knuckle push-ups.
''I do different series of push-ups all the time. My hand just gave on me, and it just broke.," Love told the AP.
Some have suggested that Love isn't being truthful about how he was injured, but the star power forward said he would've made up a better story if he had to lie.
''I would have done some crazy story, the way my mind works. But I can't even think of anything better right now,'' he told the wire service.
Love was criticized for not informing his team about the injury until a day after the mishap. The T-Wolves power forward said he wasn't in the right frame of mind and wanted to play through the pain because Minnesota fans have not seen great success from the team.
''I think the human instinct is to kind of take all the pressure and all the blame onto yourself,'' he said. ''I think that's a large part of what happened. I do feel like I'm a big part of this team, and for me not to be out there the first few or several games, it kills me.''
Love said he hopes to get back to game action as soon as he can, although he won't be suiting up when the T-Wolves open their season Friday in Minnesota against the Sacramento Kings.
"I'm going to stay in shape as much as I can, and I'm just going to continue to stay with the team and keep being a leader,'' he said.
Timberwolves head coach Rick Adelman admitted that Love's absence "is a big hole in or lineup," but would not use the power forward's injury as an excuse for failure.
''That's just the way it is. A lot of teams are facing the same thing. We are no different," he said.
© Copyright IBTimes 2023. All rights reserved.