Kim Dotcom: 10 Most Strange Facts About the MegaUpload Founder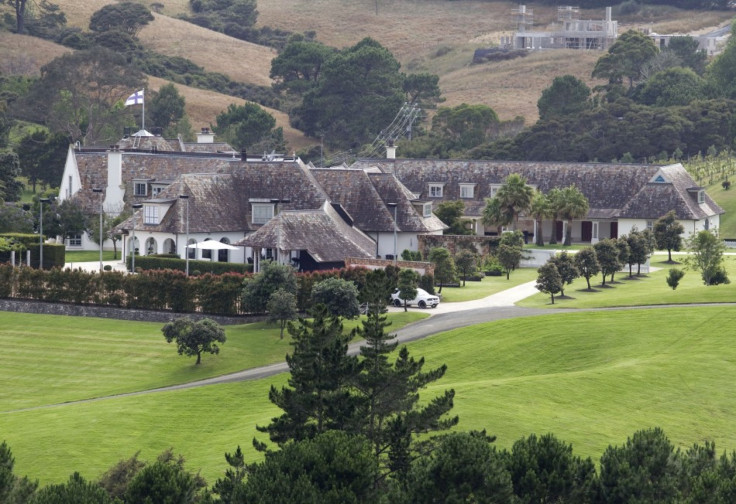 The indictment of Kim Schmitz aka Kim Dotcom, the founder of the video locker service MegaUpload, on charges including criminal copyright infringement and conspiracy to commit money laundering, has raised a significant amount of
A general view shows the Dotcom Mansion, home of Megaupload founder Kim Dotcom, in Coatesville, Auckland. Credit: Nigel Marple / Reuters
public interest in his rather epic lifestyle.
Megaupload Founder Kim Dotcom
For starters, Kim Dotcom, a German-Finnish computer programmer, has way too many names, including (but apparently not limited to) Kimble, Kim Tim Jim Vestor and Dr. Evil, apart from his more popular names mentioned above.
Here is a roundup of the fun facts about Dotcom's strange lifestyle:
1. The Dotcom Mansion, located in a lush, rolling farmland in the northwest of New Zealand's largest city, is one of the largest and most expensive in the country, worth around NZ$30 million. Dotcom had to lease the property, after the authorities restricted him from buying it for failing to meet a mandatory good character test for migrants. However, he was granted residency in 2010, according to Reuters.
2. When the authorities finally granted him residency, Dotcom celebrated it by organizing and paying $500,000 for 2011 New Year's Eve fireworks display over Auckland. He watched the event from a helicopter just 200 meters from the explosions.
3. Dotcom has an obsession with personalized number plates. Among the 21 luxury vehicles, seized from his property during the arrest, were cars with number plates which read KIMCOM, HACKER, STONED, GUILTY, MAFIA, GOD and POLICE, according to Reuters. He owned a pink Cadillac and a Rolls-Royce Phantom Drophead Coupe.
Fireworks in Auckland sponsored by Kim Dotcom. YouTube Screenshot.
4. In the year 2001, Dotcom bought a massive amount of shares of a company, LetsBuyIt.com that was on the verge of bankruptcy. He claimed the company was investing 100 million dollars, which effectively raised the share value by 300 percent. Dotcom was indicted for insider trading, though he made a profit of $1.5 million from the deal, according to a report by TechRife.com.
5. Dotcom is 6'7 tall and reportedly weighs around 300 pounds (136 kg), according to official documents.
Giraffe statues stand in the grounds of the Dotcom Mansion, home of accused Kim Dotcom, in Coatesville. Credit: REUTERS
6. Until recently, Dotcom was the top Modern Warfare 3 player in the world, according to a Mashable report.
7. Dotcom was arrested following a high drama, reminiscent of James Bond movies, in which the dozens of officers, backed by helicopters, forced their way into the mansion complete with hideaways secured with electronic locks. Officers broke the locks, but Dotcom hid in a safe room, which the officers had to cut to gain access, only to see him armed with a shortened shotgun, Reuters reported.
A Rolls-Royce Phantom Drophead Coupe, one of 18 luxury vehicles that New Zealand police say they restrained and placed in the control of the Official Assignee, from the Auckland residence of Kim Dotcom is shown in this handout picture made available January 23, 2012. REUTERS
8. Dotcom is a skilled and a very fast race driver, according to a Vanity Fair report. He reportedly is a ladies man who could be spotted in hot tubs, fully clad, with many women.
9. Dotcom made $42 million from MegaUpload in 2010 alone, according to court documents. The alleged copyright infringing site gets an average of 50 million visitors a day.
10. Dotcom has a liking towards strange giraffe statues, which decorated the premises of his mansion.
© Copyright IBTimes 2023. All rights reserved.