Kim Kardashian Divorce: Can Kim's 'Career' Survive the Bad Press?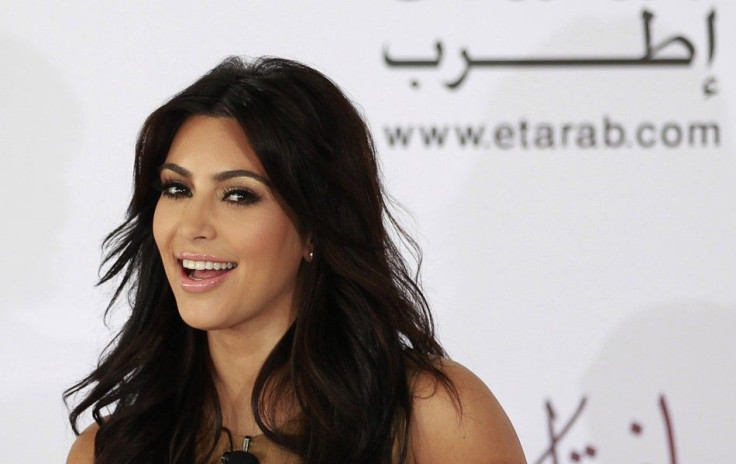 Kim Kardashian is reportedly surprised by the public backlash following her decision to divorce Kris Humphries -- her husband of 72 days -- in late October. The reality star has indeed become quite an unsympathetic figure amidst accusations her blink-and-you-miss-it marriage was 'fake' and a publicity stunt -- Kim and Kris's elaborate August wedding was filmed for a lucrative special broadcast on E!, the network that carries Keeping up With the Kardashians and its various spinoffs.
She honestly thought she'd do a few interviews and then get on with her life, an unnamed source reportedly told Closer magazine, a British tabloid. But she's been getting hate mail and internet abuse and she's terrified she's ruined her career - she's a mess.
Last week, the Boycott Kim Kardashian petition began circulating online, and now has over 160,000 signatures. The petition demands that its supporters refuse to purchase any Kardashian-endorsed brands and appeals to E! to take the myriad Kardashian reality programming off the air.
Never before has an individual who made a sex tape, with no talents received so much attention, a founder of BoycottKim.com told IBTimes late last week.
In a stroke of irony, Kim had been cast in Tyler Perry's upcoming film The Marriage Counselor before she filed for divorce.
While multiple news outlets reported that Tyler Perry had come out to defend his decision to cast Kim in his upcoming film, his statement (which first appeared on his official Web site) wasn't particularly complimentary towards Kim's acting abilities - rather, Perry freely admitted to casting Karshashian because of her potential to sell tickets to young audiences.
I thought, 'What better person?' She literally has millions of young people following her, Perry wrote.
I thought and still do think, that it would be very responsible of her to be a part of this film. If one of those young people see this film and find the strength to live a better life and not go through what these characters went through in this movie, then we have all done what I feel I'm being led to do here. I hope you understand. I really do!
Though Kardashian has managed to hold on to many of her supporters (and as far as we know, all of her endorsements), she appears to have alienated some who are close to her (or at least claim to be).
Earlier this month, a man who claimed to be Kim's former publicist accused Kardashian of staging her wedding, citing her propensity to stage events for the press when he was working with her. Jonathan Jaxson (who is currently promoting a book) claimed that he and Kim cooked up a paparazzi trap in 2007 that resulted in a rumor she was engaged to then-boyfriend Reggie Bush.
Jaxson also said that Kim did not pay him for his services, and more than hinted that the Kardashian camp was somehow behind the sex-tape leak that made Kim famous.
She wasn't devastated by any means, Jaxson said on Elvis Duran and the Morning Show. She was totally non-emotive...She knew that it was going to come out, she knew that was the right step to make, she learned from Paris Hilton...She knew what she was doing and she knew how to become famous.
(It should be noted that Jaxson's credibility has been questioned).
Kardashian is reportedly on the outs with former BFF Brittny Gastineau in the wake of the failed marriage fiasco.
RadarOnline reportedly spoke to a source close to the situation who said that Kardashian stopped returning Gastineau's calls shortly after her lavish wedding to Humphries (where Brittny caught the bouquet).
Brittny was very concerned about Kim's decision to jump into this marriage, and she expressed that to her, in a very loving way, the unnamed source told RadarOnline.
It didn't seem to bother Kim at the time, which was around the time the engagement was announced. Maybe Kim felt like a fool, and perhaps she should have listened to Brittny. Brittny isn't the 'I told you so' type. She is very hurt that Kim has frozen her out of her life right now.
Brittny's Mom Lisa Gastinaeau also provided a cryptic comment to RadarOnline. Britt has always been a great friend to Kim, she reportedly said.
A story in last Tuesday's New York Daily News indicated there was friction between the reality moguls, after Kardashian was a no-show at Gastineau's 28th birthday party in Beverly Hills. The birthday girl reportedly called a moratorium on discussing Kardashian or her divorce, warning guests she wasn't going to talk about Kim so don't bother asking.
Though Humphries has largely been mum on the news of his split, the NBA player acknowledged the separation in a press event announcing his endorsement deal with Sector Watches at the Trump SoHo Hotel in New York City this weekend.
As you all know, this has been a difficult time in my life, and I'm so grateful [for] my friends at Sector for their unwavering support, he said. I've been a watch and fashion lover my entire life and a competitor and the no limit tag is really about how I approach my career.
Things could get even more difficult for Humphries, as he is expected to be cast as a villain in the upcoming Kourtney and Kim Take New York, which premieres on E! on Nov. 27.
Even before the show has hit the airwaves, someone from Kardashian's camp appears to be planting seeds that Kim is the victim of Humphries' lazy and insensitive behavior: An unnamed source told RadarOnline that Kardashian filed for divorce after viewing rough footage of the show, and was reportedly mortified when she saw the way that Kris was treating her.
The source told RadarOnline that Kardashian will be portrayed as the victim, and Kris will definitely be the bad guy. (Though Kim is not an executive producer on the show, she reportedly has full editorial control over what footage is aired.)
Kim will be using the show to attempt to rehab her image, the source continued.
The fact is Kim is extremely insecure, and she is truly afraid that if she were to disappear from the public eye, for even more than a week, her fame would disappear, the source said.
Perhaps Kim might try another approach, and back off from the public eye for just a bit. She is scheduled to host a New Year's Eve event in Las Vegas, and her numerous endorsement deals mean she will continue to spend plenty of time in front of the camera, much to the dismay of those who have an acute case of Kardashian fatigue.
In the most recent issue of New York Magazine, Kardashian (along with Justin Bieber) made the extreme lower left-hand corner of the back page Approval Matrix, which is reserved for the most despicable and low-brow media events of the preceding week.
A cutout image of Bieber and Kardashian's heads appear on the Approval Matrix, along with the follwing commentary: Bieber Kardashian Kardashian Bieber Bieber Kardashian Kardashian Bieber Bieber Kardashian Kardashian Bieber Kardash - [Shoots self.]
FOR FREE to continue reading
✔️ Unlock the full content of International Business Times UK for free
offer available for a limited time only
✔️ Easily manage your Newsletters subscriptions and save your favourite articles
✔️ No payment method required
Already have an account?
Log in
© Copyright IBTimes 2023. All rights reserved.