Kim Kardashian Wedding Dress Revealed? Star Addresses Rumors And Hints That Beyoncé May Attend Wedding After All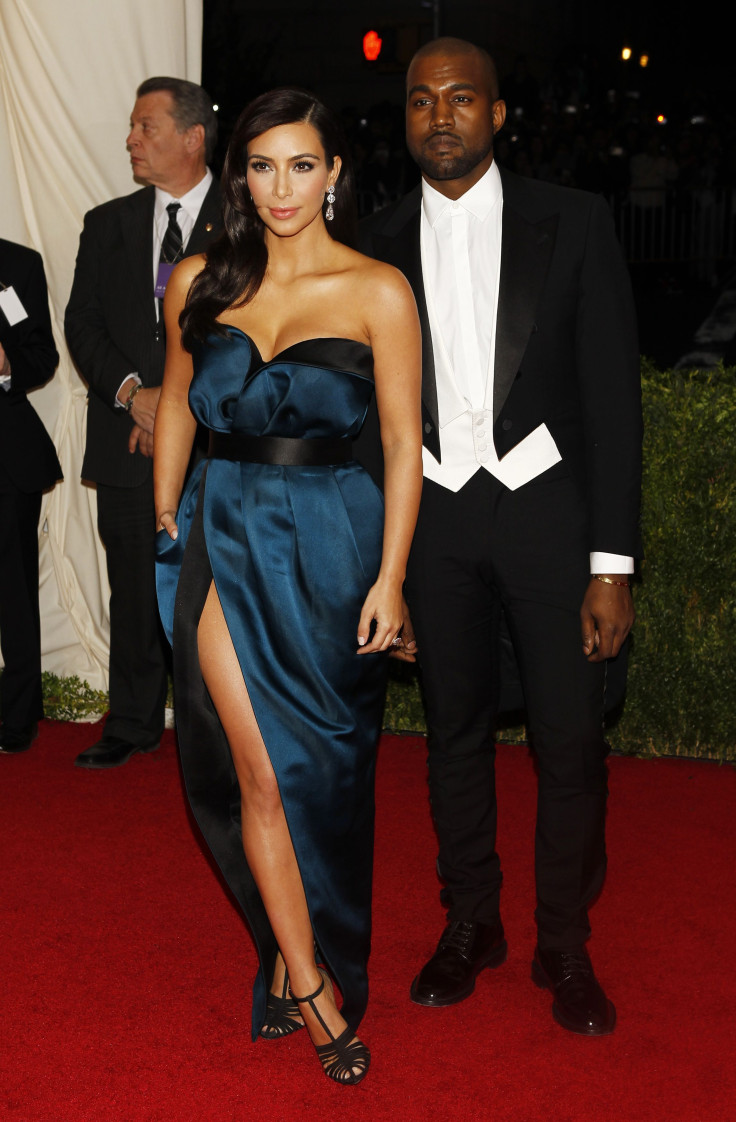 Kim Kardashian's wedding dress has been revealed, according to magazine tabloids. InTouch Weekly has the reality star on its latest cover, and she is shown in a wedding dress with the headline, "Wedding from Hell."
Next to her is a woman trying to pull a wedding dress over her backside when it clearly does not fit. Inside, the tabloid claims Kris Jenner, Kardashian's mother, was reportedly "drunk all day," at the ceremony, and Kanye West walked out during the nuptials. The only problem is that Kardashian has already stated the wedding has not taken place yet, so that certainly cannot be the dress she wore for the big day, nor can the report be true. Kardashian confirmed to Vogue earlier this week that she and Kanye West have yet to marry. When asked if she should be called Mrs. West or Kim, the reality star responded, "Still Kim, Mrs. West soon!"
She also went on Twitter to correct rumors about her lavish event. "Seeing fake wedding dress pics of me. No one has seen my dress! Those photos are old or photo shopped," she said. She also addressed the wedding guest list. Earlier reports claimed stars such as Robin Thicke, Jonah Hill, Karl Lagerfeld, Oprah Winfrey and Anna Wintour declined the couple's invitation. "No guest list has been released," she tweeted. "Seeing fake ones. Especially not 1600 people invited like I just read. It's VERY small & intimate."
In addition, big names such as Beyonce and Jay Z, who are also good friends of West's, reportedly were not going to attend Kardashian's wedding. According to reports, West asked Jay Z to be his best man, but Jay Z would only do so if he, Beyoncé and their daughter, Blue Ivy, were not caught on camera. "Jay agreed initially but had one condition -- under no circumstances can there be any reality TV shows filming him, his wife, Beyoncé, or daughter Blue Ivy during the ceremony," a source told DailyStar.
"She [Beyoncé] purposefully keeps herself away from trashy TV and isn't prepared to lower her standards for anyone, or any occasion." It seems Beyoncé and Jay Z may now be at the wedding after all, as Kardashian admitted the wedding will not be filmed. "We are not filming our wedding for "Keeping Up With the Kardashians." You will see everything leading up til and after! As much as we would love to share these memories on camera, we've decided to keep this close to our heart & share thru photos [sic]."
© Copyright IBTimes 2023. All rights reserved.
FOLLOW MORE IBT NEWS ON THE BELOW CHANNELS