KPop 'Music Bank' World Tour: Korean Star Groups Pack Paris Stadium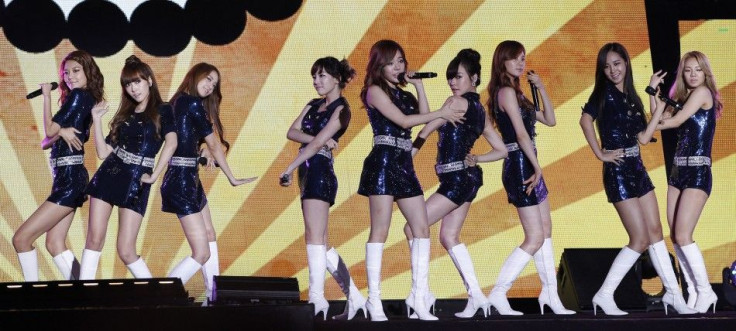 French teens are hungry for Korean Pop, and to convince the South Korean music industry to send their most popular groups to Paris, the fans took matters into their own hands and organized a KPop flash-mob at Trocadero, a touristy plaza with a panoramic view of the Eiffel Tower. The ploy worked and last week, France's KPop fans got their wish.
10,000 fans of Korean Pop, known by its throngs of shrieking teenage fans as KPop, filled the Bercy music stadium in Paris, France on Feb. 8 to watch all their favorite Korean Pop artists sing and dance while computerized music blared from gigantic speakers and a light show bathed singers and fans alike in an array of flashing colors. Many of the fans came to the concert covered in paint (including Korean flags painted on faces in the shape of hearts) while others brought home-made signs declaring their love for their favorite KPop group, according to KPopStarz.com.
The new genre has steadily grown in popularity in recent years as the electronic, high-energy pop factory churns out hit singles, and fans across the globe eat them up and beg for more. Although the music has become extremely popular with the teenagers that make up a key consumer demographic, KPop music is not readily available for sale in retail.
While the 'Music Bank' tour, a new offshoot of the popular Korean music television program, was preparing for the concert, a reporter for Soompi.com (a Korean culture fan-site) visited the Virgin Megastore, one of Paris' biggest music retail spaces, in search of KPop music. They found no KPop CDs for sale, and talked to an employee who noted an increasing number of teenagers coming into the store in search of Korean Pop music.
According to KPopStarz.com, although KPop has entered the European market and won over a significant fan-base most fans have to download the music or ask a friend who is visiting Korea to bring them back CDs.
As KPop continues to spread, we hope to see Korean albums in Paris and all around the world. This is only the beginning of the globalization of KPop, concludes the KPopStarz blog post.
The concert, which took place over a week ago, was aired on Korean TV on Saturday, and features a large number of KPop groups, most of which have between five to nine members. 50 Korean performers including the members of Girls' Generation, 2PM, T-ara, B2ST, 4minute, SHINee, U-KISS, SISTAR and others are taking part in the KPop world tour, the first of its kind.
One French fan, an adult male who teaches Korean, posted a video on YouTube in which he films a portion of the concert and talk to several French fans in English about their interest in KPop, capturing the mass hysteria that these music groups have created.
The Music Bank show began with a joint performance by the combined members of Girls' Generation, 2PM, T-ara, B2ST, SHINee, 4Minte, Sista and U-Kiss, who sand the popular Parisian classic , Aux Champs Elysees, about Paris's main shopping drag which links the 'Arc de Triomphe' with the Louvre Museum.
After the opening act, the groups U-Kiss, Sistar, $minute, SHINee, B2ST, T-ara, 2PM and SNSD performed on their own for a collective total of three hours that featured choreographed dancing, harmonized vocals and surprise performances.
The 'Music Bank' KPop world tour began in 2011 with similar shows in Tokyo and New Jersey. Following Paris the tour will move onto Vietnam, China, Brazil and a final performance in Los Angeles before heading home.
FOLLOW MORE IBT NEWS ON THE BELOW CHANNELS