LeBron James Stats: More Records The Lakers Star Can Break Before Career Ends
LeBron James likely isn't done breaking records after surpassing Kareem Abdul-Jabbar as the NBA's all-time scoring leader. The Los Angeles Lakers star will continue to climb up the rankings in a number of stat categories before his career is done.
James is on track to pass Abdul-Jabbar in more than just total points. The new scoring leader should soon own the record for most field goals attempted.
Abdul-Jabbar's 28,307 field goals attempted put him just 478 shots ahead of James on the all-time list. If James maintains his pace of 22.8 attempts per game, he'll only need 21 more games to catch Abdul-Jabbar. James could set the record this season since the Lakers have 27 games left on their schedule.
Surpassing Abdul-Jabbar in field goals made will be more difficult. James is second all-time, trailing Abdul-Jabbar by 1,784 made shots. James is on pace to finish the season with 760 field goals made. Doing so would leave him 1,534 field goals shy of Abdul-Jabbar's record. James would likely have to play into the 2025-26 season in order to climb to the top of that list.
If James ends up making more field goals than anyone, it probably means that he's played the most games in league history. James is ninth on the all-time list at 1,410 games played. Robert Parish leads the way with 1,611 games played.
James should move up to eighth all-time and pass Kevin Willis (1,424 games played) this season. The Lakers' star can conceivably pass John Stockton (1,504) for fifth place next season. James could pass Abdul-Jabbar (1,560) for second all-time during the 2024-25 season if he avoids any serious injuries.
Stockton's record of 15,806 assists is likely safe from James, though the all-time leading scorer has already cracked the top five. James ranks fourth in history with 10,354 assists. Chris Paul is still active and third with 11,283 dimes.
Maybe James can hang on long enough to catch Jason Kidd for second on the all-time list. With 12,091 assists in his career, Kidd is 1,737 assists ahead of James. It would take an average of 7.72 assists over 75 games for three seasons for James to total 1,737 assists.
James' 2,179 steals rank ninth all-time. He could eventually pass Maurice Cheeks (2,310) for sixth in history.
James also ranks in the top 10 in defensive rebounds, free throws made and free throw attempts.
James is expected to play two more seasons, at the very least. The four-time Finals MVP continues to state that he wants to play in an NBA game with his son, Bronny James. Bronny is a senior and high school and would be eligible for the 2024 draft.
James is averaging 30.2 points, 8.5 rebounds and 7.0 assists per game in his 20th NBA season.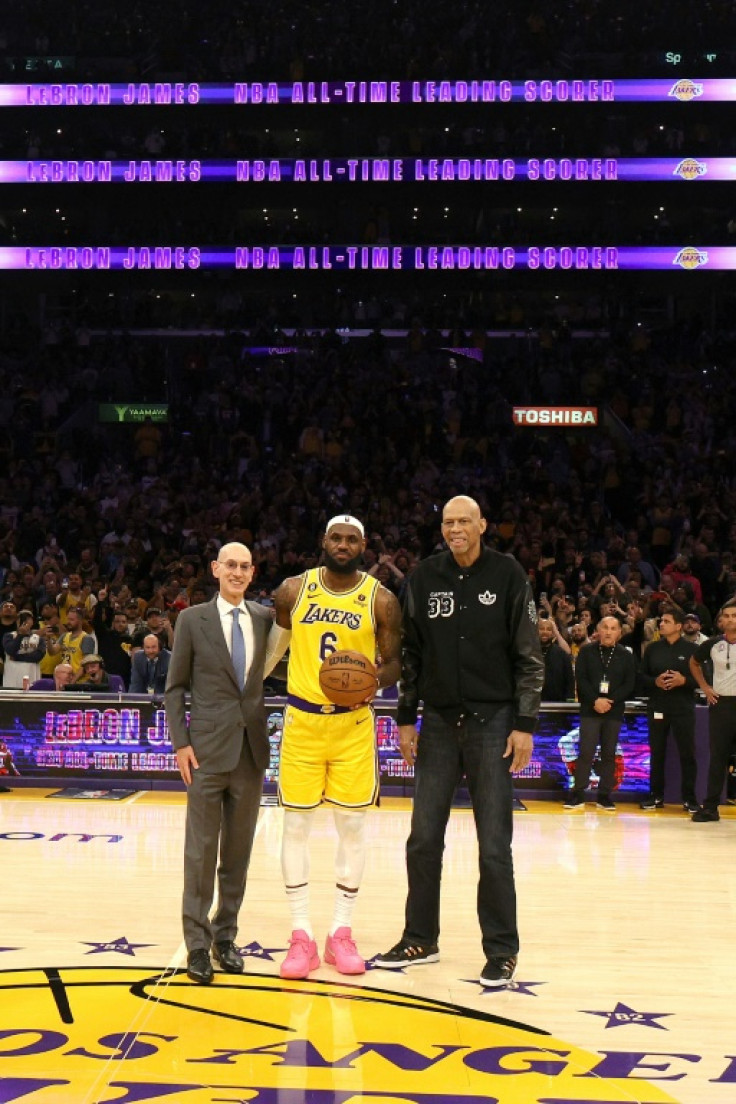 © Copyright IBTimes 2023. All rights reserved.