LOOK: Derrick Rose Pays Homage To Alma Mater With Grizzlies Number
KEY POINTS
Derrick Rose will be wearing No. 23 for the first time since his college days
The University of Memphis was where Rose's legend began
Rose is expected to provide a big impact in the Memphis Grizzlies locker room
Derrick Rose is set to join his seventh team in the NBA after signing a two-year, $6.5 million contract with the Memphis Grizzlies, and his new number is a throwback to his NCAA Division I days.
In an Instagram post by his wife Alaina Anderson Rose, the youngest MVP in NBA history and his family were warmly received by the Grizzlies and had even laid out five jerseys for them–one for each member of his family with the number 23 on them.
While his family is going to start getting more acquainted with the new surroundings for at least the next two seasons, Rose is no stranger to the Memphis area as he started his legend in the college basketball scene about 12 kilometers and 16 minutes away at the University of Memphis.
Rose would go on to spend one season with the Memphis Tigers and would log an all-around solid 14.9 points, 4.5 rebounds, and 4.7 assists while shooting 47.7% from the field alongside 1.2 steals and 0.4 blocks over the course of 40 games.
Though he was unable to show his full arsenal of athleticism during his college days as fellow guard Chris Douglas-Roberts was the number one option in Memphis, the Chicago Bulls could not turn down the opportunity to select their hometown kid with the top pick in the 2008 NBA draft.
Success would follow Rose throughout much of his Bulls tenure, but it was also there when his career would get derailed as injuries to his knees would sap him of the explosiveness that made him such a force in the professional league.
Following stints with the New York Knicks, Cleveland Cavaliers, Minnesota Timberwolves and Detroit Pistons, Rose would spend the past two seasons with the Knicks before getting a deal from the Grizzlies.
Known by fans for his cool and calm demeanor, the Grizzlies deciding to sign Rose to a decently sizable contract for a veteran nearing the tail-end of his career may be the front office's response in finding their young core a proven NBA star who can serve as their moral compass in the locker room.
It should be noted that the Grizzlies became the butt of the joke in many NBA circles after they were ousted by the Los Angeles Lakers in the first round of the 2023 playoffs, with many citing that their egos had gotten the best of them–particularly Ja Morant, Desmond Bane and Dillon Brooks.
With Brooks skipping town to join the Houston Rockets and Bane agreeing to a five-year, $207 million extension, the Grizzlies may be hoping that Rose's presence will help refocus the roster toward their goal of winning a championship instead of being bothered by outside talk.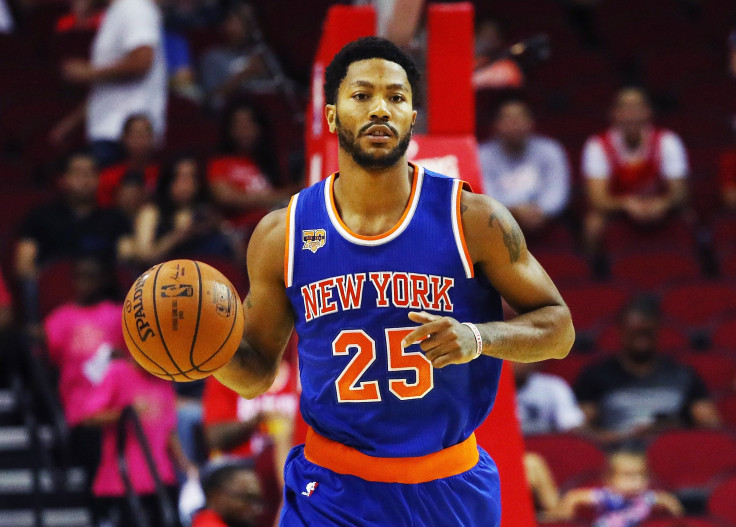 © Copyright IBTimes 2023. All rights reserved.