Luka Rocco Magnotta Pleads Not Guilty In The Murder And Dismemberment Of Jun Lin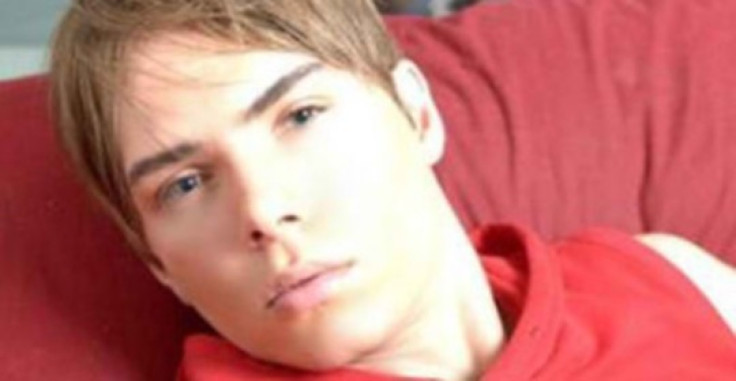 Luka Rocco Magnotta, the man accused of murdering and dismembering his Chinese lover and mailing body parts to the headquarters of the two major political parties in Canada, has pleaded not guilty to the five charges he faces, including first degree murder.
Magnotta appeared before Justice Lori-Renee Weitzman through a video link. This phase of the trial lasted only about three minutes. During the hearing, Magnotta only said one word in response to a question from his lawyer, Pierre Panaccio.
If you wish to call me at home tonight, I'd be pleased to talk about this, Panaccio told Magnotta, the Associated Press reported.
Okay, replied Magnotta.
Panaccio entered the plea of not guilty to all five charges, which include first-degree murder, defiling a corpse, threatening the prime minister and using the mail system for delivering obscene, indecent, immoral or scurrilous material. He also asked the court for a possible psychiatric evaluation. The court will consider that option Thursday, the Associated Press reported.
Magnotta was taken to a police operational center in northern Montreal after his extradition, where he spent the night and appeared before the judge. It is expected that he will be transferred to one of the city's highest security detention centers now that he has been formally charged, CBC reported.
Magnotta, dubbed the Canadian Psycho, is accused of allegedly dismembering a 33-year-old Chinese Concordia University student, Jun Lin, in Montreal before fleeing to Europe. The two were allegedly romantically connected. He is also accused of sending Lin's feet and hands to Canada's top political parties and two elementary schools.
Prosecutor Helene Disalvo said that authorities will meet with Lin's family, who traveled from China to Canada after learning of Lin's death.
The 29-year-old suspect arrived in Canada on Sunday after being arrested in Germany. He was extradited back to his home country aboard a military plane. No commercial airline would accept Magnotta as a passenger, the National Post reported.
How can we bring him back to Montreal on a commercial flight with other people sitting on board? Montreal police Cmdr. Ian Lafreniere said. For very extraordinary cases, we do have to take some extraordinary measures.
The case received international attention after Lin's body parts were discovered in parcels sent to the Conservative and Liberal Party headquarters. Lin's torso was discovered in a suitcase, the Associated Press reported.
Police believe that Magnotta killed Lin with an ice pick sometime between May 24 and May 25. Police discovered a video online of what appeared to be Magnotta having sex with Lin's body and then eating parts of it.
Vancouver police also said that a package containing what appeared to be a human hand was sent to False Creek Elementary School, and a package containing a human foot was discovered by the staff at St. George's private school. Those body part remnants were later confirmed to be Lin's.
Students at False Creek Elementary were evacuated at the time of the incident.
Obviously there was excitement for the students because [the police cars] were visible to the students and also there were media vans, chairwoman of the False Creek elementary school Parents' Advisory Committee Larissa Warrington said, according to the Vancouver Sun. There was curiosity for sure but just curiosity.
However, the mail room at St. George's is isolated, away from students and staff. Therefore it was easy for administrators to call the police without alerting students.
There was no other involvement of students or faculty, and that's obviously our primary concern, said school spokesman Gordon C. Allan, the Vancouver Sun reported. We have been advised by the VPD that as far as they're concerned this is totally random. ... We're doing our own digging to make sure that is the case.
The fact that the [packages] were sent to False Creek Elementary and St. George's, I mean these are totally disconnected schools. So there's no rhyme or reason to it.
Vancouver Deputy Police Chief Warren Lemcke said at the time of the incident that it did not appear that any children at the school were targets.
There is no indication any student or staff has been targeted at any school, Lemcke said, the AP reported. This must have been a very traumatic incident for all involved in the schools involved in opening the packages, and the Vancouver Police Department will assist any way we can with our victims' services section.
Canadian police have not recovered Lin's head. However, they reportedly questioned Magnotta at length about it, the National Post reported.
Police said that after Magnotta killed Lin, he fled to Europe. This began a worldwide manhunt. However, he was only gone for two weeks. Magnotta was arrested in an Internet café in Berlin. The owner of the café recognized him from photos in a local newspaper and immediately informed police, the Associated Press reported. The owner of the café said that Magnotta had spent most of his time there on the computer searching for details about his manhunt and looking at nude photos of himself on his personal website and his email account.
I wasn't sure if it was him, but then I looked at some pictures and thought, that is definitely him. He spoke French, said 'monsieur,' and wanted to use the Internet, cafe owner Kadir Anlayisli said, Reuters reported.
Magnotta was issued a red notice by Interpol, after they issued a warning in Europe. This is the highest type of warning, and under Interpol rules, a suspect must be held in custody until his extradition. However, Canada and Germany have a bilateral extradition treaty. This process is thought to be more of a formality, the AP reported.
Police said he did not put up a struggle when he was arrested. He tried to give a fake name to arresting officers, but conceded.
In the end he just said: 'You got me,' said police spokesman Guido Busch, the BBC reported
Montreal Police Commander Ian Lafreniere said that investigators were happy with the arrest and eager for Magnotta to face Canadian court.
We said from the beginning that [he used] the Web ... to glorify himself, and we believe the Web brought him down, he said, the BBC reported. He was recognized because his photo was everywhere.
Magnotta did not contest his extradition from Germany and arrived in Canada on Monday.
Magnotta is believed to have arrived in France on May 26. French police had investigated thousands of tips from French citizens. They concluded he could be headed to Germany on a Eurolines coach bus, Reuters reported. They alerted their German counterparts to be on the lookout.
Magnotta faces first-degree murder charges in connection with the grisly videotaped death of 32-year-old Chinese student Jun Lin, Reuters reported. He also reportedly consumed parts of his victim before Lin's dismembered body was found in parcels and mailed to Canada's Conservative and Liberal Party headquarters. Authorities also believe Lin's throat was slashed and that he was stabbed several times by Magnotta before he was decapitated and dismembered. Lin and Magnotta had a prior romantic relationship, the Daily Mail reported.
In a homicide case like this, having images of the crime is very rare, said Lafreniere at a news conference. Media around the world have circulated his [Magnotta's] photograph, [and] the media have been talking about this ... so I'm very hopeful that all that assistance will help us put him behind bars.
© Copyright IBTimes 2023. All rights reserved.
FOLLOW MORE IBT NEWS ON THE BELOW CHANNELS