Magic Johnson Commemorates 20th Anniversary of Historic Public HIV Announcement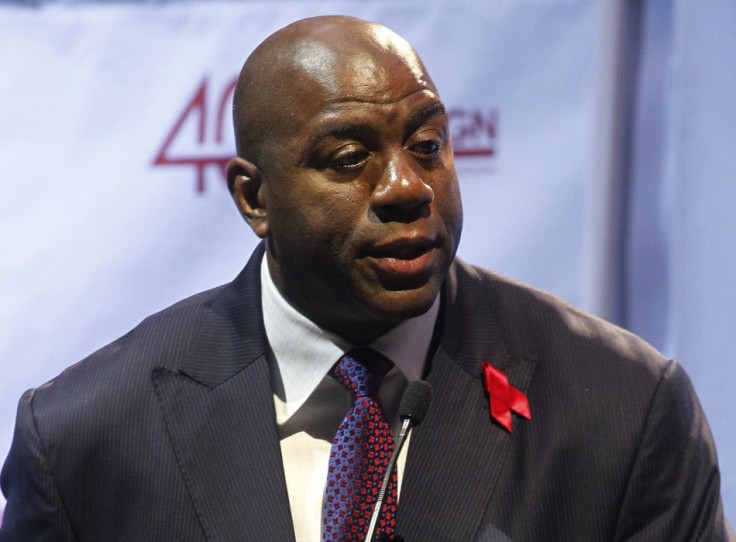 Twenty years on, still going strong and fighting - Magic Johnson, who had publicly revealed his HIV diagnosis to a shocked world in 1991, celebrated his twenty years of beating the virus at Staples Center on Monday.
The celebration was joined by many celebrities, politicians and Lakers greats like James Worthy and Michael Cooper.
Apart from the celebration, the Magic Johnson Foundation, established by the retired basketball players in November 1991, also announced a $1 million gift to continue its mission for worldwide HIV awareness and testing.
During the event, Johnson mentioned that if he had known how well he battled the debilitating condition twenty years back, he would not have retired.
At that time, it was the right decision. If I knew what I knew today, that I could still play basketball and do my thing, I probably wouldn't have retired. But I'm a guy that doesn't have regrets. I don't look back. I'm happy, because I wanted to be here a long time. We made the right call at that time. Chron.com quoted Johnson stating during the event.
It was before the 1991-92 NBA season that Johnson discovered about his illness during a physical testing.
Following this, on Nov. 7, 2011, Johnson made a public announcement that he would retire immediately. During the meeting, he also mentioned that he did not know how he contracted the disease and that his wife Cookie and their unborn child did not have HIV.
Following the announcement, there were many speculations about his personal life and some even thought that he was either gay or bisexual.
However, he remained strong and later even tried to promote awareness and education about HIV/AIDS through his Magic Johnson Foundation. He was also the main speaker for the United Nations (UN) World AIDS Day Conference in 1999 and has served as a United Nations Messenger of Peace.
Through his many campaigns, he has tried to educate the masses that the risk of infection was not limited to groups like drug addicts and homosexuals.
© Copyright IBTimes 2023. All rights reserved.