'Married At First Sight: The First Year' Spoilers: Who Doesn't Want Jamie And Doug To Have Babies Yet? Premiere Recap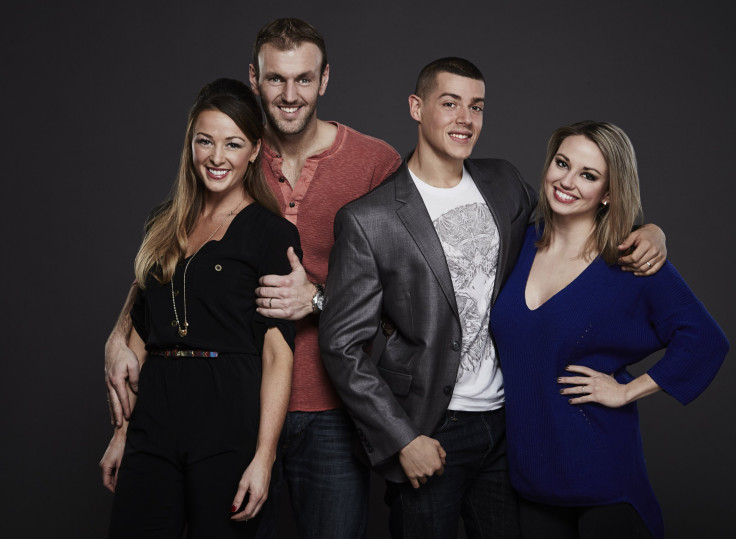 "Married At First Sight: The First Year" kicked off and showed that the honeymoon is over for the two couples who were set up on the original FYI series "Married At First Sight." Doug Hehner and Jamie Otis, as well as Cortney Hendrix and Jason Carrion were married without ever meeting each other beforehand. Experts matched them and the docu-series followed them for five weeks. At the end of that time, the two couples decided to stay together, while the third and final couple, Vaughn Copeland and Monet Bell, divorced. The two couples have been married for six months in the spin-off series premiere, and it seemed they were still just getting to know their spouses.
Jamie and Doug
Six months after getting married, Jamie and Doug moved to New Jersey. They want to have kids, and they'd like them to grow up around Doug's family. While Doug's plan for kids is off in the future, Jamie figured that getting married might mean having babies quickly.
"Things are so great now. Let's just go have babies. Why wait any longer?" Jamie asked.
She was ready to have kids, but Doug wasn't quite ready. He was only recently able to move out of his parents' house when he got married, and he was still settling into his new job. He didn't think they needed to have kids just yet.
Jamie decided to talk to Doug's parents about the possibility of children, and they weren't very enthusiastic. They wanted her and Doug to wait a little longer. After all, they've only known each other for six months.
"Jamie has baby fever, and I have no doubt that she'd be a phenomenal mother," Doug's mom said. "But I just want them to get to know each other a little bit better."
They went apple picking with Jamie's nieces and nephews. Watching Doug with kids made Jamie want kids even more, but Doug told the Diary Cam that he wasn't ready. He wanted a "solid foundation" and more financial stability.
Later, Jamie's family met up with her mother for dinner. Jamie understood that her mom was trying to connect, but Jamie hated it because she had a troubled childhood. She grew up in poverty and eventually became the legal guardian of her siblings at age 20. She couldn't forget the past and she didn't really think her mother's presence would be long term. "I would love to have a mom, and I just know that that's never going to happen," Jamie said.
Cortney and Jason
The couple had a rough start. After the initial marriage experiment, Jason's mother died (she was terminally ill when Jason and Cortney married) and he hasn't dealt with a lot of the aftermath — including her belongings. Jason moved her stuff into a storage unit and still had to go through everything there. He was also in the fire academy, and that was keeping him away from his wife.
"I think there's a real possibility that the academy could do some damage to us," Jason said.
Cortney was trying to support her husband, so she didn't want to put her stresses on him. However, there are some things that she'll have to tell him about — like losing her job.
To make up for their time apart, Jason planned a late six-month anniversary celebration. He took Cortney wine tasting and then they went to the hotel where they got married. He got the presidential suite and had a candlelight dinner and flowers set up. They talked about their relationship and how much they've grown. "You couldn't write a better love story than that," Jason said.
Of course, with all of the romantic plans, Cortney didn't find the right time to tell him that she was being let go from her job.
The Wives
For the first time, fans saw the "Married At First Sight" wives on screen together. Cortney and Jamie met up with Monet over lunch. They've stayed in touch since the show since they're the only people who really understand each other's situations.
"The best thing that our couples have is each other. They can use each other as sounding boards, as resources, as just support systems to go through this process that no one else in the United States has gone through before," sexologist Dr. Logan Levkoff said.
Cortney was happy for Jamie's successful relationship, but she was a little jealous that their relationship was less stressful. However, she had to be grateful that her marriage worked out better than Monet's relationship. After five weeks, Vaughn and Monet opted for a divorce.
"Now that Vaughn and I are separated, I'm much happier," Monet said.
Monet was dating a little bit, but not much. She wanted to start online dating, and Jamie encouraged her. It forced her to think about what she thought she wanted in a man. She analyzed what went wrong with Vaughn, and she decided that she still wanted everything she thought. Vaughn just wasn't the right person for her, and she would have to keep searching for her soulmate.
"Married At First Sight: The First Year" airs Tuesdays at 9 p.m. EST on FYI. Do you think Jamie and Doug are ready for children? How do you think Jason will react to Cortney's unemployment? Sound off in the comments section below!
© Copyright IBTimes 2022. All rights reserved.
FOLLOW MORE IBT NEWS ON THE BELOW CHANNELS