Mary Kennedy Found Dead In Apparent Suicide, Reportedly ?Depressed And Despondent? Before Death [PHOTOS]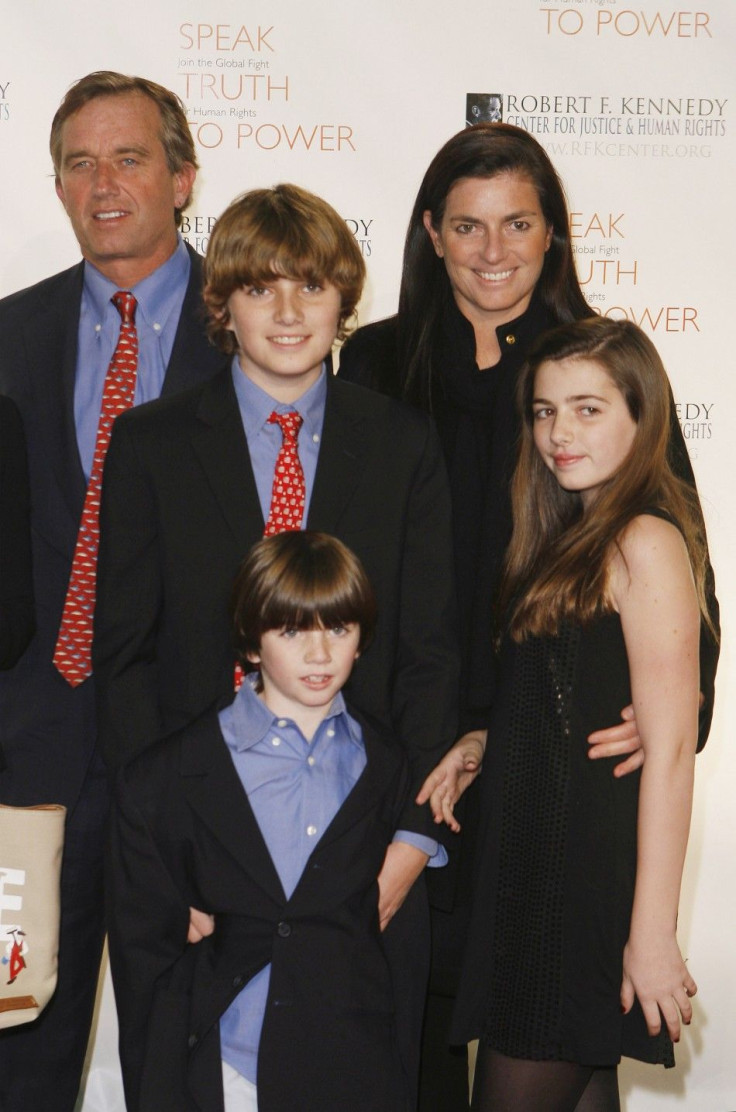 Robert F. Kennedy Jr. and Mary Kennedy with their four children in 2008. Photo courtesy of Reuters.
Robert F. Kennedy Jr.'s estranged wife, Mary Kennedy, was found dead in her Mount Kisco, N.Y., home in an apparent suicide by hanging, ABC News reported. The 52-year-old's body was found on Wednesday afternoon.
We deeply regret the death of our beloved sister Mary, whose radiant and creative spirit will be sorely missed by those who loved her, Mary Kennedy's family said in a statement released through her lawyer. Our heart goes out to her children who she loved without reservation.
Bedford police responded to a call at 1:36 p.m. on Wednesday about a possible unattended death, ABC News reported. A housekeeper found Mary dead in the family's barn, according to a family member. The death is currently under investigation and an official autospy has been scheduled for Thursday.
Mary inspired our family with her kindness, her love, her gentle soul and generous spirit, Kennedy Jr.'s family said in a prepared statement. Mary was a genius at friendship, a tremendously gifted architect and a pioneer and relentless advocate of green design who enhanced her cutting edge, energy efficient creations with exquisite taste and style. She applied her talent, energy and passion which were both brilliant and abundant, to advocacy for treatment and finding a cure for food allergies and asthma. She was an instrumental co-founder and driving force of the Food Allergy Initiative to which contributions may be made in her name.
Mary married Robert F. Kennedy Jr., a prominent environmental lawyer, son of the late Sen. Robert Kennedy and nephew of President John F. Kennedy, in 1994. Mary was very close to the Kennedys for years, reported the Daily Mail. She met Robert's sister, Kerry, at boarding school and was her maid of honor in her 1990 wedding. Mary was Kennedy Jr.'s second wife. The couple had four children together, all currently under the age of 18. She was an architect and designer and oversaw the renovation of their sprawling, environmentally-friendly mansion.
Despite this seemingly picturesque life in Bedford, Mary Kennedy suffered issues with drug and alcohol use.
Kennedy Jr. filed for divorce in 2010, according to the Journal News. Just one day after this filing, Bedford police responded to the Kennedy home for a domestic incident where Mary Kennedy was allegedly under the influence. Three days later, Mary Kennedy was stopped outside of a school where she had veered her Volvo off the road and onto a curb. She was charged with a DUI after showing a BAC of 0.11 percent. The legal limit is 0.08. In August 2010, she was arrested again for driving under the influence of drugs, according to ABC.
A friend of Mary Kennedy's spoke to RadarOnline.com, the website that first reported the news of her alleged suicide, who told the website that Mary was depressed and despondent shortly before she died.
The home of Mary Kennedy is seen in Bedford, New York May 16, 2012. Mary Kennedy, the estranged wife of Robert F. Kennedy Jr, was found dead on Wednesday at her home in a New York City suburb, an officer at the Westchester County Medical Examiner's Office said. She was 52. Photo courtesy of Reuters.
I spoke to Mary on Monday and she sounded extremely down, the source told RadarOnline.com. She was very depressed and despondent and worried about the future.
Mary said she was facing financial ruin, with American Express coming after her hard for an outstanding debt, along with several other creditors. In addition, she was concerned that Robert was about to substantially reduce the amount of financial support he gave her and she was terrified she would have to file for bankruptcy and lose her home.
Another issue supposedly troubling Mary Kennedy before her death was her ex-husband's having moved on, the source said.
Robert still supported Mary and was there for her whenever he could be, but he had pretty much moved on, a previously told RadarOnline.com. He has been dating Cheryl Hines for a while now and they are very happy together. Actress Cheryl Hines is best known for her role on Curb Your Enthusiasm with Larry David.
It was very tough for Mary to deal with Robert dating someone else, the source added on Wednesday. And it really didn't help that the new woman is a celebrity. She would see photos of the two of them together and it would drive her nuts. I think, deep down, she had still harbored a belief they would get back together but it had recently become blindingly clear that wasn't to be.
RadarOnline.com reported that Kennedy Jr. attempted to help Mary through her troubles but it was difficult for him to be around her.
Robert F. Kennedy Jr. (R) and his wife Mary arrive for funeral services for U.S. Senator Edward Kennedy at the Basilica of Our Lady of Perpetual Help in Boston, Massachusetts August 29, 2009. Photo courtesy of Reuters.
Mary Kennedy's death came as a shock to fellow Bedford residents.
I've always just thought that family is very tragic. They keep having tragic things happening to them. It's heart-wrenching, Diane Gloker told the Daily Mail. Gloker referenced what has been dubbed The Kennedy Curse or The Curse of Camelot, a term used to describe the series of tragic events that have harrowed the Kennedy family for years.
The Kennedy Curse began when Joseph Kennedy Jr. was killed in World War II and his sister Kathleen died in a plane crash soon after. President John F. Kennedy was assassinated in Dallas in 1963 and Robert Kennedy in Los Angeles in 1968. Following that were the untimely deaths of Sen. Edward Ted Kennedy, John F. Kennedy Jr., David Kennedy, Michael Kennedy and Kara Kennedy.
© Copyright IBTimes 2023. All rights reserved.
FOLLOW MORE IBT NEWS ON THE BELOW CHANNELS