Meghan Markle Losing Deals After Making Herself 'Contaminated,' Royal Biographer Claims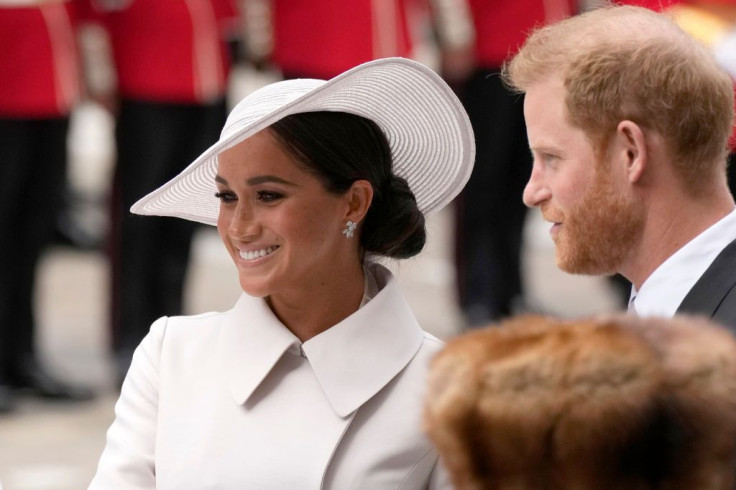 KEY POINTS
Tom Bower believed Dior did not sign Meghan Markle because the duchess made herself "contaminated"
The royal biographer said the Kardashians constantly reinvent themselves but the Sussexes have "only one trick"
Dan Wootton claimed the Kardashians are better than the Sussexes in terms of how they treat their family members
Prince Harry and Meghan Markle should take cues from the Kardashians when it comes to building a profitable brand in Hollywood, a royal biographer has suggested.
British writer and investigative reporter Tom Bower joined host Dan Wootton on the latter's GB News show to discuss whether the Duke and Duchess of Sussex are heading for bankruptcy following the loss of their reported $20 million deal with Spotify and the backlash that followed.
Wootton suggested that brands may become wary of working with Markle as there are fears she may provoke negative reactions from the public, citing recent polls that show the Sussexes' popularity has dropped significantly among Americans this year.
"Well, I think that was the reason that Dior's supposed contract evaporated," Bower claimed. "She [Meghan] has made herself, to some extent, contaminated. And how does a contaminated person actually sell?"
Reports surfaced last month that Markle may be signing a lucrative deal to be the face of Dior, but a spokesman for the luxury fashion house later denied it, telling Women's Wear Daily that there had been no contract negotiations or recent contact with the duchess.
Bower went on to compare Markle and Prince Harry to the Kardashians, noting that while the famous family is constantly "reinventing" themselves, the couple has made their brand about their feud with the royal family.
"What's brilliant about the Kardashians is they keep on reinventing themselves," the former BBC journalist and television producer said. "They always create some huge new marriage or sensational film or whatever. The Sussexes have only one trick, which is to attack, and that has now turned sour."
Wootton then claimed that Markle and Prince Harry are the "total opposite" of the reality stars because the Kardashians "love their family" members, which he said is "important" in America.
"Blood is thicker than water. They always stand by each other even when they disagree. A total opposite of Harry and Meghan, who threw the Windsors under the bus at the first possible opportunity," the TV host opined, referring to the Sussexes' allegations about the royal family and their time as working royals in their interviews and docuseries since leaving royal life.
The "Revenge" author previously claimed on the same program that the Duke and Duchess of Sussex had "sabotaged" themselves so brands may no longer be willing to work with or be associated with them.
"For the Sussexes ... this is a major blow," Bower told Wootton. "What is he going to do to earn money? What's she going to do? It would have been wonderful to have been the face of Dior. There's huge money there. So they are really at the end of it. They sabotaged themselves by being so controversial, and I think that is what people like Dior and other corporations fear. They don't want to be associated with that sort of controversy."
While they no longer have a deal with Spotify, Markle and Prince Harry's partnership with Netflix is still going strong.
In late June, a Netflix spokesperson said in a statement to People that the streamer has several projects in the works with the couple's Archewell Productions.
"We value our partnership with Archewell Productions," the spokesperson said. "'Harry & Meghan' was Netflix's biggest documentary debut ever, and we'll continue to work together on a number of projects, including the upcoming documentary series 'Heart of Invictus.'"
"Heart of Invictus," which will follow the athletes of Prince Harry's Invictus Games for service personnel as they prepared for the 2020 Invictus Games in The Hague, the Netherlands, is set to air on Netflix this summer.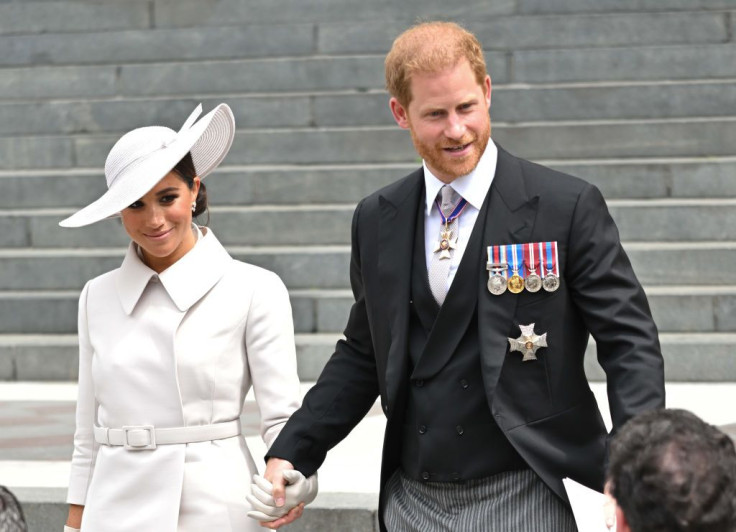 © Copyright IBTimes 2023. All rights reserved.