Michael Jackson Trial: Who are the 12 Jurors Deciding Doctor's Fate?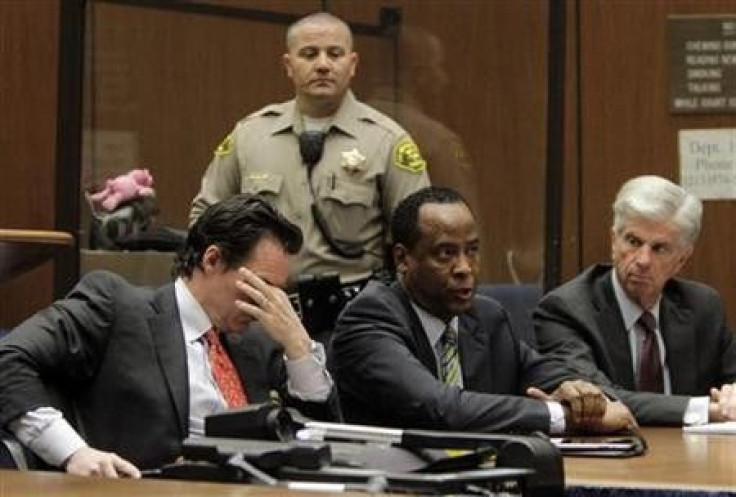 A jury of seven men and five women will decide whether Michael Jackson's doctor, Conrad Murray, is guilty of involuntary manslaughter for administering a fatal dose of propofol, a surgical anesthesia, to Michael Jackson, 50, who died on June 25, 2009.
Opening statements began Tuesday with prosecutors presented as evidence a photo of Michael Jackson lying dead in a hospital bed and a shocking audio recording of the pop singer speaking unintelligibly.
Based on jury questionnaires, here is what is known about the panel of six whites, five Hispanics and one African-American.
Juror No. 1: A 54-year-old Mexican-American woman who works as a property manager. She has a daughter who was an alcohol and drug user for five years. And she has a definite opinion about the criminal justice system, saying she believes celebrities are treated differently in court. Lindsay Lohan and Britney Spears, she said, got special treatment in their high-profile court cases.
Juror No. 2: A 45-year-old man who is a partner in a management consulting firm. His wife is a pediatric nurse at hospital. He served previously on two juries, one a murder case, the other a rape case. Says he's not a Michael Jackson fan, but did watch This Is It on Netflix.
Juror No. 3: A 57-year-old unemployed woman born in Spain. In the past has worked for the Red Cross. She is divorced. Her primary news source is National Public Radio. She has served five times on a jury. She says she followed the OJ Simpson criminal trial closely. Considers herself a Jackson fan.
Juror No. 4: A 54-year-old television technical director, and the only black member of the panel. He has served on two criminal juries and one civil panel. Jackson fan as a kid, but now follows Jay-Z.
Juror No. 5: A 39-year-old Cuban-Mexican American who works as an associated director of product management. Previously served on a civil jury. A Jackson fan -- Thriller is his particular favorite. Says he occasionally reads gossip Web sites, including Perez Hilton and the Drudge Report. Listens to Howard Stern and watches the History Channel, Pawn Stars and Sons of Anarchy.
Juror No. 6: A 43-year-old British-born woman who is a new American citizen. She is head of communications for an international marketing firm. Juror in criminal child sexual abuse case involving incest. She does not think police officers are more lenient with celebrities.
Juror No. 7: A 48-year-old woman who was a paralegal for 30 years. Says she watched the Casey Anthony trial off and on, but says it doesn't change her view of the criminal justice system. She thinks people of wealth and fame are treated differently in court. She's not a Jackson fan.
Juror No. 8: A 51-year-old USPS mail carrier with five children. Born in Mexico, he is a Jackson fan who thinks cops, firefighters and doctors are always believable. Wife is back-office medical assistant. Fan of Jackson.
Juror No. 9: A 42-year-old Hispanic school bus driver. He says he strongly agrees that celebrities get off easy in criminal justice system. Father was addicted to alcohol, father-in-law died from alcohol abuse. Previously served on a jury. Says he has positive opinion of Jackson, but that he wouldn't label himself a fan.
Juror No. 10: A 36-year-old Hispanic woman who works as a customer service representative. Filed for bankruptcy. Watched the Casey Anthony trial becomes it involved a child, but says it did not affect her opinion of the justice system. She was shot in a drive-by shooting in 1993. Jackson fan.
Juror No. 11: A 54-year-old college professor of animation and art. He created characters for motion pictures at Disney. Convicted of DUI. Thinks celebs are not treated the same by police and can bend the rules. Says he thinks Jackson was a gifted performer and says he started buying his albums as a teenager.
Juror No. 12: A 32-year-old bookseller, who served as an Army National Guard telecom operator. Says e primarily gets his news from the Internet. Served as a juror in a civil trial. He is a trained actor who frequently watched So You Think You Can Dnace and Project Runway with his girlfriend. I think he was talented, he wrote of Jackson, and I think probably a good person. The juror says is he aware of the previous child abuse allegations against the pop star, but have not drawn any of my own conclusions.
© Copyright IBTimes 2023. All rights reserved.
FOLLOW MORE IBT NEWS ON THE BELOW CHANNELS