Michael Morton Exonerated By Texas Court, 25 Years After Being Convicted for Wife's Murder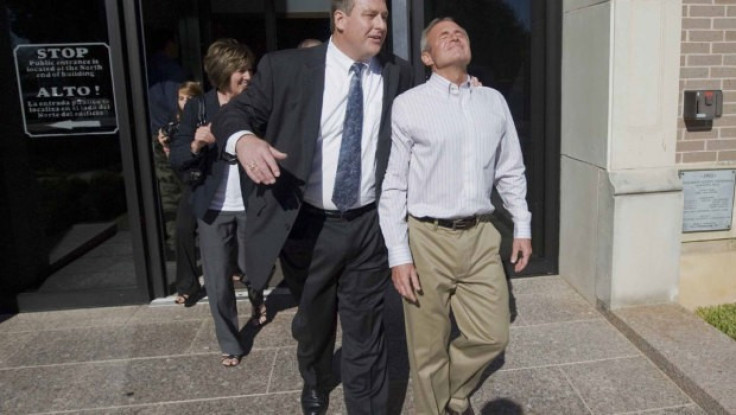 A Texas appeals court formally exonerated a man who spent almost 25 years in prison for his wife's 1986 murder, a week after judge decided to release him after DNA tests linked the killing to another man.
The Texas Court of Criminal Appeals declared Michael Morton was innocent in the murder of his wife, Christine, and eligible to receive $80,000 from the state for each year he spent in confinement, adding up to about $2 million.
Morton, now 57, had been convicted of beating his wife to death after a neighbor found her bludgeoned in her bed; he reportedly discovered the body after seeing the Mortons' 3-year-old son wandering alone in the front yard. Morton maintained that he had left for work at an Austin grocery store at 5:30 a.m., when Christine was still alive, and suggested an intruder committed the attack.
Group Appealing Life Sentence
The Innocence Project defended Morton in appealing his life sentence conviction. While testing a bloody bandanna found near the crime scene, the organization was able to match DNA evidence to a man with a criminal record in several states. Authorities have not identified the suspected perpetrator.
Paul Cates, a spokesman for the Innocence Project, told The Los Angeles Times that the organization is now working with the Williamson County district attorney's office to investigate allegations that prosecutors suppressed evidence that could have cleared Morton years ago. For instance, Cates said there is evidence that someone cashed one of his wife's checks and user her credit card while Morton was already incarcerated.
In addition, the Innocence Project reports the prosecution kept statements made by Christine Morton's mother away from the defense. She had said Morton's her grandson told her he watched his mother get killed and that it was not his father who did it.
Wrongful Accusation: Enormous Damage to One's Life
Williamson County District Attorney John Bradley told the Austin-American Statesman that he will not file new charges against Morton.
Morton was released on Oct. 4 but was not formally cleared of all charges until Wednesday's ruling.
Nina Morrison, another lawyer with the Innocence Project, told the Times that Morton is committed to discovering how he could have been wrongfully imprisoned for so long.
He's thrilled and relieved and looking forward to the next chapter in his life, but also still determined to get to the bottom of how and why he was wrongfully convicted in the first place and make sure it doesn't happen to anyone else, Morrison said. There's still a lot of unanswered questions and he very much wants answers.
© Copyright IBTimes 2023. All rights reserved.