Mike Pence RNC Speech Live Stream: Watch Ted Cruz And Vice President Nominee Speak At Republican Convention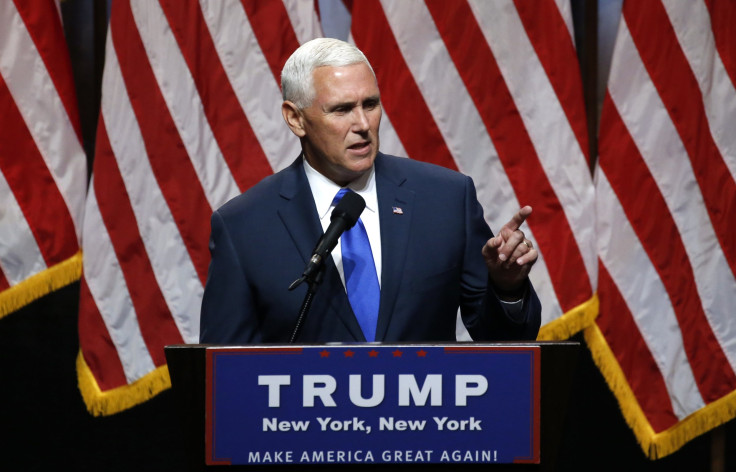 UPDATED: 10:42 p.m. EDT — Indiana Gov. Mike Pence took the Republican national Convention stage Wednesday night and proudly accepted his vice presidential nomination. "I accept your nomination to run and serve as vice president of America," Pence said to great applause after being introduced by House Speaker Paul Ryan.
Acknowledging what a new poll confirmed Wednesday, Pence admitted that not many people may know who he is. So he took the opportunity to describe himself in three key words: "I'm a Christian, conservative and a Republican — in that order," he said.
Pence went on to give a brief biographical rundown to the audience, saying in part that if he is so lucky enough to become vice president, the best job he will ever have is being a father. He also introduced the audience to his wife, Karen, whom he called "the love of my life."
People from Indiana "play to win," Pence said, indicating that he and Trump would emerge victorious in November's election. While Pence said and did all the right things, the applause was not nearly as loud as it was for previous speakers.
Then he challenged the crowd to make sure that "Hillary Clinton never becomes president of the United States of America," which he likened to a third term by President Barack Obama. "On Nov. 8 we will elect Donald Trump to be the 45th president of the United States of America."
UPDATED: 9:49 p.m. EDT — Texas Sen. Ted Cruz walked out on the Republican National Convention stage and promptly saluted Donald Trump's crowning achievement before turning his attention to the Dallas police officers who were killed early this month after a sniper shot them as payback for a recent spate of black men being killed by law enforcement.
"I want to congratulate Donald Trump on winning the nomination last night," Cruz said to a rousing round of applause. But while Cruz said plenty of the right things, he didn't say what many Republicans were hoping he'd do: give Trump a full-throated endorsement.
Alas, it was not to be so Wednesday night. In fact, the only time he muttered Trump's name was in the opening moments of his remarks.
He offered some comments that could have been applied to Trump, but they were so general that it was unclear who or what exactly he was attributing them to. "I am here to tell you there is a better vision for our future – a return to freedom," Cruz said at one point after taking aim at Hillary Clinton and President Barack Obama, who he respectively blames for the Iran Nuclear Deal and closing Guantanamo Bay and "opening up our borders."
Cruz did endorse building "a wall to keep America safe," an obvious allusion to Trump's proposal to do the same. Still, he wouldn't say Trump's name nor would he endorse the billionaire's presidential candidacy.
The Texas senator covered everything from the Republican Party's history opposing slavery to other "fights for freedom" but refused to vocally throw his support behind Trump.
It was a strange turn of events — but not entirely unexpected — at an event specifically designed to heap praise on the Republican presidential nominee and convince voters he is the right person to lead the country from the White House.
"Don't stay home in November. Stand and speak and vote your conscious, vote for candidates up and down the ticket who you trust ... to be faithful to the constitution," he said vaguely as the crowd began to chant "Endorse Trump!"
"I will tell you it is love of freedom that has allowed millions to achieve their dreams," he concluded in perhaps a veiled reference to his own freedom not to endorse Trump.
Original story:
Indiana Gov. Mike Pence is scheduled to deliver a prime time speech Wednesday night at the Republican National Convention in Cleveland, during which he's expected to accept the party's nomination for him to be Donald Trump's vice presidential running mate on the GOP ballot in November. A handful of other speakers, including Texas Sen. Ted Cruz, who had not yet endorsed Trump, were on the list of scheduled speakers.
Despite the Republican Party's celebratory pomp and circumstance surrounding Pence's highly anticipated speech, he will face somewhat of a challenge in proving the merit of his candidacy to a voting populace that is neither familiar with the governor nor his politics, according to an NBC News poll released Wednesday.
The third day of the convention's evening session starts at 7 p.m. EDT, and if the event continues its apparent trend of running behind schedule, Pence will likely take the stage closer to 10 p.m. The exact timing of his speech depends on how swift the evening's speakers are. Pence's address will be carried by a number of national news networks, including CNN and MSNBC, but all cord-cutters can watch Donald Trump's vice presidential pick speak via live stream either by clicking here or watching a live video feed below.
Earlier Wednesday Pence and Trump flew in to Cleveland and were met at the airport by a large delegation that included the real estate mogul's family. After the White house hopefuls deplaned from Trump's mammoth private jet, they took pictures and exchanged pleasantries with supporters before boarding a helicopter to presumably take them to the convention, where one night earlier they were formally nominated to lead the Republican presidential ballot in November.
Other people scheduled to speak Wednesday night include Newt Gingrich and his wife, Callista; Eric Trump; Wisconsin Gov. Scott Walker and Florida Attorney General Pam Bondi. The exact order in which speakers would take the stage was not immediately available.
Pence came to the Republican National Convention riding on a wave of confidence after Trump selected him as a running mate over a handful of other candidates, but still not many voters are familiar with the Indiana governor. Slightly less than half of the 3,646 people surveyed felt confident enough in their knowledge of him to offer an informed opinion. In addition, just 26 percent had a favorable opinion of him.
Wednesday's RNC theme — Make American First Again — was expected to help shape Pence's primetime address, which will double as a reintroduction of sorts to the American people, something that could ultimately help turn around the findings of the aforementioned poll. His speech was widely anticipated to include glowing remarks about Trump and how the New York businessman's possible presidential administration can achieve the day's theme.
Governor Mike Pence | InsideGov
Pence is not used to being under a national spotlight and prepared for his speech with a dry run Wednesday morning at Quicken Loans Arena, getting accustomed to reading from a TelePrompTer machine, the Associated Press reported.
The native Indianan became the state's chief executive in 2013 after serving six terms in Congress. He and Trump have common ground when it comes to their stances on the military. According to Pence's official state bio, he has traveled to either Iraq or Afghanistan each year since those respective wars began. Day 1 of the RNC carried the theme of "Make America Safe Again," with various military overtones that were consistent with Trump's position on the U.S. armed forces and conquering terrorism.
© Copyright IBTimes 2023. All rights reserved.
FOLLOW MORE IBT NEWS ON THE BELOW CHANNELS