Nano Failed to Grab Early Opportunity: Ratan Tata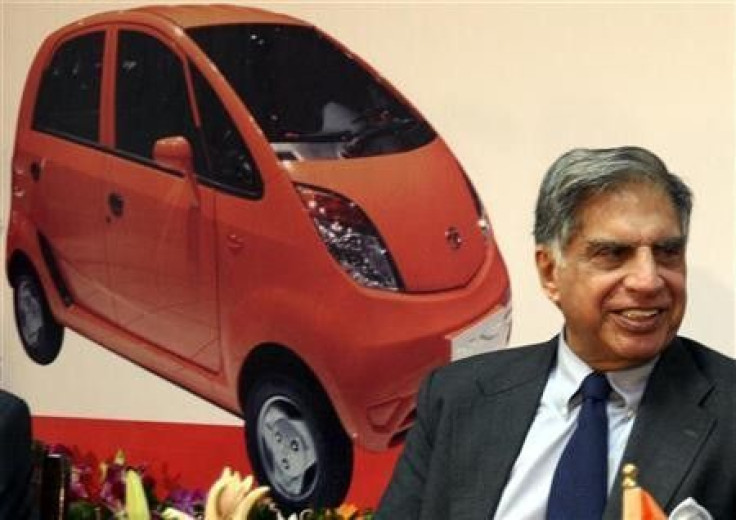 The Nano is not a flop, its creator Ratan Tata said on Thursday, but he acknowledged that his Tata Motors failed to capitalise on the early excitement surrounding the launch of the world's cheapest car.
In a wide-ranging briefing with journalists, Tata, who will retire in December as head of the Tata Group, India's biggest business house, also said the steel-to-software conglomerate had paid a price for not participating in corruption.
Four years ago Tata Motors unveiled the Nano in what was seen at the time to be a crowning achievement for the silver-haired Tata, but sales have trailed far behind early expectations following a series of setbacks.
We never really got our act together when the 100,000 were depleted, he said, referring to the first batch of Nanos sold through a lottery system when initial demand exceeded supply. I don't think we were adequately ready with an advertising campaign, a dealer network, he said during a two-hour breakfast meeting with journalists on the first day of the Delhi Auto Expo - the same event where a euphoric Tata and his Nano stole the show four years ago.
A rising price - the entry level Nano now costs 140,000 rupees (US$2,657), above the 100,000 rupees initially envisioned - as well as production delays, quality concerns following two voluntary recalls, and a stigma over the car's cheap image have all dented demand.
We've never pushed it as a poor man's car. We pushed it as an affordable all-weather family car. Period, said Tata, 74, who over two decades has built the Tata Group into an $83 billion conglomerate that generates two-thirds of its revenue outside of India.
While the Nano has failed to live up to expectations, Tata Motors' $2.3 billion purchase of luxury car-marker Jaguar Land Rover in 2008 has exceeded them. CLSA recently upgraded Tata Motors to outperform on the outlook for the two British brands.
In sum, I don't consider it to be a flop. I consider that we have wasted an early opportunity, said Tata.
Tata is launching a Nano that runs on compressed natural gas at the car show, a company official said, but is at least a year away from launching a diesel version, which many critics say is key to success for the Nano in a country where petrol costs 56 percent more than subsidised diesel.
I believe that we will see a resurrection of this product as we move forward, Tata said.
Tata said the company still wants to develop a low-cost car for the European and U.S. markets, but such a car will need to be upgraded to meet safety and emissions standards and include the sorts of extras that western consumers demand.
SEASON OF SCANDALS
India has been racked for more than a year by a series of corruption scandals, including over the award of 2G telecoms licences. Tata was among the corporate titans summoned to answer questions before a parliamentary panel, although neither he nor his group has been accused of wrongdoing.
I think the issues have shown that we were one of the victims of what took place and not the offenders, Tata said.
The Tata group, he said, will deal with corruption the same way as they have, that is by not participating, sometimes to a great cost to the corporation, he said.
The fact is that one hopes for an India ... where no one is above the law, and there's no preferential permits or approvals or such that are available that all aren't considered on a similar basis, he said.
Fallout from a series of scandals has battered the Congress party, stalled decision-making on project approvals, and scared off investors.
Unlike most of India's big business houses, the Tata group is not family owned and Ratan Tata is not on the Forbes list of billionaires.
Tata Sons holds the bulk of shares in key companies, and philanthropic trusts endowed by the Tata family own 66 percent of Tata Sons, and the group enjoys a reputation for integrity.
We've never been asked to give a bribe because most of the agencies know that would not be possible for us to do, Tata said.
© Copyright Thomson Reuters 2023. All rights reserved.