NBA All-Star Game 2023: Draft, Roster Predictions For Team LeBron vs. Team Giannis
The 2023 NBA All-Star Game rosters won't be known until Sunday night. Team captains LeBron James and Giannis Antetokounmpo will draft their players right before the contest tips off.
James and Antetokounmpo will draft the All-Star reserves first before picking which starters they want on their respective rosters. Taking a look at the last few drafts could help predict what the final rosters for the 2023 NBA All-Star Game will look like.
There's a good chance that Luka Doncic will end up on Team LeBron. James drafted Doncic two years ago, and the Dallas Mavericks star was James's first pick among last year's reserves. James hasn't been shy about sharing his love for Doncic's game.
Kyrie Irving is another likely draft target of James. When the Los Angeles Lakers failed to trade for Irving, James said he was disappointed that he didn't reunite with his former teammate on the Cleveland Cavaliers. There are rumors that Irving could sign with the Lakers in free agency, and James has been known to draft players in the All-Star draft who he wants to play with in Los Angeles.
It's a virtual guarantee that Antetokounmpo will draft Milwaukee Bucks teammate Jrue Holiday with his top pick for All-Star reserves. Antetokounmpo could also pick Joel Embiid, who the Bucks star drafted with his first pick a few years ago.
Nikola Jokic is arguably the best player in the league, but he usually isn't drafted like it. The back-to-back MVP has been one of the last two starters drafted in consecutive years.
Here are predictions for the final Team LeBron and Team Giannis rosters, including the All-Star draft order.
Team LeBron
Starters
1) Luka Doncic
2) Kyrie Irving
3) Jayson Tatum
4) Nikola Jokic
Reserves
1) Damian Lillard
2) Jaylen Brown
3) DeMar DeRozan
4) Shai Gilgeous-Alexander
5) Pascal Siakam
6) Julius Randle
7) Jaren Jackson Jr.
Team Giannis
Starters
1) Joel Embiid
2) Ja Morant
3) Donovan Mitchell
4) Lauri Markkanen
Reserves
1) Jrue Holiday
2) Paul George
3) Bam Adebayo
4) Anthony Edwards
5) Tyrese Haliburton
6) De'Aaron Fox
7) Domantas Sabonis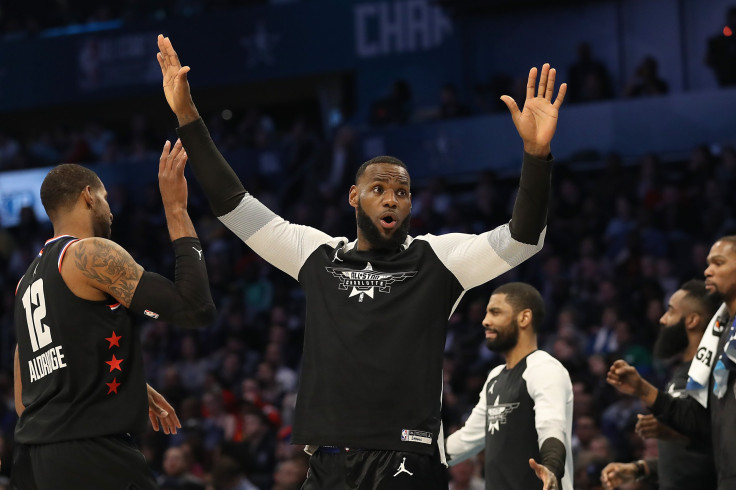 © Copyright IBTimes 2023. All rights reserved.