NBA Finals 2023: Betting Odds Narrow Heavily Entering Game 3 In Miami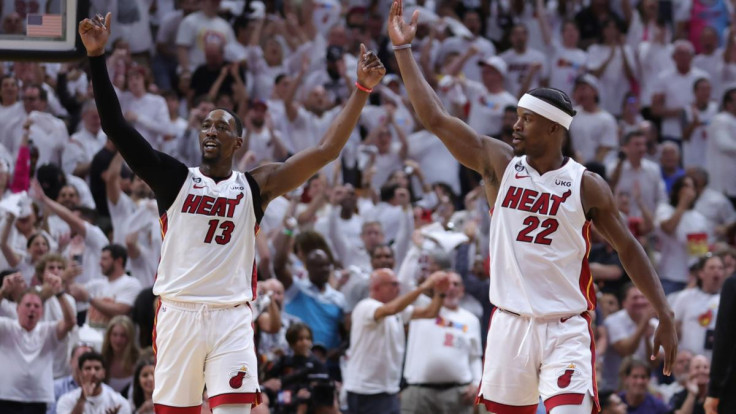 KEY POINTS
The Miami Heat evened the NBA Finals with a stirring Game 2 victory
The Denver Nuggets offense struggled with Nikola Jokic being focused on scoring more
The Heat may have taken inspiration as to how they were able to beat the Nuggets
The 2023 NBA Finals has seen two games of intense back-and-forth action thus far.
Ss the series shifts to Game 3 in Florida, the Miami Heat are not much of an underdog anymore against the Denver Nuggets.
NBA Bet provided the latest odds from the four of the most recognized sports books in the country, and their moneyline picks for Game 3 is as follows:
FanDuel: Heat (plus-140), Nuggets (minus-142)
DraftKings: Heat (plus-115), Nuggets (minus-135)
BetMGM: Heat (plus-110), Nuggets (minus-135)
PointsBet: Heat (plus-115), Nuggets (minus-135)
For additional context, the spread is as follows:
FanDuel: Heat plus-2.5 (minus-112), Nuggets minus-2.5 (minus-108)
DraftKings: Heat plus-2.5 (minus-115), Nuggets minus-2.5 (minus-115)
BetMGM: Heat plus-1.5 (minus-105), Nuggets minus-1.5 (minus-115)
PointsBet: Heat plus-2.5 (minus-111), Nuggets minus-2.5 (minus-111)
Comparing that to the Game 1 odds from the same sportsbooks, the Nuggets are not as heavily favored as then and it points to how important the Heat have swayed things in their favor with a comeback victory in Game 2.
The Nuggets played into expectations when the NBA Finals tipped off on Thursday, June 1 as they demolished the Heat to a score of 104-93, featuring a lead that went as high as 24 points at one portion of the game.
In Game 2, the Heat hung around the Nuggets for the better part of the 48-minute affair and Duncan Robinson earned his flowers for his 10-point performance in the final frame that saw him go on a personal 8-0 run to lead the charge and beat the Nuggets, 111-108.
Entering Game 3, the Heat is likely to repeat the same game plan that worked out for them in the previous matchup as they seemingly took inspiration from the Minnesota Timberwolves and Phoenix Suns' performances in the first two rounds of the Western Conference playoffs.
Miami keyed in on stopping Jamal Murray from getting hot early in the first quarter, forcing him to go scoreless while Nikola Jokic was forced to carry the scoring load as he logged 11 points.
Moreover, Heat head coach Erik Spoelstra having his wards focusing on hard defense from his bigs to contend with Jokic may have not translated well on the box score as the Serbian big man ended up with 41 points, but the most important thing was they tired him out en route to doing so.
Bam Adebayo and Cody Zeller, plus Kevin Love to a degree, had Jokic backing them down inside the paint instead of getting easy looks and it was that game plan that sapped him of his energy.
Add in the Heat's excellent ball denial defense to their shooters, and they were able to force Jokic into an uncomfortable situation.
It also stagnated their offense as the "Joker" ended Game 2 with an uncharacteristic four assists.
Michael Porter Jr. was limited to just five points, Murray to 18, Aaron Gordon to 12, and Kentavious Caldwell-Pope to six.
The Suns and Timberwolves were able to pry away a combined three games from the Nuggets by following that same blueprint, but the Heat's scrappiness and bottomless gas tanks have put Denver and head coach Michael Malone in a tough predicament.
Being the first to beat the Nuggets on their home court in the 2023 NBA playoffs is an achievement for the Heat, but they will now look to defend homecourt in Games 3 and 4 as they hope to cap off their Cinderella run with an NBA Championship.
Game 3 will be played on Wednesday, June 7 at 8:30 PM ET on ABC.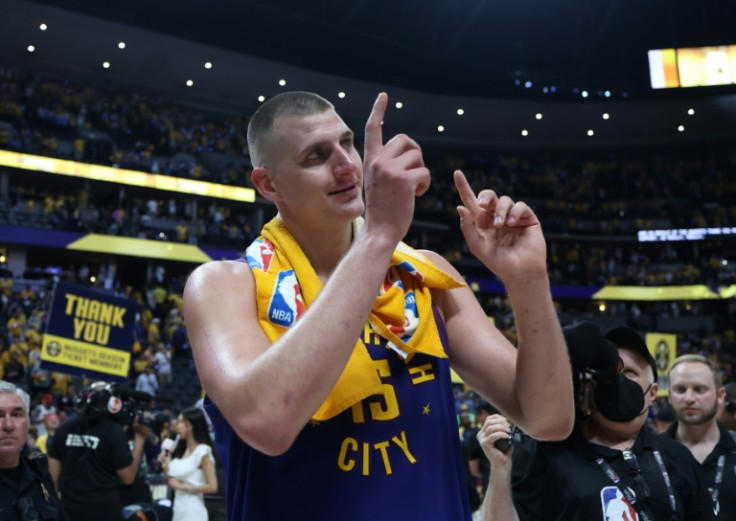 © Copyright IBTimes 2023. All rights reserved.