NBA Finals 2023: Game 1 Betting Odds, Can Heat Upset Nuggets In Series-Opener?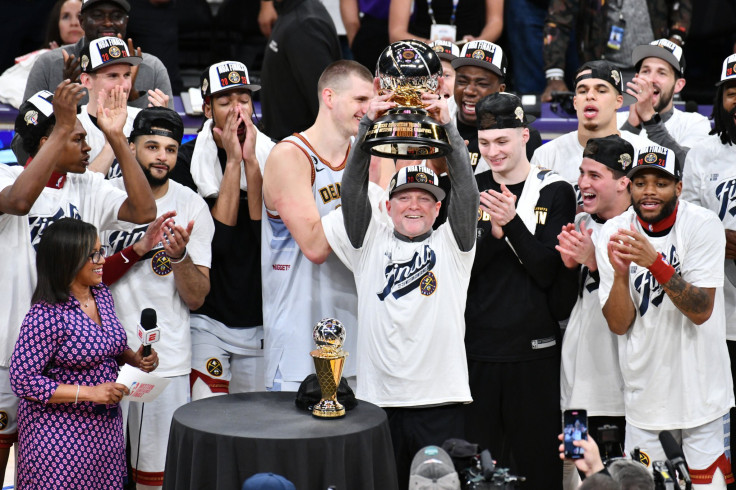 KEY POINTS
Oddsmakers have the Denver Nuggets winning Game 1 of the NBA Finals
The Miami Heat will be hard-pressed to stop the Nuggets' overall talent
Game 1 is in favor of the Nuggets due to the long rest and
The 2023 NBA Finals will see a David-versus-Goliath matchup of epic proportions when the Miami Heat take on the Denver Nuggets on Thursday, June 1.
With such an interesting matchup on the horizon, oddsmakers have released the moneylines for this slugfest of epic proportions and it is no surprise that the No. 1 seed of the Western Conference holds their full attention.
Major sportsbooks like FanDuel (minus-391), DraftKings (minus-360), BetMGM (minus-375) and PointsBet (minus-345) have the Nuggets winning Game 1 and there are a couple of factors as to why they believe it so.
First is the near-two week break that the Nuggets rewarded themselves with after sweeping the Los Angeles Lakers in spectacular fashion, ending that series by Monday, May 22 with a Game 4 comeback to put an exclamation point on their dominance of the West.
Meanwhile, the Heat were embroiled in a seven-game series of epic proportions against the Boston Celtics that ended just this past Monday, May 29.
Moreover, two-time NBA MVP Nikola Jokic and Jamal Murray have turned into the league's most feared duo, which the Heat will have to deal with one way or another.
Jokic is currently averaging a triple-double throughout the playoffs thus far with 29.9 points, 13.3 rebounds, and 10.3 assists while Murray is putting up 27.7 points, 5.5 boards and 6.1 assists plus 1.7 steals while also shooting the ball at 48 percent from the field.
Factor in the contributions from Michael Porter Jr., Bruce Brown, Kentavious Caldwell-Pope and Christian Braun, the Nuggets have an eight-man rotation that has remained consistent throughout the postseason.
As for the Heat, head coach Erik Spoelstra will have to find out how best to limit the pair from going off.
A combination of Bam Adebayo and Cody Zeller, plus a bit of Kevin Love, will have to hold their own man-to-man matchups against Jokic inside the paint while Gabe Vincent, Max Strus and Jimmy Butler need to stay in front of Murray at all times.
The Nuggets have proven that zone defenses are easily busted thanks to Jokic's playmaking, while man-to-man defenses, as seen in the Lakers series, are prone to failure.
With that in mind, Spoelstra might have to use a combination of both while opting to throw out box-and-1 defensive packages from time to time to just confuse the offense.
On offense, the Heat will have to match the Nuggets' production the entire way if they hope to pull off the upset as Denver has shown a propensity for not relinquishing leads when they have built it to about 18 or 19 points.
Butler, who is averaging 28.5 of the Heat's 111.7 points per game in the postseason, has to take on more of the offensive load with role players like Duncan Robinson, Caleb Martin and Strus knocking down their three-pointers consistently.
For context, bettors siding with the Heat for Game 1 will have a lot to win as FanDuel, DraftKings, BetMGM and PointsBet have Miami at plus-310, plus-295, plus-290, and plus-280 respectively.
Never before this season has the NBA ever seen the No. 1 and No. 8-seeded teams face each other in the Finals.
Despite the Heat leaning heavily on their raw effort, the Nuggets appear too far talented and prepared to drop Game 1 on their home floor where they remain undefeated in eight games.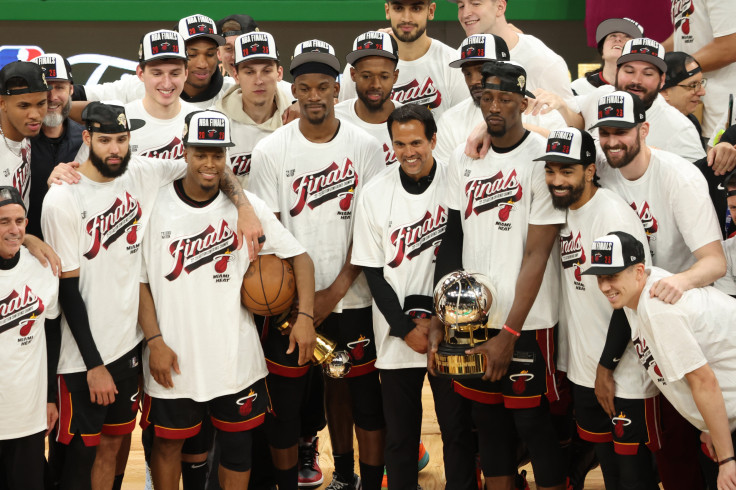 © Copyright IBTimes 2023. All rights reserved.