Newsweek's Anti-Obama Cover Scores Big -- Is This The Only Way To Sell Magazines?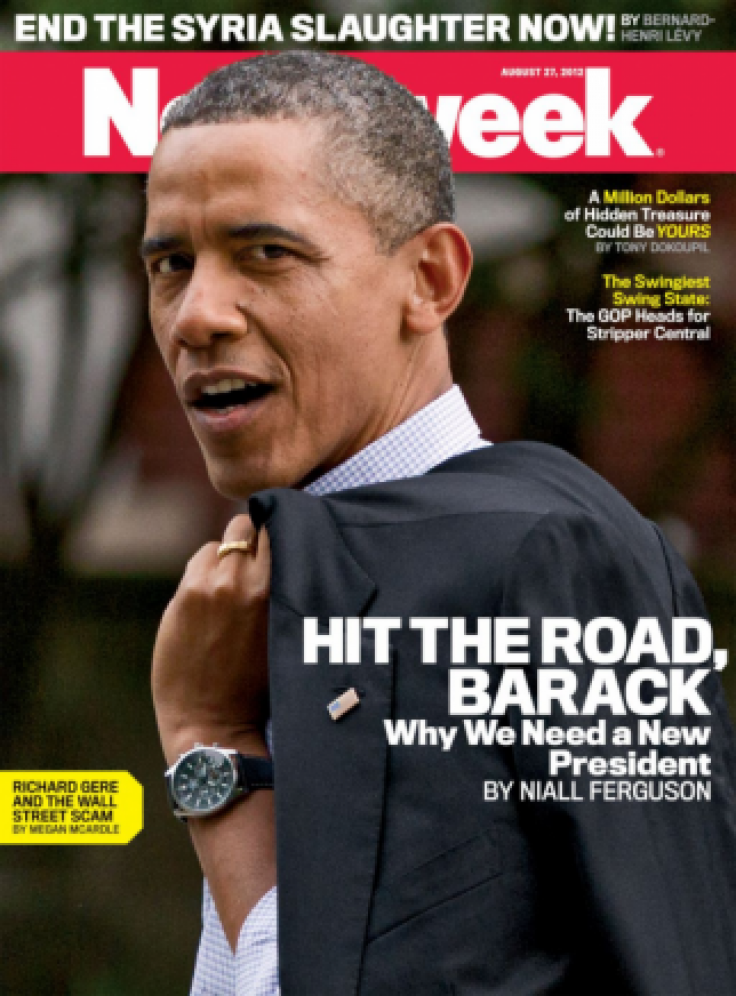 It seems like the only time a magazine makes the news these days is when one goes out of business, so it's all the more notable that Tina Brown and her fellow provocateurs at Newsweek have stumbled on a formula -- albeit it a controversial one -- to get people talking about their magazine's content.
Newsweek set off a firestorm earlier this month when it published a divisive cover story by Niall Ferguson entitled "Hit the Road, Barack," in which the author claims that the Romney/Ryan ticket is our nation's only hope for prosperity. The article was widely criticized, with writers from Slate, The Atlantic and even the Wall Street Journal's MarketWatch trashing it as a piece of incoherent propaganda. The story was particularly derided by Ferguson's arch nemesis, the liberal economist and New York Times columnist Paul Krugman, who said that the piece contained numerous factual errors. "I guess they don't do fact-checking," he said of the magazine.
But Newsweek is apparently laughing all the way to the newsstand. As Advertising Age's Nat Ives reported on Thursday, Ferguson's August cover story, which is currently on newsstands, is on track to double Newsweek's average single-copy sales. Early numbers from the Magazine Information Network, which tracks magazine sales, indicate that the anti-Obama issue could be among the top three newsstand sellers since 2010, according to Ad Age.
That Newsweek found a hit in an Obama-bashing cover story is not exceptional in and of itself. This is election season, after all, and the movie world has already experienced a similar phenomenon with Dinesh D'Souza's anti-Obama documentary, "2016: Obama's America," which has been doing a brisk business at the box office.
However, what is particularly noteworthy about Newsweek's newsstand blockbuster is that it comes at a time when newsstand sales for magazines across the board are in a protracted state of rapid decline. It was just this month that the Audit Bureau of Circulations (ABC) released data showing that magazine newsstand sales fell 9.6 percent during the first half of 2012. Those declines are on top of an additional 9.96 percent drop in sales recorded for the second half of last year.
And longtime favorites are not immune: Cosmopolitan, the country's top newsstand seller, fell 15.3 percent this year, while People magazine dropped a whopping 18.6 percent. Insiders chalk the trend up to fewer impulse purchases at supermarket checkout lines, the closing of bookstore chains like Borders and, of course, the explosion of smartphones and e-readers.
Brown, who took over as Newsweek's editor in 2010 after her Daily Beast website merged with it, has done all she can to keep the magazine talked about -- even if that means ruffling a few feathers along the way. Among her more controversial political covers were the Michele Bachmann "Queen of Rage" issue and, more recently, the Mitt Romney "Wimp Factor" issue. But the spike in newsstand sales for the anti-Obama issue present the clearest evidence yet that such covers can make a significant difference in the retail trenches. This time last year, in fact, ABC figures showed mixed results for some of Newsweek's most talked-about covers. The Bachmann cover, for instance, sold about average at 47,000 copies. However, a cover featuring Romney as a dancing Mormon blasted through the roof at more than 80,000 copies, according to a report in Adweek.
Despite these sporadic success stories, the future of Newsweek's print edition is still unclear. In July, Barry Diller, chairman of Newsweek owner IAC/InterActiveCorp (Nasdaq: IACI), hinted at the possibility that the magazine would fold sometime in the near future. "The problem is manufacturing and producing a weekly newsmagazine, and that has to be solved," he said at an earnings call. While the comments were downplayed by Brown -- who said Diller was speaking in general terms about the industry-wide problems facing print publications -- they nevertheless added to the speculation that a print version of Newsweek may one day be a thing of the past.
For now, however, the folks at Newsweek are riding high on one of their best months ever. According to an internal memo sent by Brown and posted Friday on Mediabistro's FishbowlNY blog, ad pages for the August anti-Obama issue were up 22 percent from last year.
There are still three more issues left before the election -- who they'll beat up on next is anyone's guess.
© Copyright IBTimes 2022. All rights reserved.
FOLLOW MORE IBT NEWS ON THE BELOW CHANNELS