Nikki Haley Iced Out Of CPAC After Underestimating Donald Trump's Influence
After publicly breaking with Donald Trump, Nikki Haley has found herself left out of CPAC and adrift between the two wings of the Republican party. While the conservative coalition struggles to decide whether it will embrace Trump or court moderate voters, the Conservative Political Action Conference seems content to let Trump's alt-right run the show, The Hill reports.
Nikki Haley spent years serving as Trump's ambassador to the United Nations, but her tone became more critical following the Jan. 6 Capitol riots. Since then she's tried to strike a balance between moderate politics and catering to Trump's hardcore base, something political commentators say could indicate ambitions for a presidential run.
When she disavowed some of Trump's actions in an interview with Politico, however, she may have underestimated Trump's pull within the party.
"I'm watching the television the morning of the 6th… And then I hear the president get up there and go off on Pence. I literally was so triggered, I had to turn it off," she said. "When I tell you I'm angry, it's an understatement. Mike has been nothing but loyal to that man. … I'm disgusted by it."
Haley now finds herself a political outcast. Trump has snubbed her requests to meet and has often given warnings that any conservative who crosses him will face repercussions.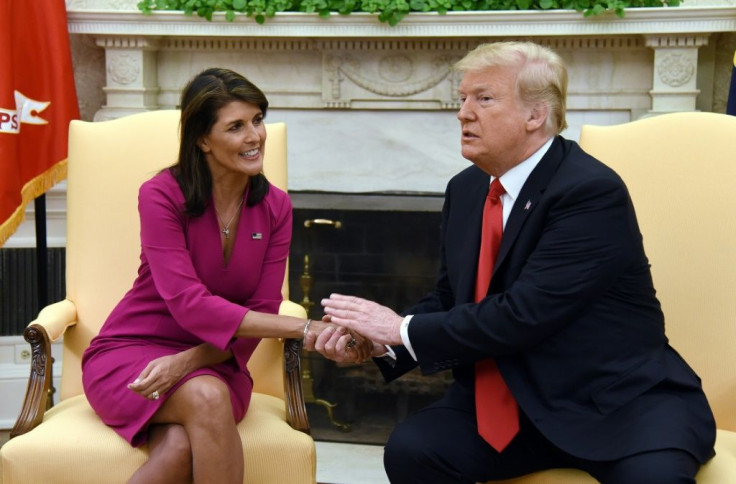 While Trump has been less active after leaving the White House and being banned from Twitter, a recent poll from Suffolk University and USA Today indicates 46% of Republican voters would abandon the party to join Trump if he asked.
If a presidential run truly is Haley's ambition, her exclusion from CPAC puts her at a disadvantage to several potential competitors, including Ron DeSantis, Josh Hawley, Ted Cruz and Scott Walker.
President Trump's approval ratings within the party give him a massive lead should he decide to run, with Mike Pence coming in second. Pence will also be missing from the conference, having declined his invitation once Trump announced his presence.
Relations between the two have been strained since Jan. 6, when Pence was forced to evacuate the Capitol Building as Trump supporters chanting "hang Mike Pence" breached the building.
© Copyright IBTimes 2023. All rights reserved.