Northeast Snow on the Way: Boston, New York Likely to Get 1-4 Inches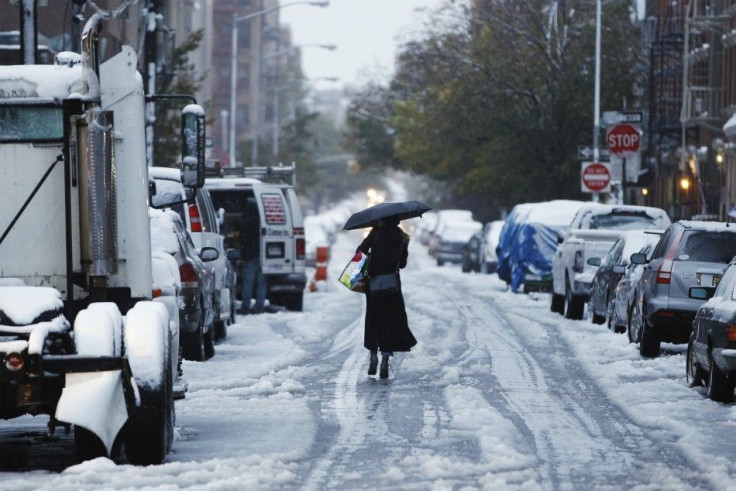 Winter has been mild in the northeast this year, with warmer temperatures than average and far less snowfall than last year. But residents of the northeast including major cities Boston and New York will get a reminder that winter isn't gone yet -- as an approaching system is expected to combine with another developing and bring 1-4 inches of snow this weekend.
The temperature in New York City's Central Park on Friday afternoon was 45 degrees, but colder air was on the way along with moisture expected to leave three inches of snow in Chicago before reaching the northeast beginning late Friday and into Saturday. That system is expected to combine with a developing low pressure system off the coast to dump several inches or more of snow on the northeast Saturday.
The Weather Channel forecast calls for a 90 percent chance of snow in New York Friday night and a low of 32 degrees. Snow is likely to accumulate early Saturday morning into the early afternoon, with snowfall accumulation of 1-3 inches in New York City forecast Saturday with a 100 percent chance of precipitation.
The high temperature in New York Saturday is forecast at 39 degrees, but temperatures are expected to hover in the low to mid-30s during the morning hours when the heaviest precipitation falls. Boston is also expected to experience moderate snowfall on Saturday as the system moves in during the day Saturday. The forecast calls for 2-4 inches of snow for Boston.
Through the afternoon hours is when we expect most of our accumulation, said National Weather Service meteorologist John Murray, in a telephone interview with Bloomberg. An arctic front will be moving through Saturday night and we still could see some snow showers Saturday night without much additional accumulation.
New York and much of the northeast I-95 corridor has experienced a bit of a snow drought this winter. New York City has received just 7.2 inches of snow since October 1, 2011, and almost three inches of that fell in a rare late-October snow. Last year at this time, New York had received 57.7 inches of snow. Typically, however, New York has received 14.9 inches of snow on average by this time of the year. Boston has received 7.8 inches of snow so far this season, but 26.7 inches is the norm for this time of year.
The latest indications are that a storm will spin up fast enough and close enough to the coast to put down a swath of accumulating snow from part of the Delmarva Peninsula, New Jersey and southeastern Pennsylvania through the New York Metropolitan area to Massachusetts. Rain could fall for a time before snow takes over in these areas, said Accuweather senior meteorologist Alex Sosnowski on the Web site's blog.
Cold temperatures will keep much of the snow around through the weekend as Saturday night's low temperature in Boston is forecast at 17 degrees while the low for New York is forecast at 22 degrees, with brisk northerly winds. New York's high for Sunday is forecast at 35 degrees, while it isn't expected to reach above freezing on Boston on Sunday.
© Copyright IBTimes 2023. All rights reserved.