Obama, Romney React To Neil Armstrong's Death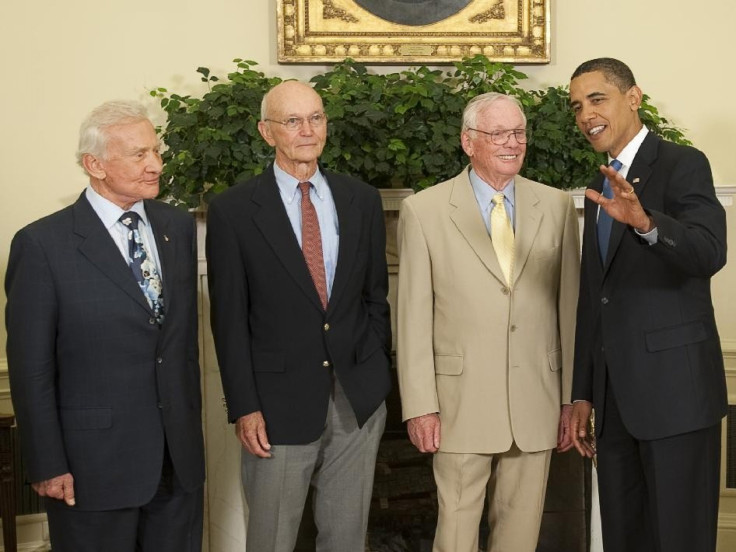 While the U.S. presidential-election season has decidedly split opinion on most matters, both major-party candidates were able to agree the death of Neil Armstrong is a major loss for the country.
Armstrong, the first man to set foot on the moon, died at 82 on Saturday, according to NBC News. The news came just weeks after the former astronaut had cardiac bypass surgery.
In a statement, Democratic President Barack Obama credited Armstrong with raising the hopes of the U.S. and said he was one of "the greatest American heroes -- not just of his time, but of all time."
Obama added in the statement carried by USA Today and other media outlets: "When he and his fellow crew members lifted off aboard Apollo 11 in 1969, they carried with them the aspirations of an entire nation. They set out to show the world that the American spirit can see beyond what seems unimaginable -- that with enough drive and ingenuity, anything is possible. And when Neil stepped foot on the surface of the moon for the first time, he delivered a moment of human achievement that will never be forgotten."
Ginger Gibson, a reporter for Politico, tweeted about the Republican candidate's response to the news: "[Mitt] Romney on the plane after landing asked about Neil Armstrong's death 'Very sad, very sad, an American hero.'"
Previously, the Armstrong family released a statement on NeilArmstrongInfo.com, confirming the sad news.
"We are heartbroken to share the news that Neil Armstrong has passed away following complications resulting from cardiovascular procedures," his family wrote. "Neil was our loving husband, father, grandfather, brother and friend. Neil Armstrong was also a reluctant American hero who always believed he was just doing his job. ... He also found success back home in his native Ohio in business and academia, and he became a community leader in Cincinnati."
NASA also expressed its sympathies via Twitter: "NASA offers its condolences on today's passing of Neil Armstrong, former test pilot, astronaut & the 1st man on the moon. Neil was 82."
Armstrong has been an American hero since he landed on the moon on July 20, 1969. It was the culmination of President John F. Kennedy's challenge to the nation to commit itself to sending a man to the moon before the end of the 1960s. Armstrong was the commander of Apollo 11; he was accompanied on the historic flight by Buzz Aldrin and Michael Collins.
Armstrong's famous first words after stepping onto the moon were: "That's one small step for a man, one giant leap for mankind." You can watch video of the legendary moment and hear Armstrong's audio by clicking here.
Armstrong had been critical of Obama in 2010 for canceling NASA's Constellation program, which centered on human spaceflight. Armstrong felt Obama was risking the U.S. role as the world leader in space exploration and that his decision was shrouded in secrecy, according to Space.com.
"A plan that was invisible to so many was likely contrived by a very small group in secret who persuaded the president that this was a unique opportunity to put his stamp on a new and innovative program," Armstrong said in a statement to a congressional committee at that time.
In 2011, Armstrong co-authored a column for USA Today criticizing Obama's space policies and negatively comparing him with Kennedy.
© Copyright IBTimes 2023. All rights reserved.
FOLLOW MORE IBT NEWS ON THE BELOW CHANNELS