Obama visiting Latinos in L.A., but is all about money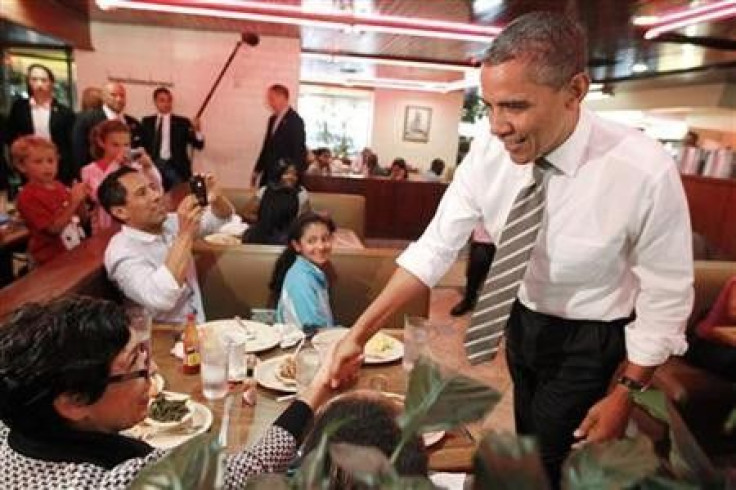 President Barack Obama is targeting African Americans and Latinos with his visit to Los Angeles Monday, but here's the demographic he's really after: People with money.
This will have much more benefit for him financially than anything else, Gabriel Sanchez, a political scientist at the University of New Mexico, told TheWrap.
Indeed, he's visiting the pricey Hancock Park neighborhood for a pair of fundraisers -- one at the home of James Lassiter. The producer's business partner, Will Smith, and his wife, Jada Pinkett Smith, are hosting that event, which costs $35,800 to attend.
In addition, the president will attend a Latino gala at the home of Antonio Banderas and Melanie Griffith. Eva Longoria is hosting the $5,000-to-$35,800 party.
The visit comes as Latino support for Obama slumps. A Gallup poll shows that during the week of October 17-23, 52 percent of Latinos approved of Obama's job performance. That's for a guy who had the backing of 67 percent of Latinos during his 2008 election.
(The Gallup poll shows that 82 percent of African Americans approved, and 41 percent of the population as a whole approved.)
They're strangely promoting (this trip) as outreach, Matt Barreto, a University of Washington political scientist and pollster with the firm Latino Decisions, told TheWrap. I know that because I got an email from the White House Hispanic Outreach Office telling me about it. As if I, as a Hispanic voter, would somehow care about that.
He said that the president is facing an enthusiasm gap among Latinos. That's not dangerous in California, which Obama is all but certain to win. But it is a problem in states that can tip either way, such as North Carolina, Indiana and Nevada.
Obama has been making efforts to engage with Latinos in the past few months. In April, he invited a group of Latino celebrities including Longoria and Ugly Betty actress America Ferrera to the White House.
During an hour-long meeting in the Roosevelt Room, just off the Oval Office, Obama talked mostly about immigration reform.
But while he has talked about immigration, he hasn't done nearly enough, Jorge-Mario Cabrera, of the Coalition for Humane Immigrant Rights of California, told TheWrap.
The White House is definitely pushing forward a plan that makes them seem as if they care for the Latino community, he said. When he meets with Latino personalities, he's meeting with a whole different world than 99.9 percent of the Latino electorate. So for them to pass it up as 'meeting Latinos' and 'addressing real Latino issues,' it would be naive for anyone to think that's what they're doing.
Cabrera said that while his organization has protested some of Obama's previous visits, he's sitting this one out -- but it's not especially happy with what Obama has done in office. He said that deportations have increased under Obama.
Most of us will look at his presidency and how he is handling other matters that we care about including the economy, healthcare, education and so forth. And I have a feeling that most Latinos will make up their mind as it gets closer to the election, but they are unwilling to stop voting just because he has broken his promise on immigration.
And he, like Sanchez, said that merely showing up at Antonio Banderas's house and being photographed with Mayor Antonio Villaraigosa isn't enough to seal the Latino vote.
If the community feels closer to him as he approaches some of these personalities and stars, that would be a nice addition to the strategy, he said. I don't think the president needs to come to California to get the Latino vote, but he knows that a large amount of Latinos do live in California and a large majority of the voters will continue to support him. So this is more a way to say, 'Hey, thanks for sticking by me. And support me now with what I need -- which is money.
Barreto agreed. He said that his polling shows that Latino voters don't pay attention to celebrity endorsements.
Celebrities are liked -- and this is in the Latino community specifically -- but they don't have that political and civic trust that other organizations do.
Sanchez said that Obama likely will make the same appeal he's been making a lot lately -- It's largely framed around what have I already done for you, Sanchez said.
He said Obama will note that he appointed the first Latina Supreme Court Justice, Sonia Sotmayor, and will talk about healthcare.
Basically he's trying to make an argument that him being president has been good for the Latino population, he said.
Sanchez and Barreto both said that Californians who are tired of the President's frequent visits -- he's been in Los Angeles eight times since his inauguration -- need only wait a little while. Once the campaign starts in earnest, the President will be in other states.
He'll be in Ohio, New Mexico, Colorado, Sanchez said. Swing states.
© Copyright Thomson Reuters 2023. All rights reserved.