Ohio GOP House Candidate Claims He's A 'Combat Veteran,' Twitter Blasts Him For 'Stolen Valor'
KEY POINTS
A report said that J.R. Majewski was never deployed in Afghanistan which he dismissed as 'fake news'
The report stated that he worked as a loader at an air base in Qatar for six months
House GOP has reportedly slashed a nearly-million dollar ad buy meant to target Majewski's Democratic rival in Ohio
Ohio Republican Congressional candidate J.R. Majewski has been riding the news wave since a report said that his claims of being deployed in Afghanistan were false and there were no records to corroborate the same.
Majewski went on Newsmax to clarify his stance, reiterating that he "believes" he is a "combat veteran." The candidate who was endorsed by former President Donald Trump says he didn't have the Global War on Terrorism (GWOT) ribbon because he left service before the medal was created.
Majewski said he didn't apply for it which is why he doesn't have it. The medal was awarded to nearly every active-duty Reserve and National Guard service member since it was established in 2003 to signify America's involvement in Iraq and Afghanistan until earlier this month.
The criteria was revised on Sept. 11, and to receive it, a service member must have worked directly for a counterterrorism operation for at least 30 days, military.com reported.
According to an AP report Thursday, Majewski was never deployed to Afghanistan but instead worked as a loader at an air base in Qatar for six months. Now, he's running for office for the very first time. His campaign's tagline is "veteran for Congress," and he has a Facebook ad promoting himself as a "combat veteran." Strangely, when it comes to media interviews, Majewski has shied away from giving away details related to his time in service.
"I don't like talking about my military experience," he said on the One American Podcast interview in 2021. "It was a tough time in life. You know, the military wasn't easy," he added.
While Majewski has claimed that he was deployed in Afghanistan, his records state that he was based in an air base in Japan for much of his active-duty service. He was then deployed to Qatar in May 2002 where he would land at other air bases to transfer military passengers, medics, and supplies, his campaign said, without answering if he was ever in Afghanistan.
In the recent interview, Majewski said he "absolutely" set foot in Afghanistan, and claimed that reports that said otherwise were "fake news." Majewski shared the clip on his Twitter page, and it appears like his followers didn't buy into the claims he made.
"Did you lie about serving in Afghanistan? Why are you missing medals that you would've received if you'd been there?" one user wrote.
Another said: "I never applied for any of my medals. Are you serious? You are awarded them when they are earned. Supplying anything from Qatar isn't combat. Pretty simple: Combat means getting shot at and shooting back. You tried to impress people by saying "combat veteran" and got caught."
"What combat did you see? Also you don't 'apply' for campaign medals. If you merit then they are awarded. You have presented zero evidence you were deployed to Afghanistan," remarked a Twitter user. "Fraudster. Stolen valor is the lowest of the low," another tweet read.
"Few things are as disgusting as Stolen Valor. Even GOP abandoned you & god knows they can overlook a lie or two," stated a user.
The House GOP campaign arm Thursday slashed a near-million dollar ad buy meant to target Majewski's rival Rep. Marcy Kaptur, D-Ohio, after the AP report was released, according to Politico.
Majewski had won the Republican nomination for Ohio's 9th Congressional District after emerging victorious in the primary in May where he defeated state lawmakers, Rep. Craig Riedel and Sen. Theresa Gavarone.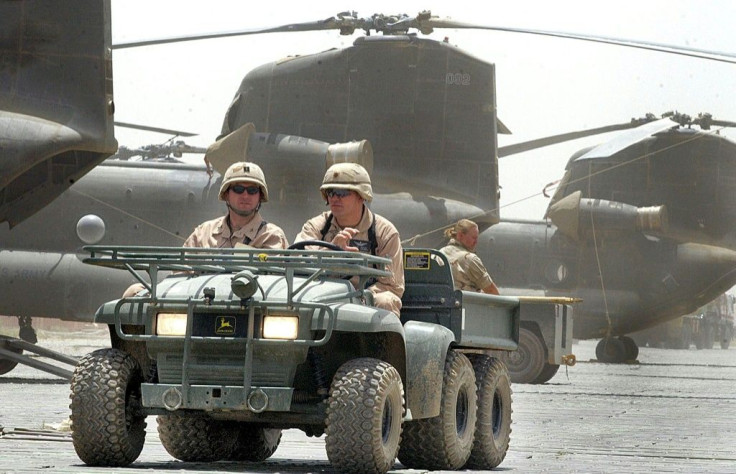 © Copyright IBTimes 2023. All rights reserved.