Oslo Explosion: Death Toll Surges [PHOTOS]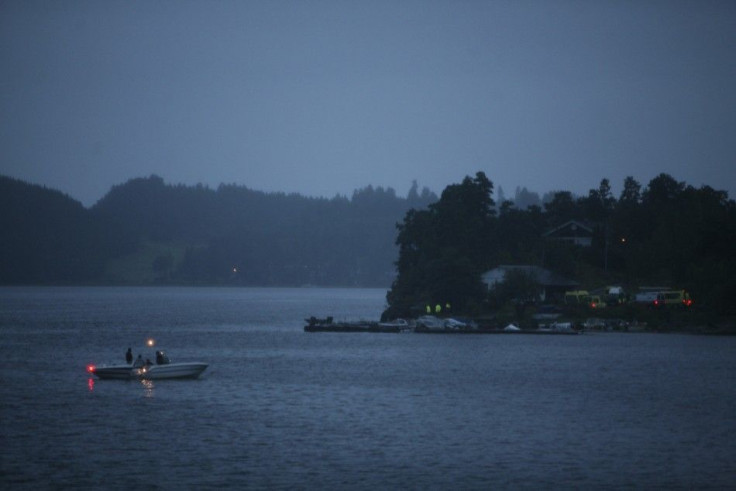 Terrorist attacks in Oslo's central government district and a nearby youth camp have killed over 80 people Friday.
The current death toll represents a shocking surge from the initial 10 reported dead in the explosion earlier today.
In what is the biggest terrorist attack in Western Europe since the 2005 London transport bombings, the terrorist detonated a bomb in the Norwegian capital in mid-afternoon scattering shards of glass and masonry and twisted steel across the streets.
Then the gunman opened fire at the youth camp of the ruling political party on Utoeya island, north-west of Oslo. Police said at least 10 were shot dead as they fled shooting on the small, wooded island. The island was evacuated and police found undetonated explosives.
I saw young people running around, jumping into the water, Kristine Melby, who lives across the narrow channel on the Norwegian mainland, told Al Jazeera television. We heard people screaming.
The gunman, a 32-year-old Norwegian citizen, was held by police. The double attack bore some hallmarks of al Qaeda but analysts suggested right-wing militants might also be responsible.
I have a message to the one who attacked us and those who were behind this, Norwegian Prime Minister Jens Stoltenberg said in a televised news conference. No one will bomb us to silence, no one will shoot us to silence.
The bomb, which shook the city center at around 3:30 p.m. (1330 GMT), blew out the windows of the Prime Minister's building and damaged the finance and oil ministry buildings.
People ran in panic, said bystander Kjersti Vedun.
With police advising people to evacuate central Oslo, apparently in fear of more attacks, Prime Minister Jens Stoltenberg told Norwegian TV2 television in a phone call that the situation was very serious. He said that police had told him not to say where he was speaking from.
This is a terror attack. It is the most violent event to strike Norway since World War Two, said Geir Bekkevold, an opposition parliamentarian for the Christian Peoples Party.
A Reuters witness saw soldiers taking up positions in Oslo shortly after the bombing.
The gunman, described by a police official as tall and blond, was reported by Norwegian media to have taken advantage of the confusion caused by the bombing to attack the summer camp of Stoltenberg's Labour party youth section.
There was a lot of shooting ... We hid under a bed. It was very terrifying, a young woman at the camp told British Sky television.
Police are still conducting investigations into possible culprits.
There is speculation that, if the explosion is a bombing, it could have been the work of militant jihadists anger about the looming deportation of Iraqi-born cleric Mullah Krekar. Krekar is the founder of the Kurdish Islamist group Ansar al-Islam, and has been living in Norwary controversially since the early 1990s.
NUPI political think tank Senior Research Fellow Jakub Godzimirski said he suspected a right-winger more than a militant Islamist attack. Right wing groups have grown up around the issue of immigration in Norway.
It would be very odd for Islamists to have a local political angle. The attack on the Labour youth meeting suggests it's something else. If Islamists wanted to attack, they could have set off a bomb in a nearby shopping mall rather than a remote island.
Deputy Oslo police chief Sveining Sponheim told reporters that the gunman in the Utoeya shootings had been disguised in a blue police-style uniform but had never been a police officer.
He said that the police also believed that the man may have been involved in both the Oslo bombing and the shootings. So far, the detained man had not said anything to the police.
NATO member Norway has been the target of threats before over its involvement in conflicts in Afghanistan and Libya.
The attack came just over a year after three men were arrested on suspicion of having links to al Qaeda and planning to attack targets in Norway. It also came less than three months after U.S. forces killed Osama bin Laden in a raid on his hideout in Pakistan.
Violence or the threat of it has already come to the other Nordic states: a botched bomb attack took place in the Swedish capital Stockholm last December and the bomber was killed.
Denmark has received repeated threats after a newspaper published cartoons of the Prophet Mohammad in late 2005, angering Muslims worldwide.
In Oslo, the building of a publisher which recently put out a translation of a Danish book on the cartoon controversy was also affected, but was apparently not the target.
Police have been on the alert for complex gun-and-bomb attacks on European cities since the assault by 10 gunmen on India's financial capital Mumbai in November 2008 which killed 166 people. The Oslo attacks, though hitting two targets, were not simultaneous and the delay between them left open the possibility of a single perpetrator.
Madrid suffered an Islamist militant bomb attack on commuter trains in 2004 that killed 191 people. Four suicide bombers killed 52 people in an attack on London's transport system in 2005.
The Oslo district attacked is the very heart of power in Norway. Nevertheless, security is not tight in a country unused to such violence and better known for awarding the Nobel Peace Prize and mediating in conflicts, including the Middle East and Sri Lanka.
The Reuters correspondent said the streets had been fairly quiet in mid-afternoon on a Friday in high summer, when many Oslo residents take vacation or leave for weekend breaks.
The failed December attack in Stockholm was by a Muslim man who grew up in Sweden but said he had been angered by Sweden's involvement in the NATO-led force in Afghanistan and the Prophet Mohammad cartoons.
That attack was followed weeks later by the arrest in Denmark of five men for allegedly planning to attack the newspaper which first ran the Mohammad cartoons.
In July 2010, Norwegian police arrested three men for an alleged plot to organize at least one attack on Norwegian targets and said they were linked to individuals investigated in the United States and Britain.
© Copyright IBTimes 2023. All rights reserved.