Cigna-Anthem Deal: Connecticut Ethics Probe Spotlights Similar Conflict-of-Interest Charges From The 1990s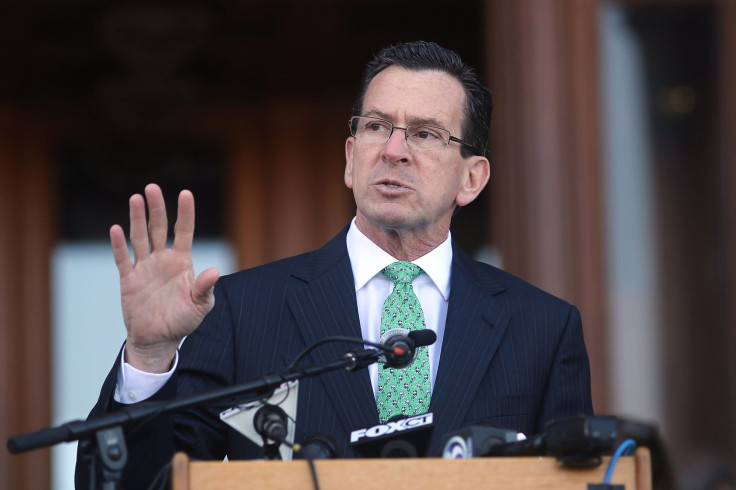 The vote this week by Connecticut ethics officials to investigate Gov. Dannel Malloy's insurance regulator was not the first time conflict-of-interest allegations have plagued a locale known as the insurance capital of America — and as "Corrupticut."
Years before Malloy faced bipartisan criticism for appointing a former Cigna lobbyist to lead the state's review of Cigna's proposed megamerger with Anthem, the state saw a similar firestorm erupt around a merger review by the Republican administration of Gov. John Rowland. The ruling in that case appears to provide fuel for those who say Katharine Wade, Malloy's insurance commissioner, must recuse herself. However, part of the same ruling may also embolden the Malloy administration, which is standing by its appointee as she leads a national multistate review of the largest proposed healthcare company merger in American history.
In 1995, Rowland appointed Aetna executive George Reider to run the same state insurance department at the center of today's controversy. Almost immediately, concerns were raised about Reider's ties to the insurance industry he would be charged with regulating. One grassroots consumer group told reporters that even though Reider would be a government regulator, "We're really fearful that he'll consider himself to be in the employ of the insurance industry."
A year later, when Aetna requested state approval to acquire a piece of another insurance company, Reider opted to recuse himself from the regulatory review. In a letter to the ethics commission, he declared that even though he had put his Aetna holdings in a blind trust, that move "'did not succeed in depriving me of all knowledge' of the status of some of the" investments he held. He concluded that "the public interest would be best served by my recusal from acting on the proposed acquisition, to avoid even an appearance of a conflict of interest."
Over the next two decades, Rowland was convicted on corruption charges, and the state reformed its campaign finance laws. But Connecticut appears to be reliving a similar conflict-of-interest debate at the same insurance department. This time, the allegations come as Connecticut is leading the review of a healthcare merger that groups representing physicians and consumers say could raise premiums for 53 million people across the country.
The 1996 case remains relevant not just because of similarities between the insurance ties of Reider and Wade but also because of the specifics of the state's official ruling two decades ago.
Back then, ethics officials ruled that Aetna stock options coming due to Reider at the time would create a conflict of interest that could bar him from being involved in an Aetna transaction, even if he put those securities in a blind trust.
The ruling declared that "it is reasonable to assume that a decision by the Insurance Commissioner to reject the acquisition would have a near term negative impact on the value" of Reider's stock holdings, meaning that under the law, "a conflict of interests exists." Reider opted to delay the vesting of those options, which ethics officials said removed the conflict — but he soon recused himself as well.
Like Reider, Wade said she has put her family's Cigna holdings in a blind trust. And in documents obtained by International Business Times, Wade told ethics officials: "I am seeking approval for my husband, Michael, to divest his Cigna stock and options as they vest February 25, 2016 through March 5, 2016" — precisely the time she has been leading Connecticut's review of the merger.
Citing the Reider case, Republican lawmakers have asserted that Wade must recuse herself. Yet unlike 1996, the state ethics office — whose board is dominated by Democratic appointees — did not respond to Wade's stock option disclosure by saying the situation breached conflict-of-interest laws. Instead, although documents show that Wade and her agency were reviewing the merger, the ethics office ruled that "there are no Cigna matters pending before you, and that you are therefore not required to take any official action concerning Cigna."
In other ways, though, the Reider ruling may give Wade cover. In 1996 ethics officials said Reider's past employment at Aetna did not by itself pose a conflict of interest requiring recusal — and, as the Connecticut Mirror has reported, that legal opinion was cited by ethics officials late last year when they declined to endorse calls for Wade to recuse herself because of her own past employment ties to Cigna. Wade has simultaneously told ethics officials that "Cigna Corporation is not a business with which I am associated," while also filing disclosure forms with the same ethics officials in which she has repeatedly listed Cigna as a company with which she is associated.
Ethics officials have suggested that for purposes of the law, Wade is not associated with the company, but those stances have not been concrete rulings. With this week's vote to launch an inquiry into whether Wade is violating conflict-of-interest statutes, those officials will have to issue a formal ruling on whether Wade violated Connecticut's laws.
Whether the commission issues the same ruling as the state issued two decades ago could determine if the merger is approved — creating the largest private healthcare insurance company in history.
© Copyright IBTimes 2022. All rights reserved.
FOLLOW MORE IBT NEWS ON THE BELOW CHANNELS