Cigna-Anthem Deal: Groups Say Connecticut Controversy Requires Federal Intervention As GOP Demands Legislative Hearings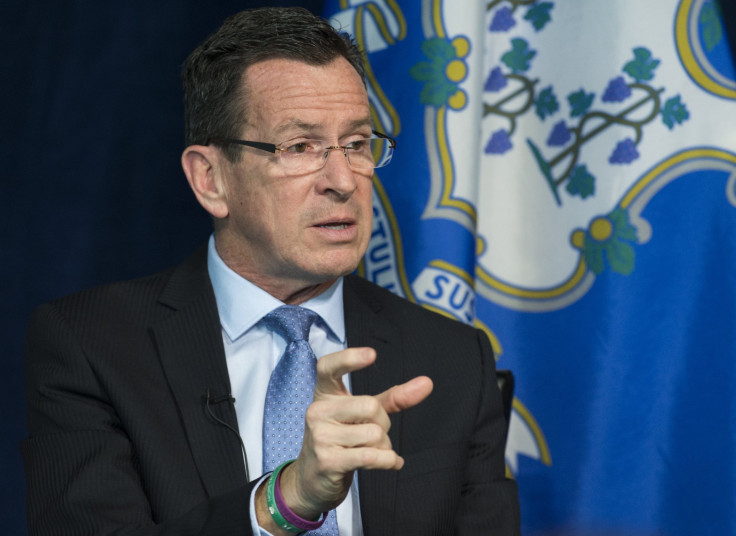 Forty-three advocacy groups have asked the U.S. Justice Department to intervene in Anthem's proposed acquisition of Cigna. The national and state organizations made the request Wednesday, arguing that the regulatory process in the state leading the review — Connecticut — has been irreparably compromised by a burgeoning conflict-of-interest controversy engulfing Democratic Gov. Dan Malloy's administration.
In recent weeks, lawmakers and outside groups have raised concerns about the connections between Cigna and Connecticut Insurance Commissioner Katharine Wade, a former lobbyist for the company whose agency is overseeing the multistate regulatory review of the combination of the two insurers. Wade has refused to recuse herself from the review. In their letter addressed to Principal Deputy Assistant Attorney General Reneta Hesse, the groups said the situation was of "grave concern" and "particularly troubling, given that Connecticut also serves as the lead state regulator in the Anthem-Cigna merger, facilitating and coordinating communication among states reviewing the merger."
The same day — amid a continuing ethics probe — Republicans in the Connecticut Legislature, led by state Sen. Leonard Fasano, demanded legislative hearings and stronger ethics laws. An International Business Times investigative series has documented Wade's ties to the companies and her ongoing interactions with them during the review process.
Anthem, Cigna and Wade did not respond to IBT's request for comment. Chris McClure, a Malloy spokeman, emailed a statement defending Wade's position as commissioner and questioning the motives of Republicans in Hartford.
"This is the latest in a series of election year stunts led by Senator Fasano and his colleagues," McClure wrote. "With each passing day, it gets harder to take these partisan missives seriously. If Senator Fasano and his colleagues were actually serious about the appearance of conflicts of interests among public servants, they might start by taking a look in the mirror."
McClure continued: "When it comes to Commissioner Wade, her full resume was given to the Senate before they voted on her confirmation. Republicans, including Senator Fasano, Senator Kelly, and Senator McLachlan, voted unanimously to confirm her for this job knowing full well what her professional history was, and what the job entailed." McClure was referring to two other Republican state senators who signed the request for a joint hearing, Kevin Kelly and Michael McLachlan. "The only thing that's changed is that it's now an election year for them," he added.
Wade has previously said, "I am following the Connecticut ethics statutes and I have taken the appropriate measures that allow me to carry out my duties as Insurance Commissioner." She also said, "I am confident that nothing in my professional background or in my family's associations will adversely affect my ability to take action fairly, objectively and in the public interest."
The coalition requesting federal intervention in both Aetna's proposed acquisition of Humana and Anthem's proposed acquisition of Cigna consists of consumer and physician groups from across the U.S. They argue the two combinations would likely have negative effects on "the cost and quality of care" throughout the country. The Anthem-Cigna agreement alone would create the largest health insurance company in the nation, with roughly $115 billion in annual revenue and 53 million members.
"These proposed health insurance company mergers will stifle competition, raise prices and reduce choice for patients in Connecticut and dozens of other states. Given the failure of several state regulators to carefully scrutinize these megamergers, it is incumbent on the U.S. Department of Justice to assert its regulatory authority now," Robert W. Seligson, the president of the Physicians Advocacy Institute who signed the letter in his capacity as the CEO of the North Carolina Medical Society, said in a statement.
With concern rising over Wade's role in the review of the Anthem-Cigna deal, lawmakers in both parties have been speaking out about the transaction.
This month, Brendan Sharkey, the Democratic speaker of the Connecticut House of Representatives, put pressure on Malloy to remove Wade from her role in the oversight process, echoing calls made by two top Republicans in the state Legislature. U.S. Sen. Richard Blumenthal, D-Conn., joined six of his colleagues in Washington last week in urging the Justice Department to block the merger.
Most recently, Connecticut Senate Minority Leader Fasano and two other senior Republican lawmakers called for legislative hearings. Citing IBT's reporting, they raised questions about whether ethics officials were deliberately misled when, during her agency's merger review, Wade said she had no Cigna matters before her. Wade made that assertion even though her agency was reviewing the proposed combination and even though she had met with company officials. She was also at the time spearheading legislation to help the insurance industry shield information from public disclosure, a bill backed by a lobbying group funded by Cigna and headed by a Cigna official.
After Wade told ethics officials "there are no Cigna matters before me," they approved a Cigna stock transaction by Wade's husband, telling her the transaction was permissible, "given that there are no Cigna matters pending before you."
"Given the strong appearance of conflict in this case, we ask that both legislative committees hold a hearing to determine exactly what occurred in this situation that allowed for Commissioner Wade to state that there were no conflicts of interest," the state senators wrote in a letter to the heads of the state's insurance and government administration committees. "If the Office of State Ethics did not get all the information from the beginning that was needed to make the proper determination of conflict of interest, then we must act through the Legislature to ensure that the Office of State Ethics always gets what they need to complete a full analysis."
The lawmakers added, "We ask that the information gathered in this public hearing be utilized by both committees to propose legislation to strengthen the ethics review process moving forward by requiring additional disclosure of information."
Responding to the senators' requests, Carol Carson, the executive director of the Connecticut Office of State Ethics told IBT in an email, "The Office of State Ethics (OSE), a non-partisan office, is always willing to work with members of the General Assembly to strengthen the Code of Ethics."
Carson added that, since the office is currently reviewing the case, she would not comment further.
UPDATE: June 29, 4:30 p.m. -- This article has been updated to add comments from Chris McClure, the Malloy spokesman, and Carol Carson, executive director of the Connecticut Office of State Ethics.
© Copyright IBTimes 2022. All rights reserved.
FOLLOW MORE IBT NEWS ON THE BELOW CHANNELS