Does Money Buy Elections? State Races Flooded By Outside Cash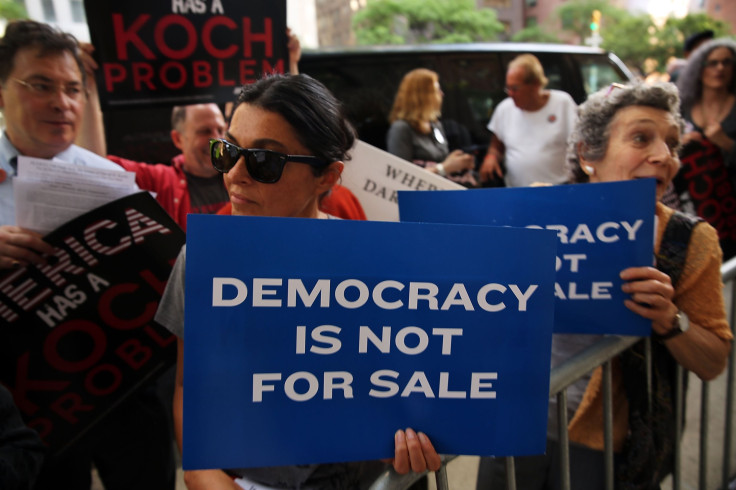 "Dark money" and other forms of nondisclosed spending may have had an effect on federal elections in recent years, but that's nothing compared to the way outside money has saturated politics on the state level. A report issued by New York University's Brennan Center on Sunday finds that the use of dark money in several states has increased faster than in national elections.
Across six states — Alaska, Arizona, California, Colorado, Maine and Massachusetts — dark money expenditures rose by 38 percent between 2006 and 2014, outstripping the 34 percent rate of increase found in federal elections.
And that doesn't include other categories of nontransparent outside money. The Brennan Center report distinguishes between dark money, which it defines as "election spending by entities that do not publicly disclose their donor," and another form of spending it calls "gray money." The report defines gray money as expenditures by entities that do disclose their contributors — but who also list dark money organizations as donors, making it difficult or impossible to locate the original source of the money.
The prevalence of dark and gray money can vary widely among states, depending on their campaign finance laws. In Arizona, the Brennan Center found that annual dark money spending increased nearly three hundredfold between 2006 and 2014; but in gray money, Massachusetts saw a much steeper increase than the Grand Canyon State. Whereas gray money increased 18 times over in Arizona between 2006 and 2014, in Massachusetts it multiplied by a factor of 240.
That may be in part because state-level spending is where big donors can get more bang for their buck. A few million dollars can go a lot further in state and local elections than it does in presidential races, thanks to smaller electorates and media markets and cheaper campaigns.
How and why dark money gets used on the state level also differs from how it is commonly understood to be spent in national races, according to Brennan Center researchers.
"Dark money at the state and local levels frequently flows from special interests with a direct and immediate economic stake in the outcome of the contest in which they are spending, in contrast to what is often portrayed as the more broadly ideological outside spending at the federal level," they write in the report. "When uncovered, secret money at this level has traced back to such sources as a mining company targeting a state legislator who held a key role opposing quicker mining permits, payday lenders supporting an attorney general who promised to shield them from regulation, and food companies battling a ballot measure to add labeling requirements."
But the use of state-level dark money could become more explicitly ideological this year. Donald Trump, the presumptive Republican presidential nominee, has thus far failed to garner much support from conservative megadonors; instead, that money is already starting to trickle down into state and local conservative races. The Brennan Center report did not break down the spending on partisan or ideological lines.
© Copyright IBTimes 2023. All rights reserved.