Queen Elizabeth Pushing Kate Middleton Into Spotlight Amid Meghan Markle Favoritism Rumors
Queen Elizabeth II has responded to rumors that she's playing favorites between Kate Middleton and Meghan Markle.
Earlier this week, the monarch stepped out with the Duchess of Cambridge for their first joint engagement after seven years. According to Latifa Yedroudj, a journalist for Express, this move was to show the critics that she has no favorite between Middleton and Markle. However, some aren't convinced.
"TBH I think the Queen likes Meghan more than she likes Kate," one netizen wrote on Twitter.
"I do think William likes Meghan. But jealousy is a beast and when the Queen favors #DuchessOfSussex Kate can't be too happy" another user stated.
The Queen's favoritism issue between the Duchess of Cambridge and Duchess of Sussex sprang from the different opportunities and exposure given to Middleton and Markle.
Earlier this year, the monarch gave Middleton four patronages, the National Theatre, Association of Commonwealth Universities, Mayhew and Smart Works. All of which reflect the causes and issues that Markle supports like the arts, access to education, support for women and equality and animal welfare.
In the "Royally Obsessed" podcast, royal commentators Lisa Ryan confidently said that Queen Elizabeth II loves Markle, adding that this is obvious because of the fact that Her Majesty gave Prince Harry's wife one of her very own patronages.
When Middleton joined the royal family, Queen Elizabeth II only gave her one patronage while Markle received three more. In addition, what Middleton received was not a solo honor as she also shared it with Prince William and Prince Harry.
Furthermore, when the Queen released the royal family's 2018 video highlights, many noticed that the Duchess of Sussex has more screen time than the Duchess of Cambridge. Middleton was "hardly seen" in the clip because there were more photos featuring Markle.
The video highlights included Queen Elizabeth II and Markle's official outing together in Cheshire, several shots during the Duke and Duchess of Sussex's royal wedding and more clips of Prince Harry and Markle's outings together.
Despite the comparison between Middleton and Markle, the Queen's relationship with Prince William's wife remains intact. In fact, even if Queen Elizabeth II and Middleton are rarely seen together, they have reportedly become allies over the years.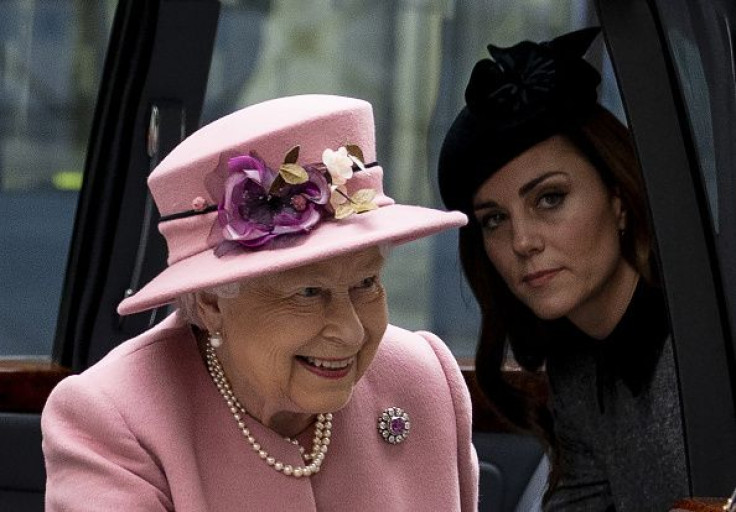 © Copyright IBTimes 2023. All rights reserved.