Quotation on Martin Luther King Jr. Memorial at Center of Controversy to be Changed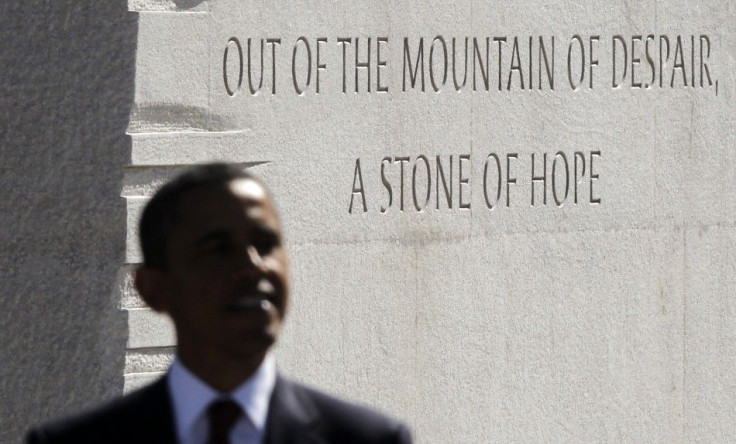 (REUTERS) -- A truncated quotation carved into a Washington memorial to slain civil-rights leader Martin Luther King Jr. that drew criticism for not reflecting the spirit of his full remarks will be corrected, the U.S. Interior Department said on Friday.
Interior Secretary Ken Salazar, speaking ahead of the national holiday on Monday in King's honor, said he had set a 30-day deadline for an accurate alternative to be found to the inscribed quotation: I was a drum major for justice, peace and righteousness.
This is important because Dr. King and his presence on the [National] Mall is a forever presence for the United States of America, and we have to make sure that we get it right, Salazar told The Washington Post in comments carried online.
An Interior Department representative confirmed his remarks.
The quote on the side of King's statue drew criticism even before President Barack Obama dedicated the memorial in October. King family members and admirers have contended that it was not accurate and gave the wrong impression.
Poet Maya Angelou said the inscription made King, who was assassinated in 1968, look like an arrogant twit.
King's full quote from a 1968 sermon was, If you want to say I was a drum major, say I was a drum major for justice, peace and righteousness.
The memorial's original plans had called for the full in-context quote, but it was edited after the plans were approved.
Salazar said he had given the National Park Service 30 days to first consult with the Martin Luther King Jr. National Memorial Foundation, family members, and other interested parties and then come up with an accurate solution.
Representatives of the foundation and the Martin Luther King Jr. Center in Atlanta were not immediately available to comment.
(Reporting by Ian Simpson; Editing by Cynthia Johnston)
© Copyright Thomson Reuters 2023. All rights reserved.