Raiders, Rams Or Chargers To LA? Why An NFL Team In Los Angeles Is Growing More Likely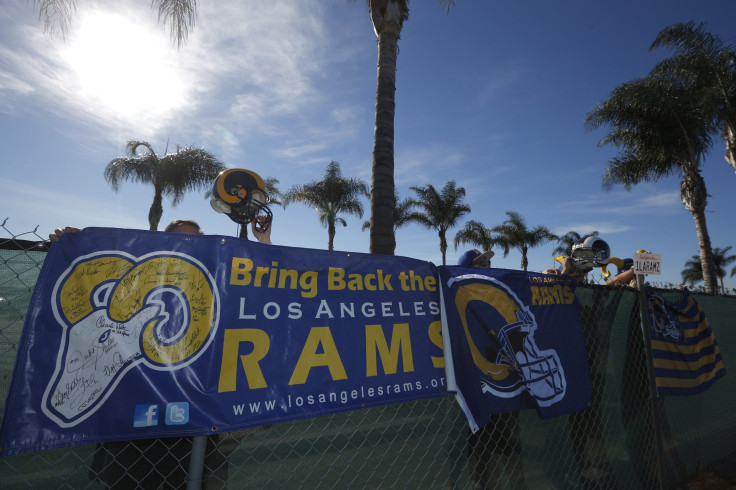 NFL Commissioner Roger Goodell discussed the possibility of one or more teams moving to Los Angeles at a Wednesday press conference. The topic was a point of discussion at this week's NFL Annual Meeting in Phoenix Arizona.
There's been talk of teams moving to L.A. since the Rams and Raiders left the area after the 1994 season. While organizations in the past have used the second largest city in the United States as leverage to get a new stadium, it appears that at least one team will actually make the move in the foreseeable future.
"We're focused on doing this right," Goodell told reporters in Arizona. "If we go back to the Los Angeles market we want to succeed for the long term, and we have a lot to do to get to that place."
The Oakland Raiders and San Diego Chargers have already set the wheels in motion to relocate. The two teams have joined forces on a stadium proposal, looking to build a venue in Carson, California.
The St. Louis Rams have not announced their intention to move, but they might be the most likely team that could head to L.A. In 2014, the Rams were 31st in attendance.
Rams owner Stan Kroenke, a real estate mogul Forbes estimates is worth $6.3 billion, bought 60 acres of land in Inglewood, California, last year, and he's designed plans for a two-team football stadium in Los Angeles. A possible $2 billion stadium would likely not involve a major commitment of public funds, which has been a stumbling block for previous stadium deals.
Teams would need at least 24 of the 32 owners to agree to relocation. It's been speculated that a decision could be made for the 2016 season, but Goodell won't put a timetable on a possible move.
"We're not focused on '16," Goodell said. "Obviously if it did happen in '16, you'd have to play in a temporary facility. We could not possibly construct a stadium in that time frame.
"Right now our focus is on the process, making sure that we're evaluating the opportunities in their existing markets, making sure we understand that, and also making sure we understand what it takes to be successful in Los Angeles long term."
New York Giants owner John Mara recently said he believes one or two teams will be playing in Los Angeles in 2016. ESPN's Chris Mortensen said the same thing when the Raiders and Chargers announced their plan for a joint L.A. stadium.
"The probability that we will get something done in Los Angeles has gone up," Eric Grubman, executive vice president of NFL ventures/business operations, said via USA Today. "My estimation is there is a good possibility of 2016."
Goodell expects to hear back from the Rams, Raiders and Chargers in late April. The league's owners will meet again in May.
© Copyright IBTimes 2023. All rights reserved.