RIM Shares Soar 9 Percent on Outside Chairman Report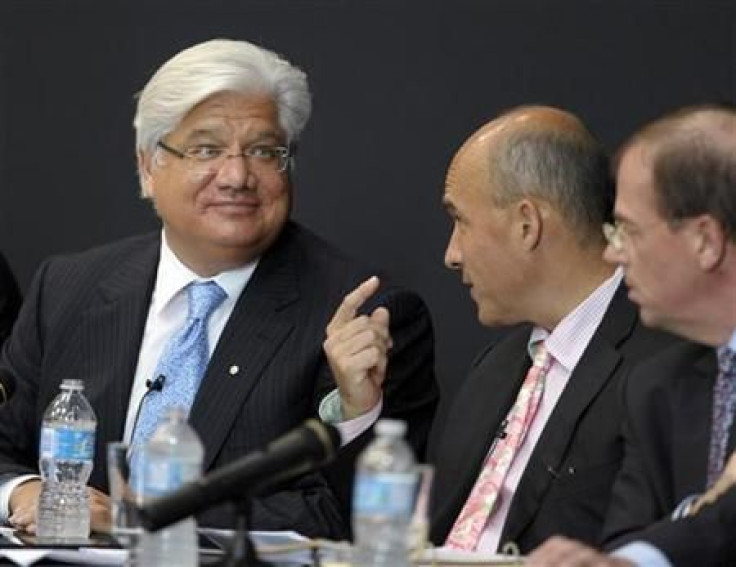 Shares of troubled BlackBerry developer Research in Motion leaped as much as 9.3 percent Tuesday on reports the company would elect an outside director as chairman.
In mid-afternoon, RIM shares were at $15.60, up 7.6 percent. The Waterloo, Ontario-based technology company did not comment on a report in Canada's National Post that director Barbara Stymiest might be elected chairman.
Currently, founding co-CEOs Mike Lazaridis and James Balsillie are also co-Chairmen.Stymiest is a former COO of Royal Bank of Canada.
Corporate governance specialists in Canada as well as the U.S. have said companies function better when the job of CEO is split from the Chairman's role. Leading technology companies such as IBM, Hewlett-Packard and Apple have all split these functions recently.
RIM, despite having 75 million global customers, has been under pressure since September to improve performance after two consecutive earnings reports that fell short of estimates, service outages for BlackBerry customers, poor sales of its PlayBook tablet and delays of its next-generation smartphones.
Several activist shareholder groups, including Jaguar Financial and Northwest & Ethical Investments of Canada as well as Omega Advisers of New York, have advocated for a management shakeup or sale of the company.
RIM reported third-quarter net income on continuing operations of $1.27 a share, on revenue that dipped 6 percent to $5.2 billion on Dec. 15, prompting a 13 percent plunge in the shares Dec. 16.
Last week, though, the shares rallied 7 percent on Dec. 27 after more unsubstantiated reports RIM might attract a suitor such as Nokia, Microsoft, Amazon or Apple to buy it completely or purchase some of its valuable intellectual property.
The Canadian company has not responded to any of the speculation. However, it has said it expects to finish a review of splitting the functions of CEO and chairman by Jan. 31.
Tuesday's surge values RIM at $8.17 billion by market capitalization. Its enterprise value is $6.17 billion.
© Copyright IBTimes 2023. All rights reserved.