Rogue Mountain Lion Traveled from South Dakota to Greenwich, Conn.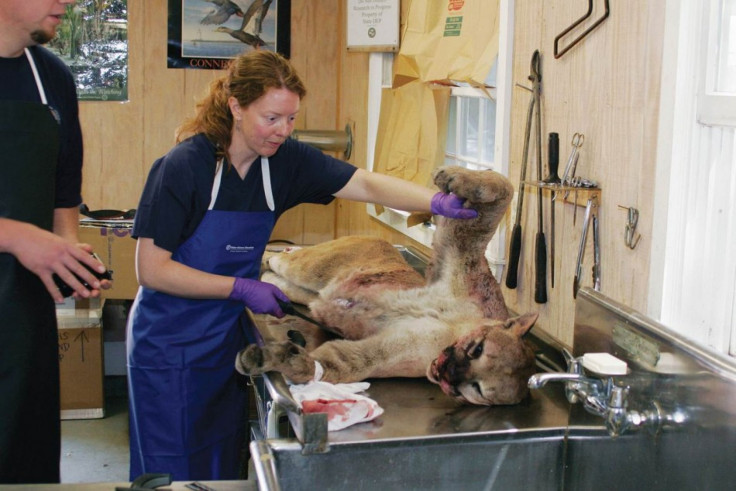 When a mountain lion was found terrorizing the residents of Greenwich, Conn., and eventually killed by an SUV on the Wilbur Cross Parkway on June 11, both residents and scientists were perplexed. How did this rogue Mountain Lion end up in the posh suburb of New York City?
Nobody believed that a cougar was prowling the fancy private schools and busy roadways of Greenwich, but sightings were confirmed by paw prints, photographs and animal droppings. When the animal died crossing the road in front of an SUV, officials took the dead cat in.
Initially, officials thought the cat was just some escaped zoo animal. However, scientists tested the 140-pound lion and revealed on Tuesday that the animal was originally from the Black Hills of South Dakota. In fact, animal researchers had been tracking it separately in Wisconsin and Minnesota.
A necropsy at the Sessions Woods Wildlife Management Area in Burlington, Connecticut revealed that the cougar was in near perfect condition before it was struck by the SUV. It had not been neutered or declawed, they said, nor did it have any implanted microchips, which are commonly used in domestic animals. Also, porcupine quills were found under the animal's skin, indicating it had come from the wild.
That means the lion walked some 1,500 miles all the way to Connecticut. The previous record distance traveled by a mountain lion was 663 miles - from the Black Hills of South Dakota to Oklahoma in 2004.
As a young male, the lost animal was most likely in search of a mate. While most mountain lions seldom search for more than 100 miles, this big cat took it to the extreme.
If only he knew that the last mountain lion sighting in Connecticut was in the late 1800s.
© Copyright IBTimes 2023. All rights reserved.