Russia?s Arms Deals With Syria: A Timeline
ANALYSIS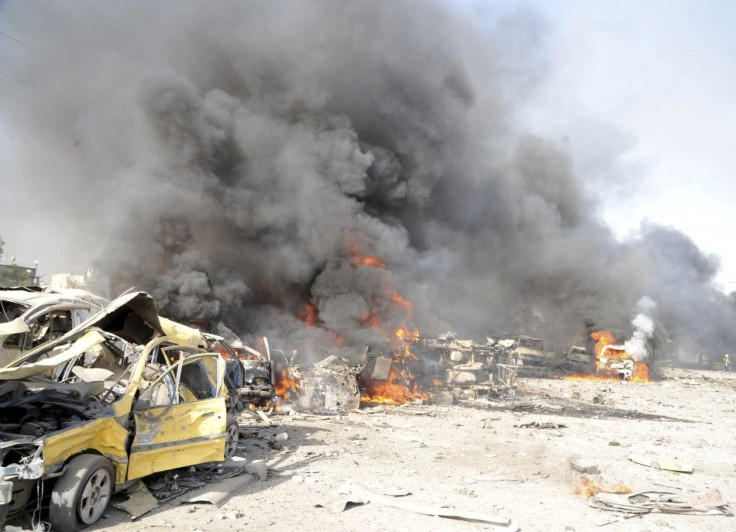 On Tuesday, it was reported that a shipment of Russian weapons was scheduled to arrive in Syria by the weekend. Presumably, the arms will be put in the hands of President Bashar al-Assad, whose 14 month-long crackdown against an anti-government movement has resulted in more than 9,000 civilians deaths.
The shipment is allegedly being delivered aboard the Professor Katsman, a Russian-flagged cargo ship that was last spotted in the Aegean Sea; it is believed that the boat will be stopping in Athens's Piraeus Road port before heading to Tartus, the Russian-own naval base in western Syria, according to MarineTraffic.
The Russian foreign ministry has been mum on the shipment, but the weapons are thought to have been supplied by Rosoboronexport, the official state arms dealer, with whom the Pentagon still has a contract.
A history of Russia-Syria's military relationship:
- Russia has been selling Syria weapons since the Soviet period, starting with the 1973 Arab-Israeli War.
- However, Russia became Syria's main arms supplier after the fall of the Soviet Union, when Russia absolved Syria of $9.8 billion of its $13.4 billion debt in exchange for making Tartus a permanent Russian military base. Tartus is Russia's only naval presence in the Mediterranean.
- Currently, 10 percent of Russian global arms shipments head to Syria, and contracts are worth about $1.5 billion.
- In 2008, Russia, along with China, Iran and the International Atomic Energy Agency, was critical of a United States-led drive to cancel Syria's purchase of nuclear reactors.
- Between 2000 and 2010, when Syria was subject to a European Union arms embargo, Russia and other states shipped at least $2.2 billion worth of arms and munitions to Damascus.
- Between 2007 and 2011, Russia supplied 78 percent of Syria's weapons imports; Russian sales to Syria increased by 580 percent over that time period compared to the previous four years.
- In Sept. 2008, foreign minister Sergei Lavrov said that the planned sale of MiG-29SMT fighter jets, Iskander tactical missile systems, Yak-130 aircrafts and two Amur-1650 submarines are in line with the international law and in the interests of strengthening stability and maintaining security in the region.
- The Syrian uprising and subsequent government crackdown begins in March, 2011.
- Shipments of small arms, which are harder for international agencies to trace, rise starting in March.
- Throughout 2011, Russia continued to sell Syria missile defense systems -- including the Buk-M2E surface-to-air missile system and Bastion-P coastal defense missile systems.
- Total weapons sales to Syria in 2011 reached $1 billion.
- In January, 2012, Russia sold Syria 36 Yakovlev Yak-130 light attack jets for $550-million, although analysts said at the time that the Yak-130 is superfluous for attacking insurgents (because) these goals can be served by cheaper planes, adding that they would be ineffective in an air battle with Israeli, Turkish or Western aircrafts.
- The Chariot, a Russian flagged ship carrying arms from Rosoboronexport, heads for Tartus despite telling the European Union that it would change course. The ship is believed to be carrying sniper rifles. At that time, Syrian snipers were killing protestors in Homs, Damascus and other cities.
- In February, the Friends of Syria group contemplates arming Syrian rebels. Saudi Arabia is the chief proponent, but an agreed-upon arms embargo persists. The United States sends military equipment and supplies to the rebel Free Syrian Army, but not weapons or ammo.
- May 25: Houla Massacre - 108 people are murdered, about half of them children in Houla. Both the government and the opposition say the other is responsible. Meanwhile, the Professor Katsman leaves a Swedish port and moves south.
- May 30: Russian Foreign Minister Sergei Lavrov responds to the massacre, blaming it on rebels and terrorists. Nonetheless, Russian analysts tell Reuters that Houla will be the tipping point, and that Moscow must think harder about its relationship with Assad than ever before.
--
Sources:
- UPI - Russia Defends Arms Sales to Syria - 29 Sept. 2008
- Global Security Watch--Russia: A Reference Handbook
- RIA Novosti - Russia to Sell 36 Yak-130 Jets to Syria - 23 January 2012
- BBC - Russian arms shipments bolster Syria's embattled Assad - 30 Jan. 2012
- The Stockholm International Peace Research Institute's Arms Transfers Database. 19 March 2012.
- Reuters - New global arms treaty must set tough rules: Oxfam - 29 March 2012
- Reuters - Syria massacre pushes Moscow toward decision point - 30 May 2012
© Copyright IBTimes 2023. All rights reserved.
FOLLOW MORE IBT NEWS ON THE BELOW CHANNELS