Store Closings 2019: Full List Of Retailers Closing This Year
With several retailers announcing that they will be closing their doors, 2019 marks a pinnacle year for brick-and-mortar stores. Here are all the store closings happening in 2019 that consumers need to be aware of.
CVS
CVS said it closed 46 stores that were "underperforming" over the last two months. The company is focusing its efforts on offering more health care related services at its store locations.
Office Depot
Office Depot announced that it will be closing 50 locations by the end of the year under both the Office Depot and OfficeMax brands. This is part of the company's plan to close around 300 stores within the next three years.
Pier 1 Imports
Pier 1 Imports also announced that is closing 45 locations within fiscal 2019. This follows 30 store closures last fiscal year. Even more store closures could come from the retailer if it doesn't reach its revenue goals, it said.
Bed Bath & Beyond
Home goods retailer, Bed Bath & Beyond, said it will close approximately 40 stores which could increase to more if the company cannot negotiate better lease terms with its landlords. In the same breath, Bed Bath and Beyond announced that it would also open 15 new stores in fiscal 2019. The company also closed 21 stores and opened three new stores in the fourth quarter of 2018.
Fred's
Fred's said it will be closing 159 stores in May as part of an effort to "maximize value for all shareholders." The stores that are closing are underperforming and unprofitable locations, the company said. Liquidation has already begun at the store locations. A list of closures can be found here.
Kay Jewelers, Jared, And Zales
Signet Jewelers, the parent company of Kay Jewelers, Zales, and Jared, announced that it will close 150 stores under the three brand names. The closures come after declining sales, it said. The company also closed 262 stores prior to 2019 that were underperforming in malls.
J.C. Penney
J.C. Penney will close a total of 27 stores this year with most of the closures set to happen by July 5. The closures will include 18 full-line department stores and nine home and furniture stores. The company also announced that it was closing an additional three stores in January as it evaluates its portfolio. A list of store closures can be found here.
Shopko
After filing for Chapter 11 bankruptcy, Shopko said it will close all of its store locations by June 16. The closures affect 360 stores in 26 states
Dollar Tree
Dollar Tree is also closing locations as it said that it would shut the doors at 390 Family Dollar stores in fiscal 2019. The closures are a part of Dollar Tree's 2019 store optimization program. The company also closed 84 stores in the fourth quarter, up from the 37 planned.
Abercrombie & Fitch
A total of up to 40 stores under Abercrombie & Fitch Co. are expected to close 2019. Over the last eight years, Abercrombie & Fitch has closed 475 stores locations while also reducing the footprint size at some stores and adding a new redesigned appearance. The company also said that it will invest approximately $120 million into its stores, including 85 new stores experiences and 40 new stores openings in 2019.
Gap
Gap said it will be closing a total of 230 stores over the next two years. The news comes as Gap looks to focus on online sales, where nearly 40 percent of its revenue is coming from, it said. The company also said it will revitalize the brand as well as working to turn Old Navy into its own publicly-traded company.
Victoria's Secret
Victoria's Secret will close 53 stores that it said are underperforming in North America. The stores will be closed in 2019 as the company focuses more attention on its successful Bath & Body Works brand.
Charlotte Russe
Charlotte Russe also filed for Chapter 11 bankruptcy in February and said it planned to close 94 stores.
Payless ShoeSource
As Payless ShoeSource filed for bankruptcy in February, it also closed all 2,300 of its stores. The stores were liquidated as news of the closures spread. Payless also filed for bankruptcy in April 2017, emerging 18 months later.
Sears
Coming out of bankruptcy with the help of Chairman Eddie Lambert and his hedge fund ELS, Sears said it will close 36 Kmart stores as well as another 80 Sears and Kmart stores in 2019. Sears closed 142 stores in October when it filed for Chapter 11. It closed another 40 stores in February.
H&M
H&M plans to close 160 stores worldwide by the end of 2019. The closures will help H&M optimize its retail business in markets that have proved to be a challenge for the retailer. The company also said that it will open 335 stores in 2019 outside the U.S. and Europe.
Nordstrom
Nordstrom said it will close three store locations in Norfolk, Virginia; Providence, Rhode Island; and Wellington, Florida, in 2019.
Kohl's
Kohl's has also succumbed to retail pressures as it announced that it will close four stores in Rego Park, New York; Valley Stream, New York; Lenexa, Kansas; and Bayou Cane, Louisiana. At the same time, Kohl's said it will open four new retail locations while consolidating its customer service operations.
Macy's
Macy's said it will close stores in Casper, Wyoming; Redmond, Washington; Sunnyvale, California; Los Angeles, California; Indianapolis; Swansea, Massachusetts; McLean, Virginia; Nanuet, New York; and Charleston, West Virginia.
Gymboree
Gymboree filed for bankruptcy in January and ultimately closed all of its retail locations which included 900 stores under the Gymboree, Janie and Jack, and Crazy 9 kids clothing brands.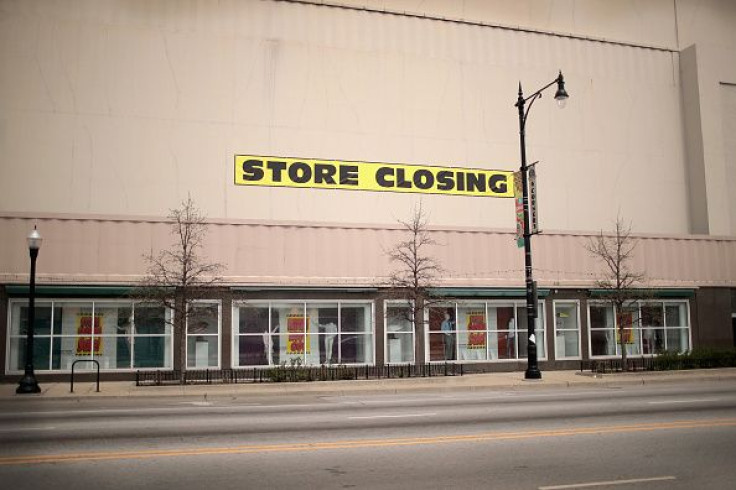 © Copyright IBTimes 2023. All rights reserved.